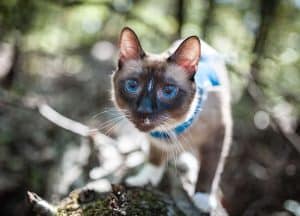 It's time to expand your cat's horizons.
Maybe you've seen cat adventurers on social media.
Or you've heard what a great source of enrichment outdoor time can be.
Or you just want to be able to bring your cat along with you wherever you go.
Learn. Grow. Explore.
Build that bond.
There's no denying that sharing in outdoor time together will strengthen the bond you and your cat share.
Enrich and explore.
Exposing your cat to the sights, sounds, and smells of the outside world is an amazing form of enrichment.
Act on instinct.
Running, climbing, sniffing, playing – your cat can get the exercise they need while acting on their natural instincts.
Get up and GO!
Take your cat with you on your outings, your vacations, your adventures. GO and EXPLORE together!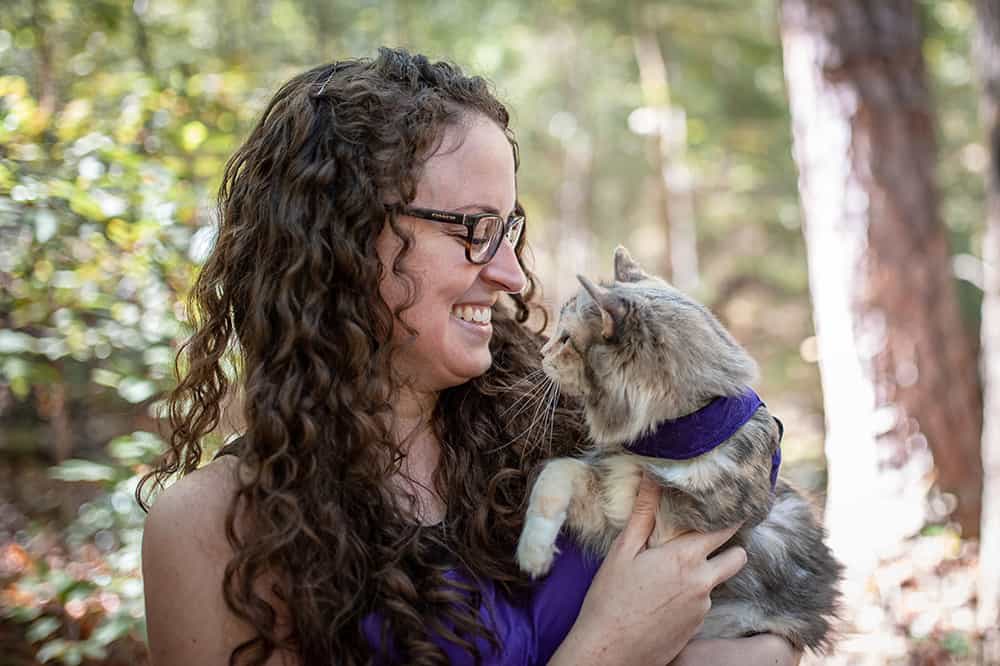 There is no adventure too big or too small.
People hear the word "adventure cat" and think of cats who hike, camp, and kayak. While those kinds of adventures ARE possible, they aren't for every cat.
And that's okay!
Even a simple backyard adventure can be incredibly enriching and fulfilling.
It's time to get out there and explore with your cat!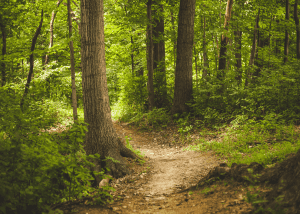 Is your cat ready for the adventure life?
Find out if your cat has the temperament, curiosity, and sociability to be a natural cat adventurer!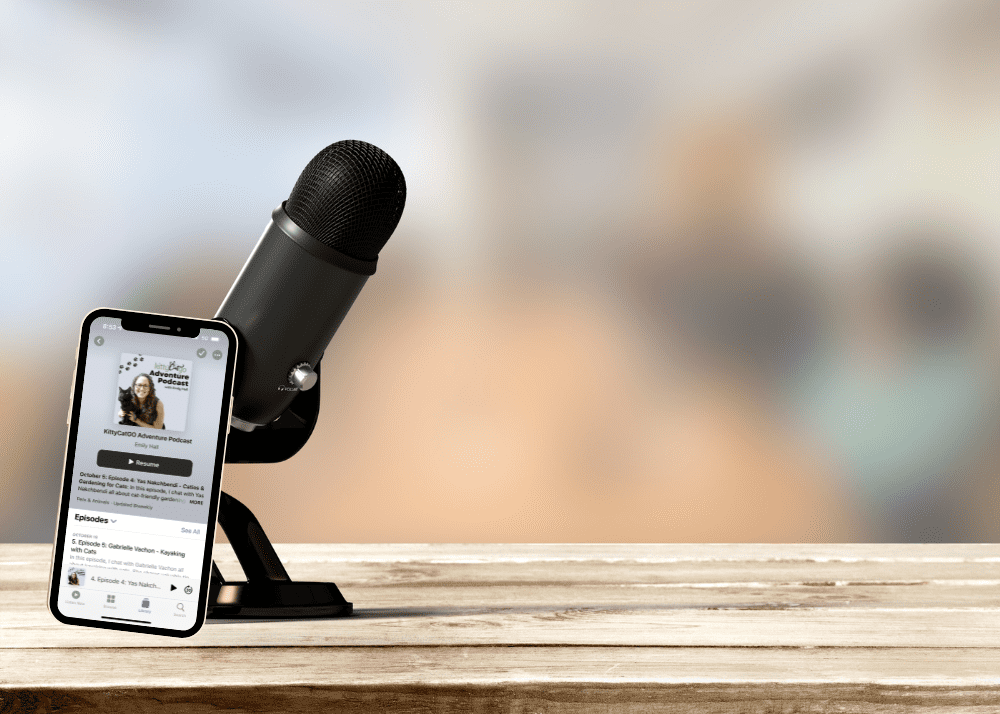 The KittyCatGO Adventure Podcast
For traveling and adventuring cats everywhere
Each episode features a guest expert who shares their story as well as helpful advice and tips. A great resource for cat adventurers and cat lovers worldwide! Available wherever you listen to podcasts.
Cat Adventure FAQs
Where do I start?

The first step is to harness train your cat. Depending on your cat, this can be a quick process or it can take some time and patience. Visit my sister site, HarnessTrainYourCat.com for more information on how to harness train your cat.
What is the best age to start harness training?

You can start harness training at ANY AGE! It is never too late, and it's never too soon. Many think that it's best to start training as a kitten, but I have trained multiple adult cats and know of a good many of senior cats (10+ years old) who did well with their harness and leash training.
What if my cat hates wearing a harness?

One of the biggest mistakes someone can make in their cat harness training journey is to give up after one try. While there are always exceptions, most cats will NOT like wearing a harness the first time you put it on them. They will probably flop over, act like they can't move, walk strangely, or even freak out.

Imagine what it might feel like for you if you'd never worn clothes before and then put a shirt on for the first time. It would feel weird, and you probably wouldn't like it at first.

Harness training takes time and patience. Putting the harness on your cat isn't even the first step, so if that's where you started, you've already skipped a step or two.

If after some time and effort your cat still does not like their harness, you may need to try a different style.
What kind of harness should I get?

There are many styles of cat harnesses, all with varying pros and cons.

My top recommendations include the Mynwood Cat Jacket and the RC Pets Adventure Kitty Harness.

Check out this cat harness style guide for more information on the various styles of cat harnesses, along with their pros and cons.
What if I don't enjoy hiking or doing "outdoorsy" things?

That's okay! Taking your cat outside on a harness and leash doesn't have to mean hikes, camping, and kayak trips. Even if all you ever do is hang out in your backyard together, your cat's quality of life will increase immensely!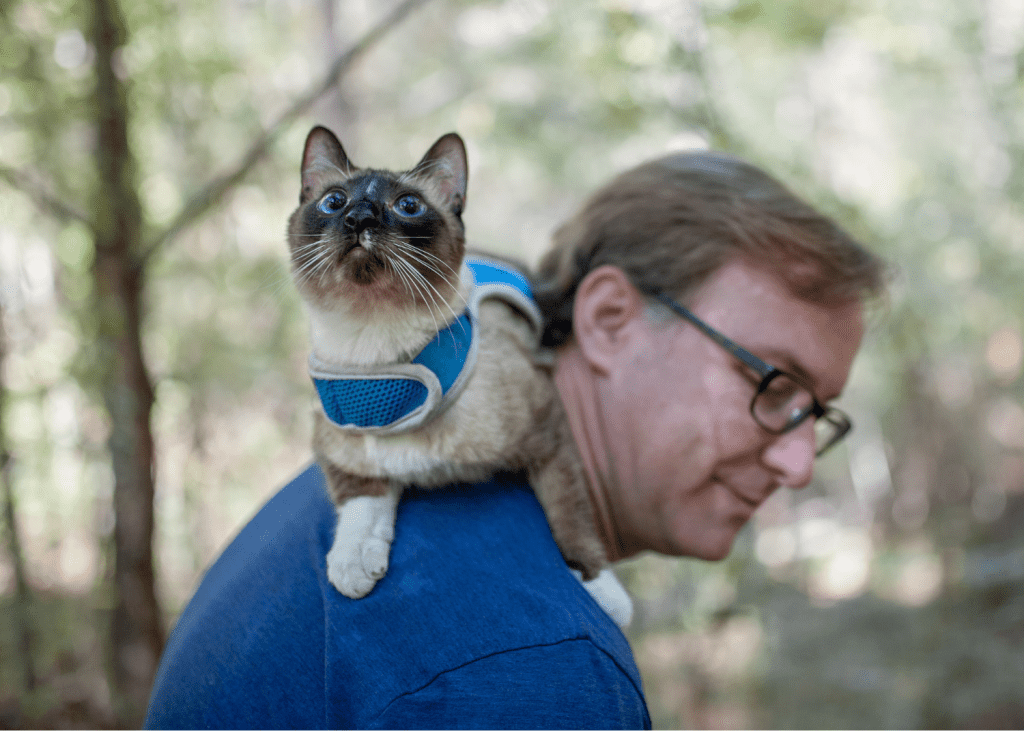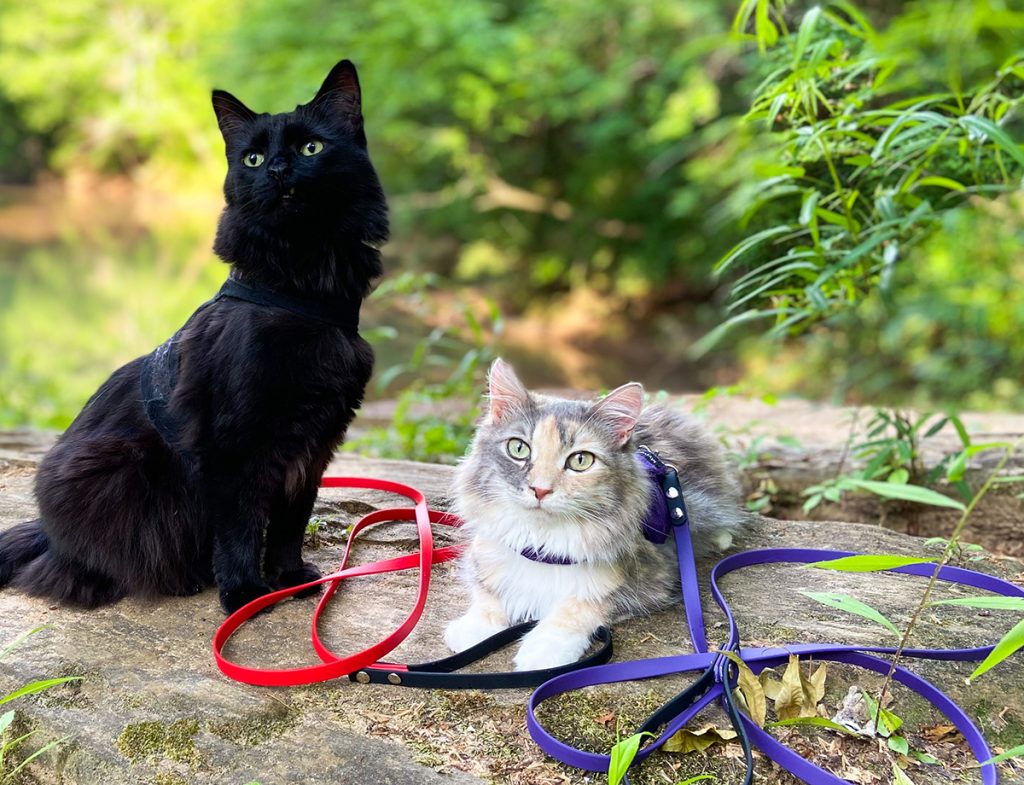 Gear & Apparel for the Cat Adventure Enthusiast
Show off your love of cat adventure!
Our handcrafted biothane cat leashes and collars are designed for adventures of all kinds! If you're picking customizing a stylish leash for your cat, you might as well snag a t-shirt or hat for yourself too!
Ready to start your journey?
Find out if your cat is meant for a life of adventure.