WHO: Everyone from the beginners to the advanced – there are tasks for everyone, no matter if you're an outdoorsy or city adventurer!
WHERE: You are welcome to participate anywhere in the world!
WHY: To encourage people to get out there and try new things with their cat(s)!
Since we kicked off the first KittyCatGO Adventure Challenge last year, we've had over 300 cats from around the world participate in the fun! It's been an absolute blast, and so inspiring. You can check out what other cat adventurers have been up to by searching #kittycatgoadventurechallenge on Instagram or in our FB group.
We also have a list of everyone who earned their Adventuring Titles in our last Spring Challenge!
Keep scrolling to learn more…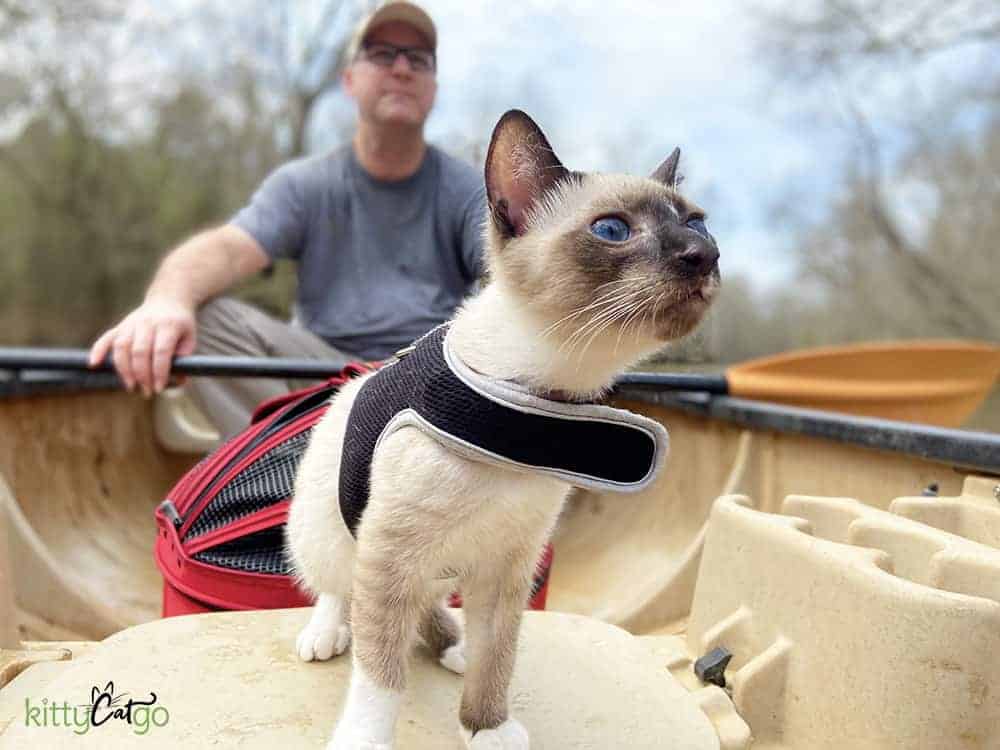 How do I join?
We don't currently have a challenge running, but you can enter your email below to receive announcements about the next one!
How does it work?
There is a list of tasks to complete, each worth 1 point. You can work your way down the list in any order you wish, completing the tasks and trying new things. It's a fun way to get ideas of new things to try with your cat.
Here are a few examples of the challenges…
Wearing a harness
Climbing a tree
Hiking 1 mile
Walking down a city sidewalk
+26 more!
You may not be able to complete every task on the list for one reason or another – location, weather, personal abilities, etc. That's okay! The point and expectation is not for everyone to complete every task. Just pick out the ones you'd love or would like to try and give it a go. We all encourage and cheer each other on along the way!
*Always remember to keep your cat's safety and comfort as your top priority. Don't force them to do something they don't want to do or aren't ready for.
Past Adventure Challenges
Looking for more? Check out our past challenge lists:
The Inaugural Adventure Challenge
The 2020 Winter Adventure Challenge with Clothing4Cats
The 2021 Spring Adventure Challenge
The 2021 Mini Summer Adventure Challenge
Shop our Official Adventure Challenge Merchandise!