We are super excited to be hosting the 3rd Official KittyCatGO Adventure Challenge, which runs from April 1-30, 2021! Keep reading for all the details…
WHO: Everyone from the beginners to the advanced – there are tasks for everyone!
WHERE: You are welcome to participate anywhere in the world!
WHY: To encourage people to get out there and try new things with their cat(s)!
Since we kicked off the first KittyCatGO Adventure Challenge last year, we've had close to 100 cats from around the world participate in the fun! It's been an absolute blast, and so inspiring. You can check out what other cat adventurers have been up to by searching #kittycatgoadventurechallenge on Instagram or in our FB group.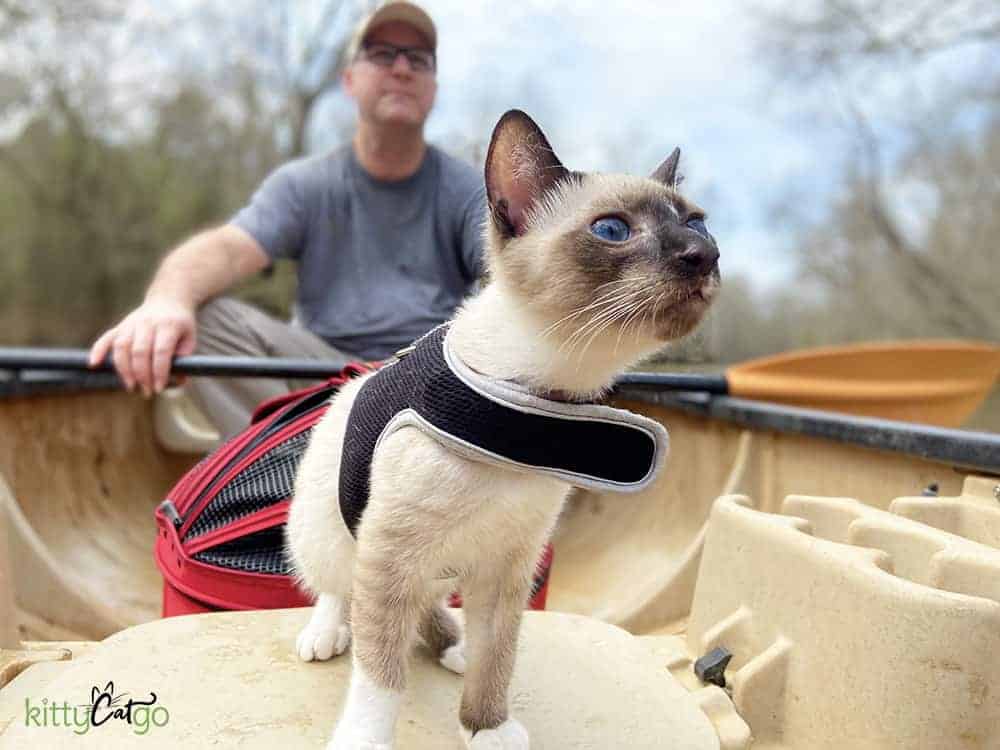 How does it work?
We've created a list of 55 tasks/challenges divided into 4 different difficulty levels. Each task is worth 1 point. You can work your way down the list in any order you wish, completing the tasks and trying new things. It's a fun way to get ideas of new things to try with your cat.
Here are a few examples of the challenges…
Wearing a harness
Walking on a leash
Going on a hike
Learning a new clicker training trick
Riding in a canoe
Going camping
+ 49 more!
*Always remember to keep your cat's safety and comfort as your top priority. Don't force them to do something they don't want to do or aren't ready for.
How do I join?
To officially join and be eligible for prizes, you must register for the Adventure Challenge. Cat/Human Adventure Teams worldwide are welcome to join!
(Unregistered entrants are welcome to join for fun, but your points won't be totaled and you won't be eligible to win any prizes.)
After registering, you should receive a confirmation email with the challenge list included. (If you don't see the email in your inbox, check your spam and/or promotions folders.)
How do I submit entries?
Photo and video entries can be submitted in 1 of 2 ways:
Whichever entry method you choose, just be sure to specify which challenge numbers you are completing.
The Rules
Each task is worth 1 point. At the end of the challenge, the human/cat team with the most points wins*!
One picture/video can count for up to 2 tasks. For example, if your cat wore a harness at the pet store, one photo/video could count for #1 and #20. You cannot use one photo/video for more than two tasks.
If you have multiple cats, they can all participate in the challenge, but they each need to complete their own tasks.
Level 1 tasks can be completed indoors or outdoors. Level 2, 3, and 4 tasks must be completed outside your home.
All tasks must have been completed between April 1-30, 2021. The deadline for submissions is Friday, April 30th, 2021 at 11:59pm EDT.
*Individuals may only win the Grand and/or 2nd Place Prizes once per calendar year.
What are the prizes?
Winners will be announced on Saturday, May 1st. They will be contacted at the email address used to register.
Grand Prize
1 Sleepypod Air (color: brown)
2nd Place Prize
1 t-shirt of your choice from our shop
1 custom leash from our shop
Random Drawing Winner
All participants who score at least 10 points will be entered into a random drawing for the following prize:
Don't forget to shop our Official Adventure Challenge Merchandise!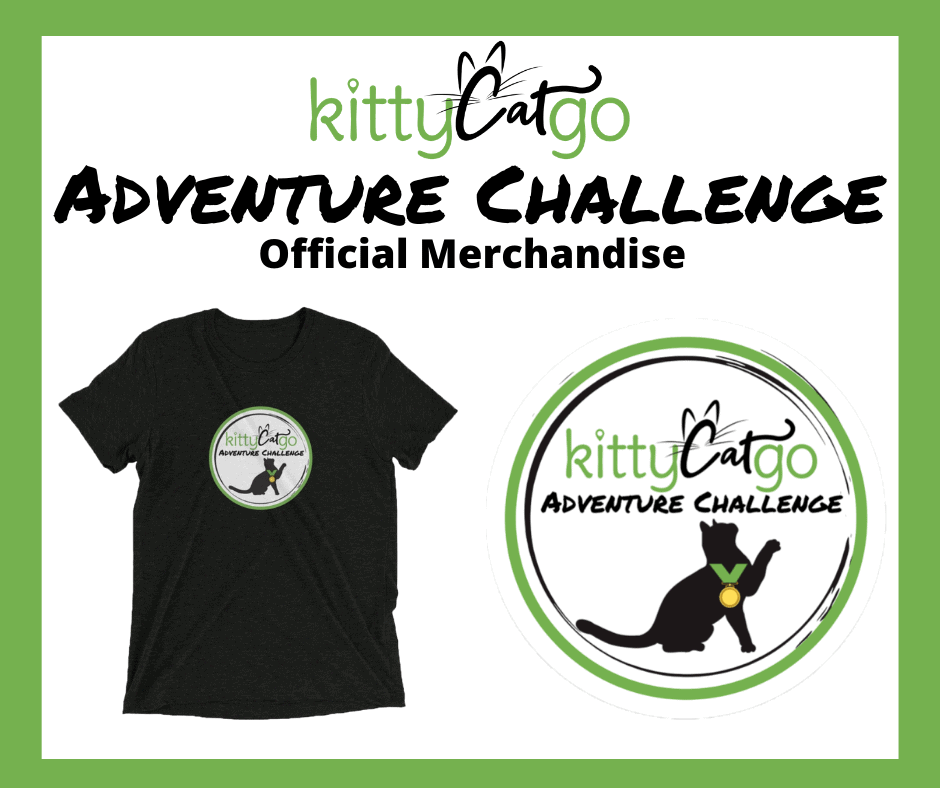 Keep In Mind…
There will be tasks on the list you probably can't complete due to where you live, the weather, your cat's adventuring abilities, etc. When we came up with the challenge list, we tried to include a wide variety of tasks of different difficulty levels that fit a wide range of situations. The point of the challenge is to have fun and find new things to try with your cat. Don't stress because you can't do them all
If you don't care about winning any prizes and just want to participate for fun, you can download the challenge list below:
Share your entries on social media!
To help us in our mission to encourage more adventures and travels with cats, invite your friends to join and share your photos and videos of the challenge on Facebook, Instagram, and Twitter! Use the hashtag #KittyCatGoAdventureChallenge and be sure to tag us (@kittycatgoadventures on IG)!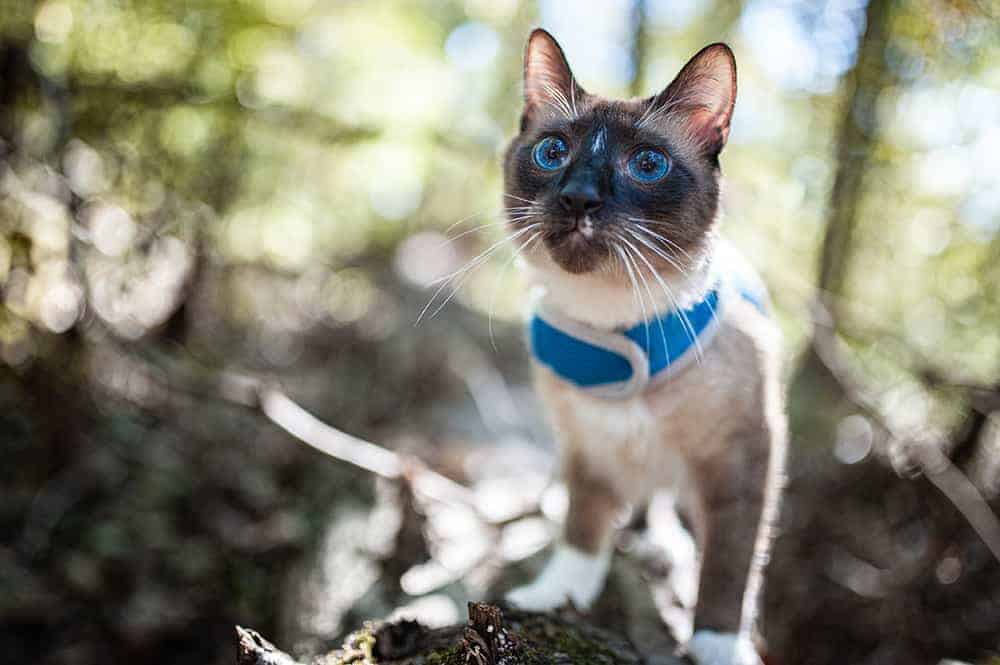 Past Adventure Challenges
Looking for more? Check out our past challenge lists:
The Inaugural Adventure Challenge
The Winter Adventure Challenge with Clothing4Cats