KittyCatGO Adventure Challenge
October 1-31, 2022
We will have a live community Zoom chat on Saturday, October 1st at 11am ET to kick off the festivities!
WHO: Everyone from the beginners to the advanced – there are tasks for everyone, no matter if you're an outdoorsy or city adventurer!
WHERE: You are welcome to participate anywhere in the world!
WHY: To push the boundaries of cat expectations, to try new things, to go new places, and to deepen the bond between you and your cat
Since we kicked off the first KittyCatGO Adventure Challenge in 2020, we've had over 400 cats from around the world participate in the fun! It's been an absolute blast, and so inspiring. You can check out what other cat adventurers have been up to by searching #kittycatgoadventurechallenge on Instagram or in our FB group.
Here's what others are saying:
"The most challenging but fun thing you will ever do with your feline friend!!" –Team Lego & Sarah
"The KittyCatGO Adventure Challenge is a great motivation to get out more often with our cats and try new things. A super friendly community that encourages each other and celebrates your milestones with you." –Team Munchkin & Gabrielle
"As a beginner to adventuring, this was a fun way to do things we wouldn't normally have tried. It was also a blast seeing other cats & what they are able to do. We're really looking forward to the next challenge!" –Team Digby & Erryn
"The KittyCatGO Adventure Challenge was so much fun to take part in! Being part of a beautiful community inspired us to work passionately on completing as many tasks as we could, making so many friends along the way." –Team Figaro & Gerard
Keep scrolling to learn more…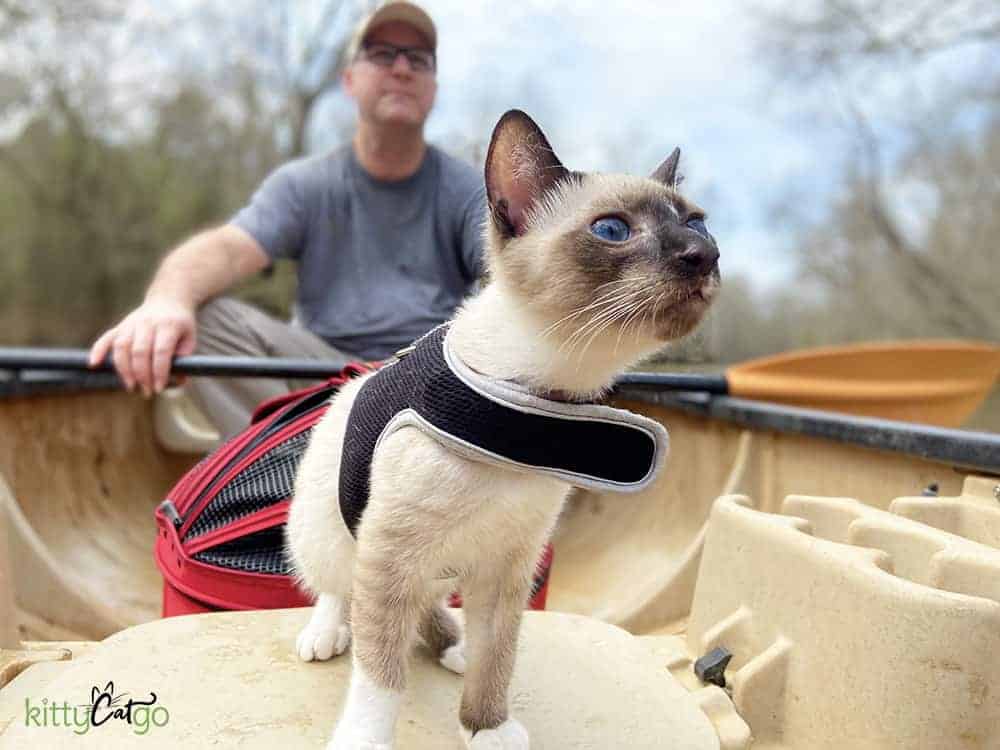 About the Adventure Challenge
The October 2022 Adventure Challenge will have 55 tasks/activities split into 4 different levels. Some can be completed indoors, while others must be completed outdoors.
Completing the specified number of tasks in each level will earn you titles – such as Bobcat, Puma, Leopard, Panther, and Lion!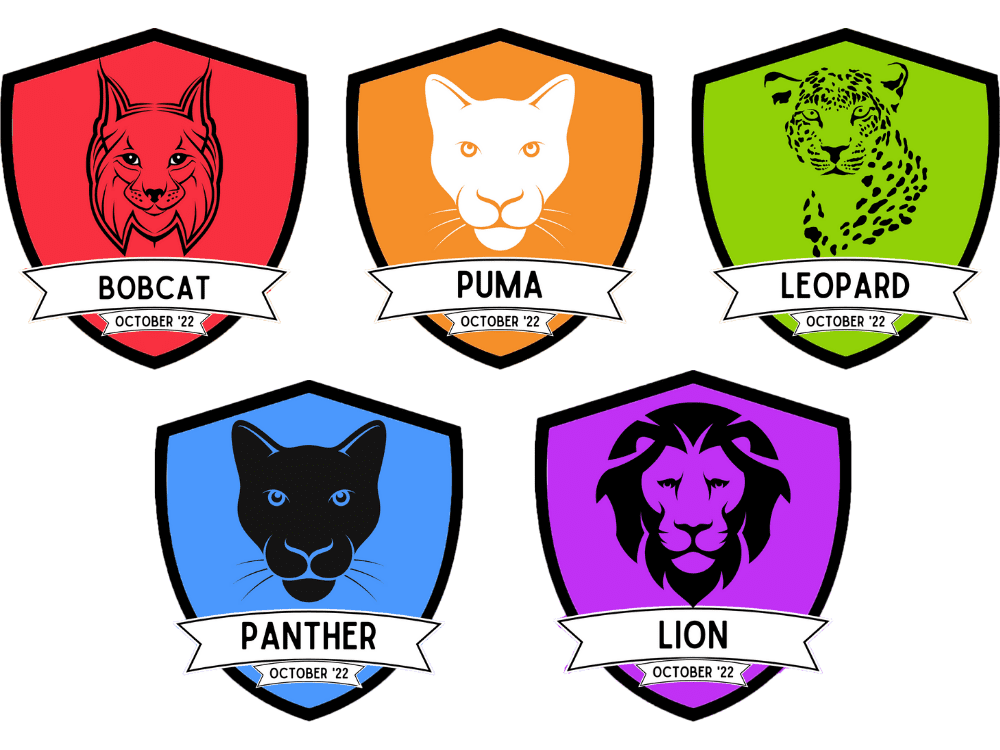 Complete at least 15 tasks to be entered into our prize drawing! At the end of the Adventure challenge, the winner gets to choose the next limited edition color for our Kylo Leashes and Collars!
You can work your way down the list in any order you wish, completing the tasks and trying new things. It's a fun way to get ideas of new things to try with your cat!
Here are some examples of tasks from the list:
Wearing a harness
Showing off a training trick
Playing with bubbles
Wearing a Halloween outfit
Going for a car ride
Going out at night
Visiting a cemetery
Having a picnic
Climbing on rocks
Going on a 1 mile hike/walk
Visiting a local business
Hanging around a campfire
Showing off a happy tail
Finding a geocache
You may not be able to complete every task on the list for one reason or another – location, weather, personal abilities, etc. That's okay! The point and expectation is not for everyone to complete every task. Just pick out the ones you'd love or would like to try, and give it a go. We all encourage and cheer each other on along the way!
***Always remember to keep your cat's safety and comfort as your top priority. Don't force them to do something they don't want to do or aren't ready for.***
How do I join?
The October Adventure Challenge will be hosted in our Trailblazers Membership Group. The cost to join is $5/month*, but there is a 7-day FREE trial!
*Your membership can be canceled at anytime, so if you decide you don't want to stick around in the group after the April challenge is over, that's totally okay!
You can click here to read more about the Trailblazers group, or…
Shop our Official Adventure Challenge Merchandise!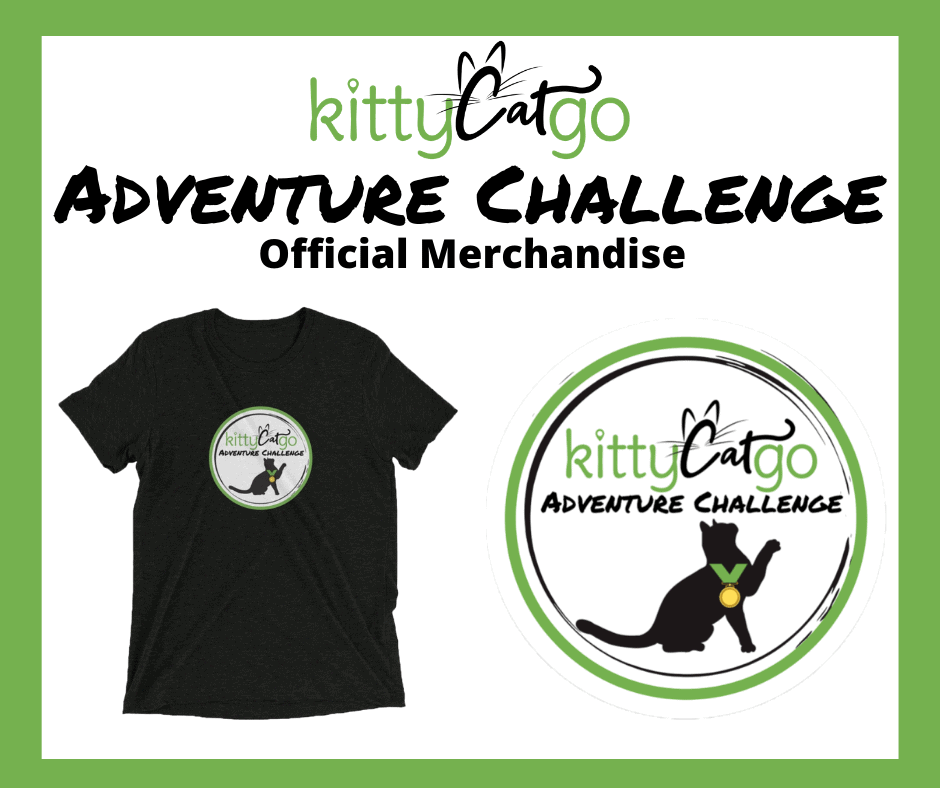 Past Adventure Challenges
Looking for more? Check out our past challenge lists: