If you've been adventuring with your cat for any amount of time, you've probably experienced an adventuring "fail" or embarrassing moment at some point. Though the moment might not have been funny at the time, you can't help but laugh (or groan) at it now.
In solidarity with all our fellow cat adventurers, we thought it would be fun to reach out to our community and see what kind of crazy stories they had to share. We can all take comfort knowing we aren't the only ones to experience those adventuring fails!
Here's our most embarrassing adventure moment:
My husband and I were taking this pretty girl pictured here to the big Pet Expo event in Atlanta several years ago. Atlanta is about a 1.5 hour drive from us, so we loaded Sophie into her carrier and hit the road… unaware of what was to come.
Sophie sang the song of her people for a while, and then things got quiet. A little too quiet… Then we were hit with the smell… You know the one…
Let me just say that a wobbly cat (Sophie has cerebellar hypoplasia) + car ride + poop = 1 very big mess!
Sophie was covered from head to tail. Our best option was to pull off the interstate and find some place we could give her a bath. We first stopped at a gas station, but they didn't have a hose we could use. We headed across the street to a mechanic's garage, and they graciously let us use their hose and some soap.
So there we were, in the middle of a mechanic's parking lot, hosing a crying, poop-covered cat down while an audience of onlookers watched with judgmental glances.
After the hose down, we had to go BACK to the gas station and buy some paper towels to dry her off. (THIS is why we now always travel with a towel and soap!)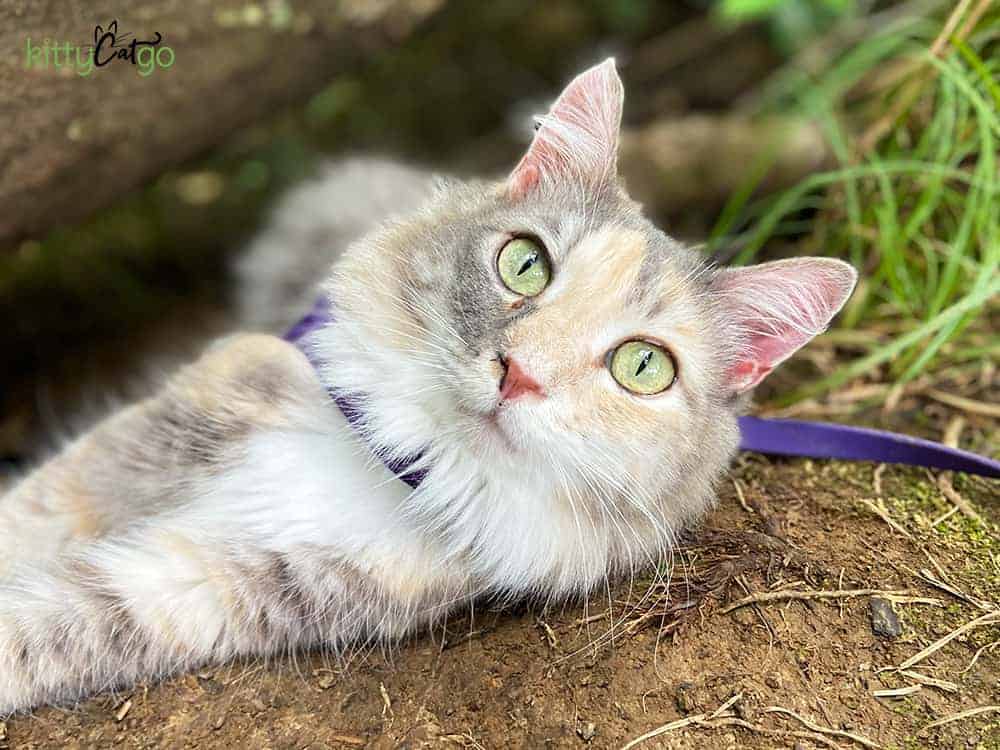 ---
From @percytheexplorercat
It's the last full day of our 2-month travels, and I just had to send the following message to our current AirBnB host:
"Last night my cat tried to go behind the curtain behind the TV and somehow accidentally pushed it over. I just tried to switch it on to see if it is still working fine, but it seems the LCD screen is indeed damaged. I hadn't check the TV before it got pushed over, but I do suppose that's what caused it. I am terribly sorry about this and will of course pay for a replacement! I also just checked – it looks like the same model is available at the closest Best Buy for ~$189. If that helps, I'd be happy to go there today and buy the replacement so that the next guest will have a working TV available.
Please let me know if you'd like me to do that, or if there's anything else I could do to make up for this. Again, my sincere apologies!!"
---
From @sweet_foodie_mochi
Ok, years back my bro tried to poop in Central Park, wouldn't you know that's when the paparazzi wanted to take photos!
---
I think the worst for me is whenever I decide to jump down from meowmys shoulder when she's not paying attention to the leash and I end up getting tangled and/or strangling her. Luckily it has only happened a handful of times
---
From @antiope.cat
I think our most embarrassing adventure mishap was when I was scared of a very friendly lady's hiking sticks (why???) and made a break for it right back to our car and it was the wrong white car! My hoomans were so confused!
---
From @maxi.nibbles
So far ours are pretty benign (fingers crossed)and mostly consist of me taking Nibbles someplace and he spends the whole time in the backpack and I just feel silly when people say "so why'd you bring the cat?"
---
From @my_purr_pals
Recently I was walking Freya on a trail and a guy came up behind us. He was really friendly and thought it was cool I was walking a cat and wanted to chat. Freya's nervous about strangers getting too close, she was handling it well, but I could see as the minutes went by she was starting to get uncomfortable until finally she hit a point where she jumped out of my arms and pulled hard at the end of the leash. I cut the conversation short and got her to an unpopulated section where she was more comfortable, but I felt bad that this guy had a genuine interest and Freya noped out. Not her fault obviously, the interaction just went on a bit long!
---
From @han_an_sheika_may
I had a heart scaring moment when Sheika and I were just starting. When she was not even a year old and we had a new harness we were walking outside my complex and she got spooked, wriggled out of the new harness, ran back to our building, back to my door and stopped 5 ft away from my door and patiently waited for me to run and catch up and open the door for her. She knows where home is and we found a much better harness!!
---
From @killian.katniptails
We had visited a pet store earlier in the day & Killian was given some freezes dried chicken from one of shop people. Well in the middle of the night he started to get an upset stomach. He must of used the litter box, but had diarrhea & got it on himself. Then he did the zoomies all over the apartment including my bed. I woke up because I felt something wet on my leg…4am is a horrible time to be doing laundry & cleaning up the poop around the apartment.
---
From @missclemmycat
My cat woke me up from a deep slumber in the camper with projectile vomit all over the back of my head and neck. Midnight bed stripping and shower ensued. It was a big gross mess!
---
From @adventuresome_cats
We were on our way to a cardiology appointment for an ultrasound and he eliminated from both ends and was completely covered in a smelly mess, no way paper towels and baby wipes would get it all, it was smooshed in between his toes even. The doctor and techs were very gracious with ignoring the odor wafting off of him and having to handle him to have him lay still on the table for probably 15 to 20 minutes. Whenever I traveled with him after that, I always took an extra carrier with clean bedding and a great deodorizing waterless shampoo that is safe not to have to rinse off.
So tell us… what is your most embarrassing adventure moment or fail?
---
About the Author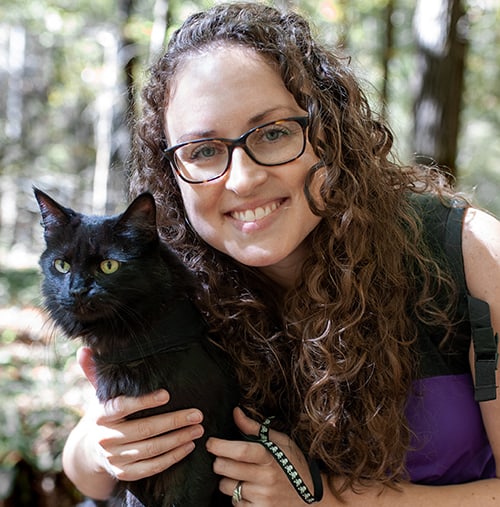 Emily Hall is a cat trainer and cat adventure enthusiast. As "mom" to seven cats, one dog, and two sugar gliders, she has been writing in the pet industry for 10 years, with a focus on traveling and adventuring with cats. Emily and her husband enjoy hiking, road-tripping, camping, and canoeing with their three cat adventurers. Read more about her here.