*Updated November 13, 2023
Contrary to popular belief, cats are NOT sedentary creatures who just lie around and sleep all day. While it is true that they do nap a lot, they also require mental and physical stimulation and enrichment. Providing cat enrichment toys and indoor enrichment activities for our cats is absolutely vital for their health and happiness.
While there are all types of cat enrichment activities, one of the best is play. Whether it's interactive playtime with you or solo playtime, playing helps to satisfy instinctual behavior, keeps your cat mentally and physically active, and helps to expend excess energy.
If you're looking for some new ideas to spice things up for your kitty's play time, I've got you covered here with some of my cats' favorite cat toys – guaranteed to stave off boredom and keep your kitty engaged! You will also learn about the different types of cat toys and more about why enrichment is important.
*Disclosure: This post contains affiliate links. If you make a purchase using one of these links, I will receive a small commission at no extra cost to you. This helps me to continue creating helpful content. Don't worry – I would never recommend something I don't like or use myself!
Why Enrichment is Important
As mentioned, cats have mental and physical needs that we, as responsible cat guardians, are responsible for meeting. The truth is, they will become bored and even depressed if not given proper opportunity for exercise, play, and to act on their natural behaviors and instincts.This is especially true for indoor cats.
Dr. Lynn Bahr says that keeping "cats active, engaged, and entertained is extremely important for maintaining their overall wellbeing…Lack of physical activity and stimulation takes a mental toll on cats, often resulting in anxiety and depression. And it has physical effects as well, which can manifest as serious health ailments."
In her book, Indoor Cat: How to Enrich Their Lives and Expand Their World, she lists 5 reasons to play with your cat:
To improve your cat's quality of life
To deepen your bond with your cat
To keep your cat mentally and physically healthy
To help your cat vent excess energy
To alleviate problem behaviors like aggressive biting or bullying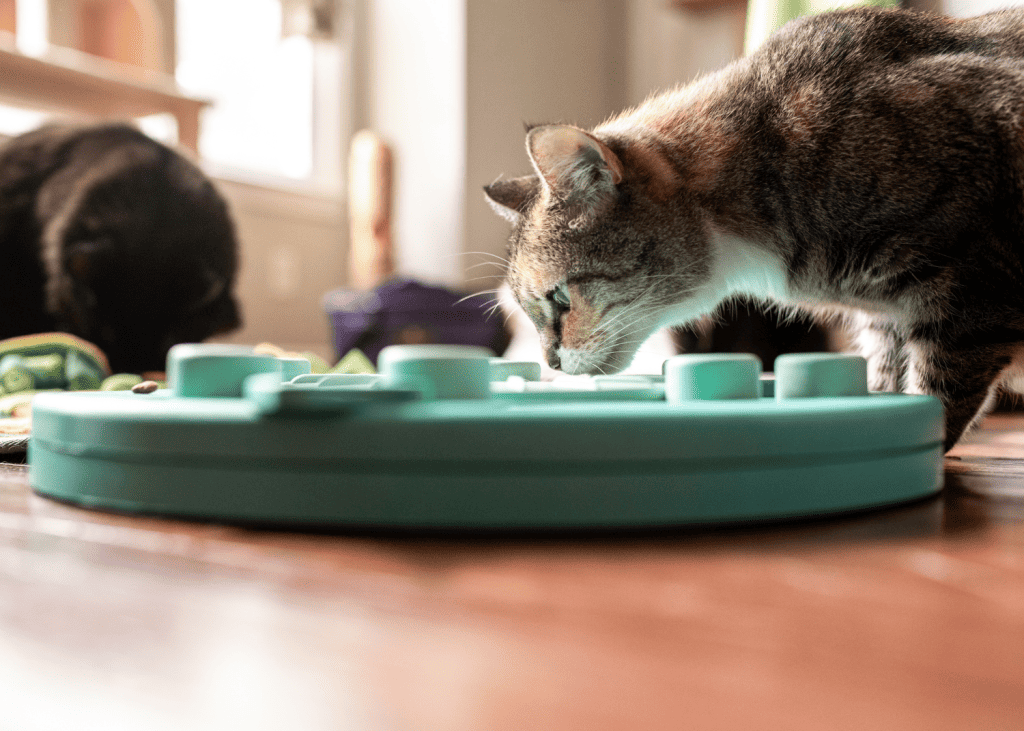 4 Types of Cat Toys
The best cat toys give your cat the chance to act on their natural behaviors, keep them mentally and physically stimulated, and help to expend excess energy. There are four main types of cat toys: Interactive, Prey, Puzzle, and Comfort. Some toys may belong to just one category, while others may belong in more than one.
Interactive Toys – These types of toys are typically ones you can use to play with your cat, but they also include toys that can operate on their own. Examples include: wand toys, laser pointer (though I don't recommend those*), battery-powered toys, ball and track toys, tunnels, bubbles, and activity centers.
Prey Toys – These are toys your cat can "hunt" – meaning, they can chase it, bat it around, and pounce on it. Examples include: foil balls, crinkle paper, little mice, and other small balls or stuffed critters.
Puzzle Toys – These are intellectually challenging and entertaining and help to satisfy your cat's hunting instincts. You typically put cat treats inside, and your cat has to figure out how to access them. Examples include: food puzzles, snuffle mats, snuffle balls, and treat dispensers.
Comfort Toys – These are soft and cuddly stuffed animals that your cat might like to sleep with. They may also enjoy playing with it. Examples include: kickeroos and small stuffed animals.
While you may find that your cat has a favorite type of toy or even a specific favorite toy, it's important to provide a variety of options for them.
A great way to make an older toy seem new is to cycle your toys. Once a toy has been out for a week or two, put it away and trade it out for a new toy. Then once the "new" toy has become old news, put it away and bring back the other toy.
*I don't recommend laser pointers because they can lead to frustration. For your cat to fully satisfy their hunting instincts, they need to be able to catch their prey. A laser cat toy doesn't allow for your cat to actually catch it.
12 of My Favorite Cat Enrichment Toys
Living with 7 cats, I've learned a lot about feline enrichment over the years and have tried out countless cat toys. I've had to get creative to make sure that I keep things interesting by providing my kitties with all types of enrichment and a variety of toys – everything from interactive toys, solo play toys, toys that provide sensory enrichment, toys made of different textures, etc.
I know it can be tough to come up with fresh ideas to keep your cat entertained, so here are mine and my kitties' favorite cat enrichment toys:
1. Snuffle Mats
Toy Category: Puzzle
A snuffle mat is basically an oversized mat or rug with loose strips, pockets, and pouches to hide your cat's treats in. Snuffle mats are mentally stimulating, as your cat has to use their nose and forage around all the "obstacles" to find their treats. Though most snuffle mats are marketed for dogs, that doesn't mean they aren't suitable for kitties!
Our favorite: Injoya snuffle mats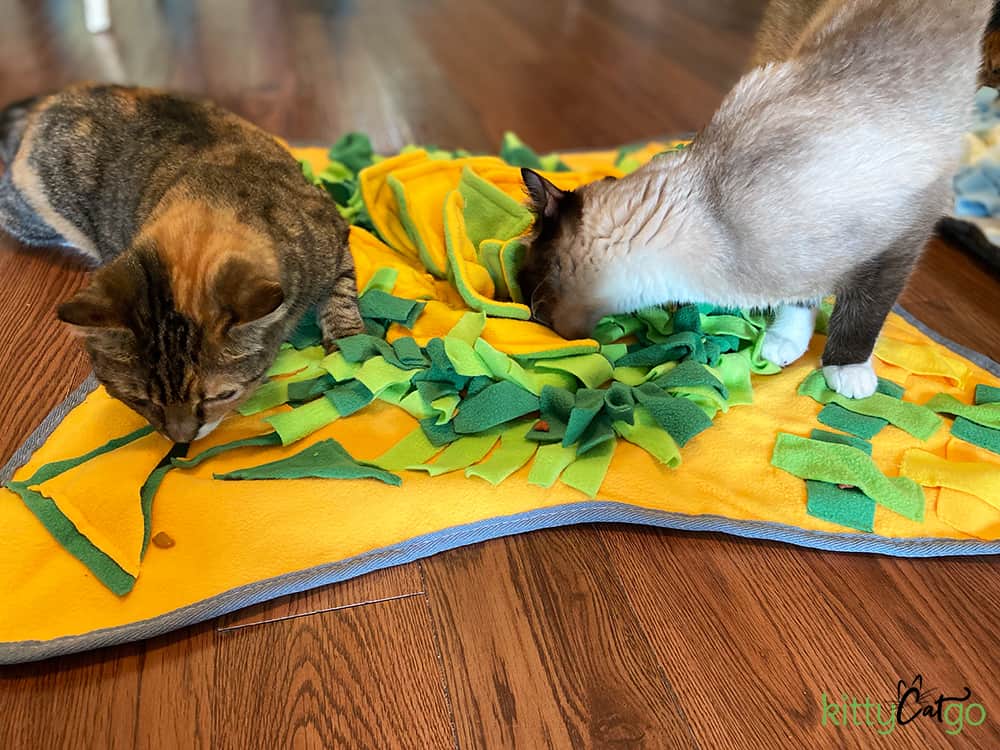 2. Snuffle Balls
Toy Category: Puzzle
A snuffle ball is similar to a snuffle mat, except instead of it being a flat surface, the fleece strips are put together to form a ball. You can stuff treats down inside and leave out for your cat to engage those hunting and foraging instincts. It's basically a mobile version of a snuffle mat since it rolls around as your cat plays with it.
Our favorite: My own handmade snuffle balls
(Enter your name and email address below to save 10% on your snuffle ball order!)
3. Cat Food Puzzles
Toy Category: Puzzle
Like snuffle mats and balls, food puzzles require your cat to think through problems and overcome obstacles to get their food or treats. They are an excellent source of mental stimulation. They also come in a wide range of difficulty levels and styles.
The fun thing about puzzle toys is that they can be made easier or more difficult to suit your cat's needs. If your cat is able to solve their puzzle too quickly, just add in more obstacles to make it harder!
Our favorites: Nina Ottosson puzzles and Cat Activity puzzles.
4. Foraging Toys
Toy Category: Puzzle
Foraging toys are ones you put treats in and then hide around your home for your cat to find. They are a fun way to give your cat the thrill of the hunt, or at least close to it. Your cat has to use their nose and hunting skills to sniff them out, and even once they find the toy, they still have to work to get the treats/food out.
Our favorite: Doc & Phoebe Feeder Mice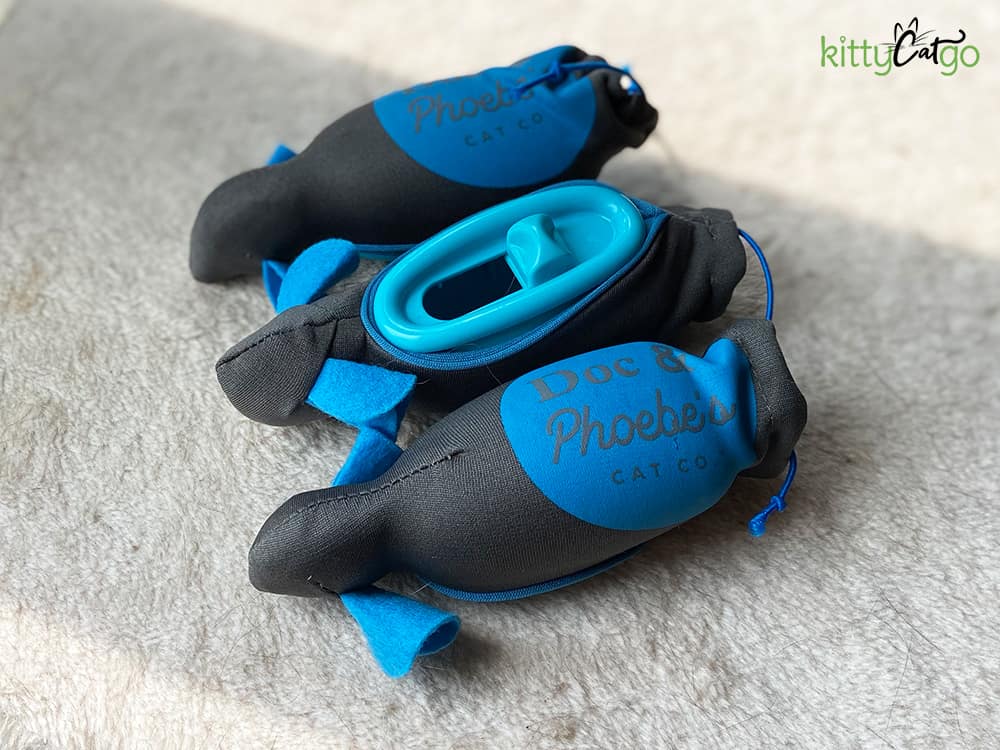 5. Wand Toys
Toy Category: Interactive
If you're looking to expend your cat's energy, wand toys and feather wands are where it's at! You can get them jumping, running, chasing, and pouncing all with one toy.
Play tips: Be sure to let your cat "catch" the toy from time to time so they can fully satisfy those hunting instincts!
Our favorite: Da Bee
6. Sheer Fun for Cats
Toy Category: Interactive
The Sheer Fun for Cats cat toy is a perfect example of simplicity at its best. It is literally just a piece of sheer fabric with a crinkly edging put on it. So simple, but such an ingenious idea.
My cats go crazy for this thing. They slide around on it, they "get" each other through it when I drape it over furniture and scratchers, they chase it if I drag it across the floor, and they love to "hunt" their toys placed underneath it.
Our favorite: Sheer Fun for Cats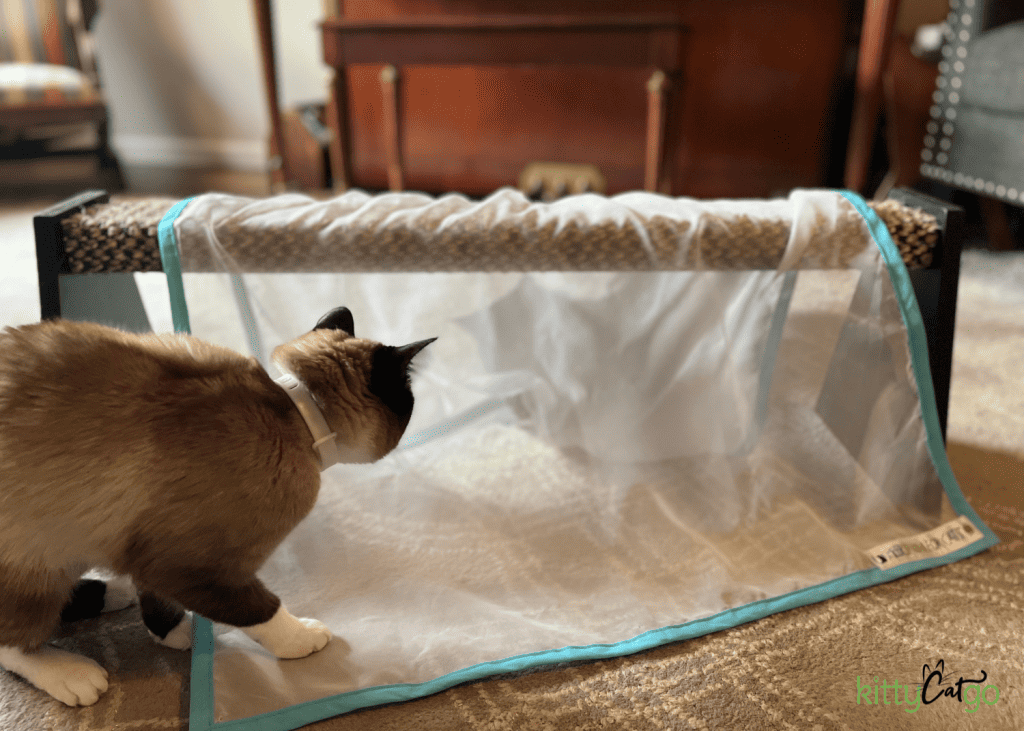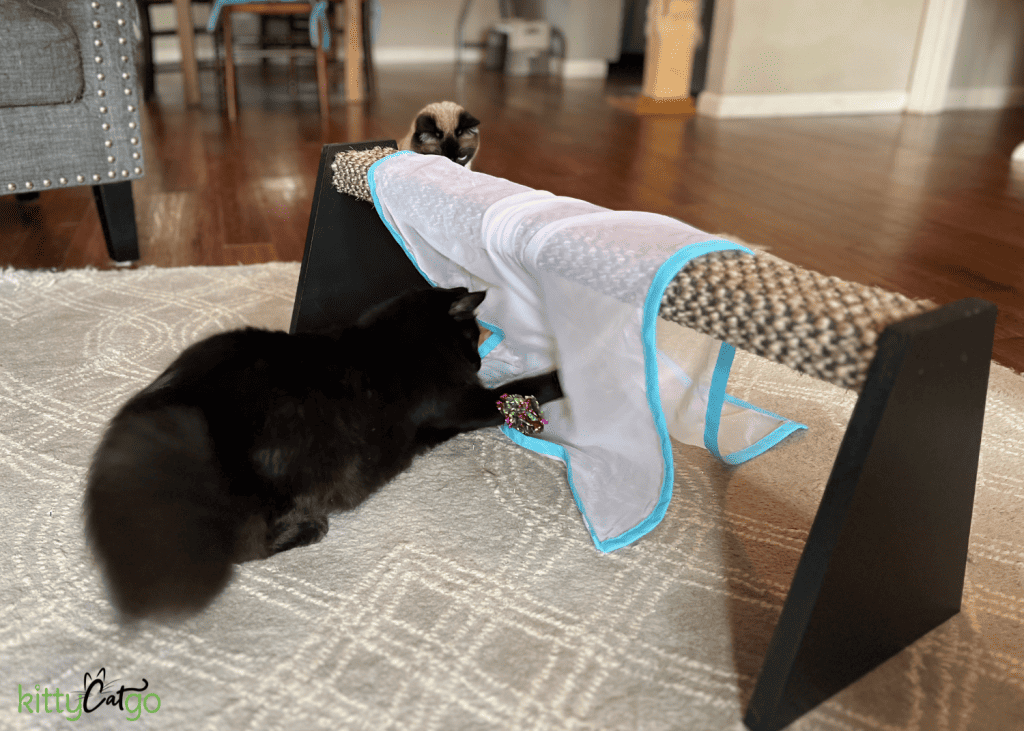 7. Tunnels
Toy Category: Interactive
Cat tunnels come in all shapes, sizes, and varieties. They are a great option for interactive play, but your cat can also enjoy them alone.
My cats love them so much because they can hide out in them, play with each other through the different holes, and run through them. They especially love it when I combine their Da Bee wand toy with their tunnel toys.
Our favorite: Tempcore Pet Tunnel
8. Catnip Toys
Toy Category: Prey and Comfort
What cat doesn't love catnip? Okay, actually 50% of cats don't react to catnip… but if your cat is a nip head, giving them a special catnip toy to bat around and play with is always exciting. You can even get a cheap rug and sprinkle catnip on it. Your cat will go wild rolling around on it!
If your cat isn't a fan of the nip, there are other herbs that may do the trick! Silvervine, valerian, and honeysuckle are catnip alternatives that even the catnip resistant cats can enjoy.
Our favorite: Yeowww! Bananas and Meowijuana Buds
9. Robotic Fish
Toy Category: Prey
These battery powered robotic fish toys are activated by water. Throw a handful of them into a large, clear bowl and enjoy the show! They will "swim" around, and your cat will be mesmerized. They may even try fishing them out. Hours of fun!
Our favorite: LAVIZO Interactive Fish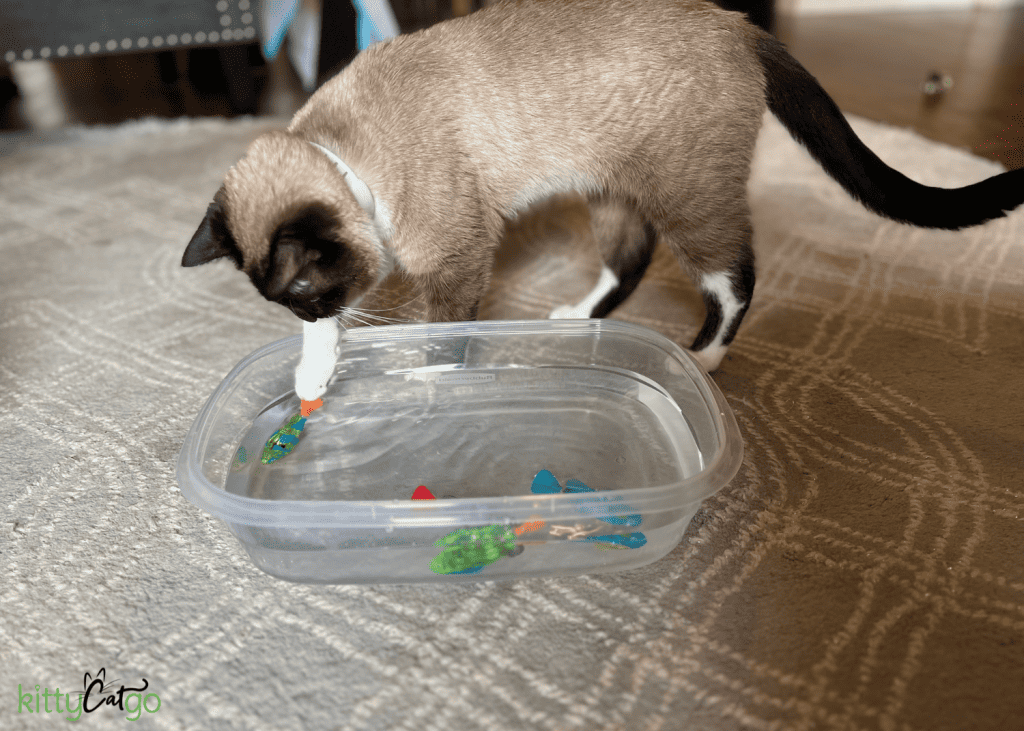 10. Foil Balls
​Toy Category: Prey
Another example of simplicity at its finest. Foil ball toys are a hit with most cats. They are lightweight and can be easily batted around and chased or even picked up and carried in a cat's mouth. They also make a crinkly sound, which is a huge bonus.
In our house, we like to play "soccer" with foil ball toys.
Our favorite: Mylar Crinkle Ball Toys
11. Kicker Toys
Toy Category: Prey and Comfort
Kicker toys are a great addition to your cat's toy basket. They give your cat a chance to exercise those infamous "bunny kicks" they love to do so much. They're also a great toy for your cat to cuddle up with if they'd like to.
Our favorite: Legendog Kickers
12. DIY Cat Toys
​Toy Category: Interactive and Prey
If you're looking for a inexpensive or free toy your cat will love, you might want to try the DIY route. You can use toilet paper rolls, cardboard boxes, paper bags, and crumpled paper to make your own cat toys!
Cut some holes in a plastic bottle and pour some yummy treats inside, and you've got yourself a puzzle treat dispensing toy. Toss a few of your cat's favorite small toys into a paper bag for playtime fun. Hide a few treats inside crumpled paper balls and watch your cat forage. Or save up your cardboard boxes to create a box fort/castle.
With a few DIY toys like these, you'll have hours of entertainment for your cat.
Our favorite: Bringing the outside in
What are your favorite cat enrichment toys?
---
About the Author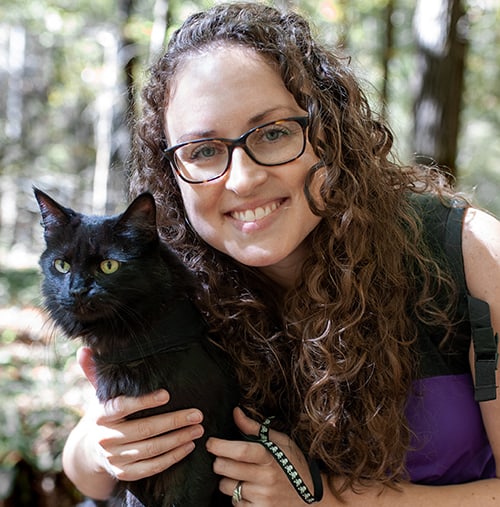 Emily Hall, ABCCT is a certified cat trainer and cat adventure enthusiast. As a "mom" to seven cats, one dog, and two sugar gliders, she has been writing in the pet industry for 10 years, with a focus on traveling and adventuring with cats. Emily and her husband enjoy hiking, road-tripping, camping, and canoeing with their three cat adventurers. Read more about her here.