*Disclosure: This post contains affiliate links. If you make a purchase using one of these links, we will receive a small commission at no extra cost to you. This helps us to continue creating helpful content for you! Don't worry – we would never recommend something we don't like or use ourselves!
Let's be real – we aren't all able to take our cats out on adventures as much as we'd like to. There are many things that can get in the way of our adventuring desires and plans, but one of the biggest obstacles is weather. Extreme temperatures (either hot or cold) sometimes make it difficult and even unsafe to take our cats out.
Even if we are able to take our cats out every day, they still require environmental enrichment and stimulation. Here are some of our favorite indoor environmental enrichment activities for cats:
1. Snuffle Mats
A snuffle mat is basically an oversized mat or rug with loose strips, pockets, and pouches to hide your cat's treats in. Snuffle mats are mentally stimulating, as your cat has to use their nose and forage around all the "obstacles" to find their treats. Though most snuffle mats are marketed for dogs, that doesn't mean they aren't suitable for kitties!
Our favorites are the Injoya snuffle mats. They have so many varieties, and they are all super cute. Plus, they can just be thrown in the washing machine when it's time for a cleaning! My cats also love to sleep on them.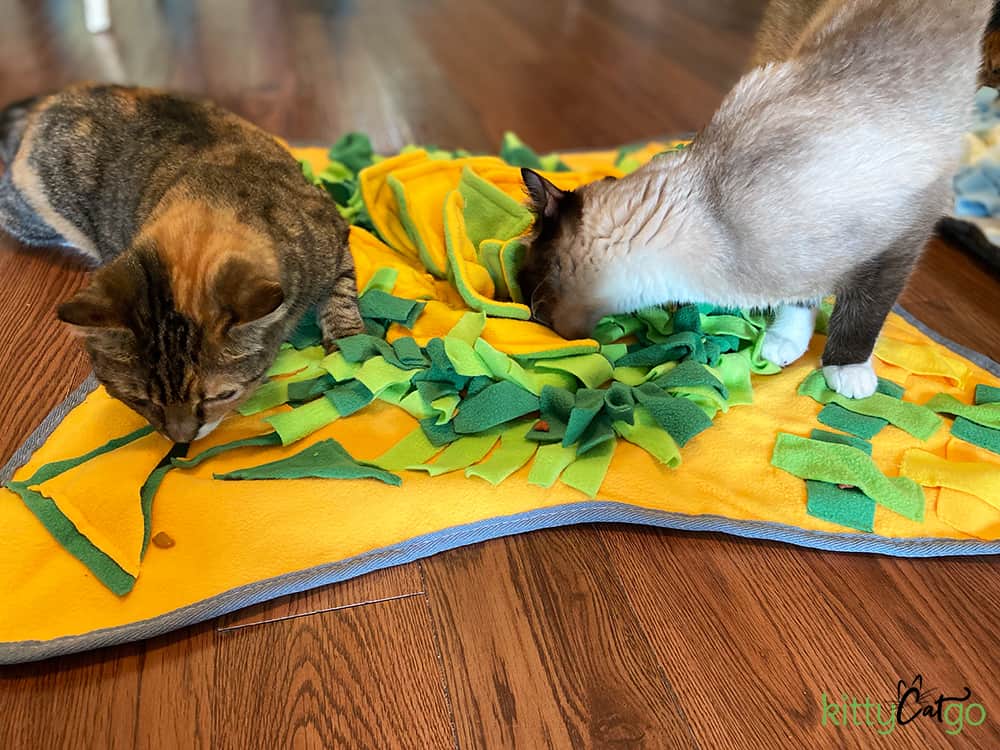 2. Cat Food Puzzles
Like snuffle mats, food puzzles require your cat to think through problems and overcome obstacles to get their food or treats. They are an excellent source of mental stimulation. They also come in a wide range of difficulty levels and styles.
Our favorites are the Nina Ottosson puzzles and Cat Activity puzzles.
3. Clicker Training with Your Cat
Clicker training is a great source of both mental and physical stimulation for your cat. It's also fun and has a lot of practical applications – especially if you travel and adventure with your cat. It's easier to do than you probably think too!
(You can read more about all the reasons we think you should do clicker training with your cat here.)
If you're wondering where to start, check out Cat School! Julie has an amazing clicker training course and clicker training kit.
4. Feeder Mice
The feeder mice from Doc & Phoebe are a fun way to give your cat the thrill of the hunt. Or at least close to it. The mice come in a pack of three and can be filled with your cat's favorite treats or food.
You hide them around your house, and your cat has to use their nose and hunting skills to sniff them out. Even once they find the mice, they still have to work to get the treats/food out.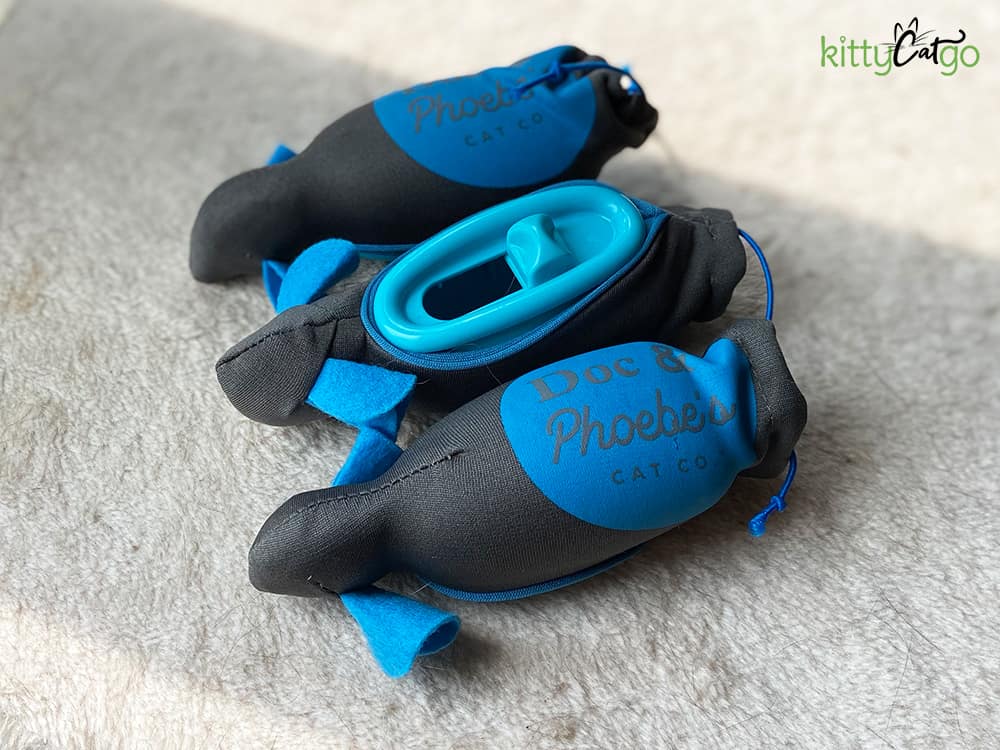 5. Catnip Toys
What cat doesn't love catnip? Okay, actually 50% of cats don't react to catnip… but if your cat is a nip head, giving them a special catnip toy to bat around and play with is always exciting. You can even get a cheap rug and sprinkle catnip on it. Your cat will go wild rolling around on it!
If your cat isn't a fan of the nip, there are other herbs that may do the trick! Silvervine, valerian, and honeysuckle are catnip alternatives that even the catnip resistant cats enjoy.
The catnip toys in our shop are actually stuffed with a combination of premium organic catnip, silvervine, valerian, and honey suckle. We've been told on more than one occasion that even cats who never showed an interest in catnip toys before go CRAZY for our toys!
Bonus: The Jackson Galaxy Catnip Vault Marinater is perfect for letting the toys soak in some extra catnip "flavor!"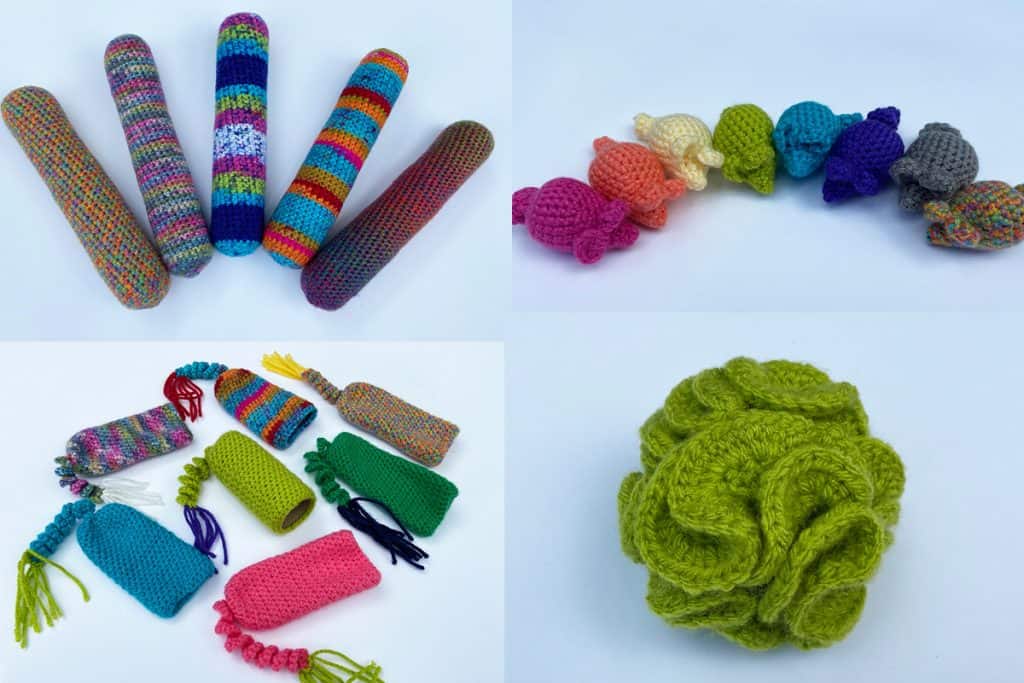 6. Cat Exercise Wheel
Though a pricey investment, cat exercise wheels are an excellent source of physical enrichment for cats. If you've never seen one before, they are like giant versions of hamster wheels. It does take some training to get your cat to use one, but once they figure it out, they can run to their heart's content! Perfect for the extra-energetic kitty!
7. Fishing
No, not REAL fishing. There are, however, battery powered robotic fish toys that are activated by water. Throw a handful of them into a large, clear bowl and enjoy the show! They will "swim" around, and your cat will be mesmerized. They may even try fishing them out! Hours of fun!
Up Next:
What is your cat's favorite indoor enrichment activity?
---
Pin It for Later