While I am obviously a bit proponent of outdoor adventures with your cat, there are going to be times when you can't get out with your cat for one reason or another. It's during these times that indoor enrichment is so important. Creating a semi-outdoor space for your cat, such as a catio, is also an amazing way to safely let your cat experience the sights, smells, and sounds of the outdoor world.
In this episode of the KittyCatGO Adventure Podcast, I chat with Yas Nakchbendi, who is a cat-gardening expert and catio builder extraordinaire! She shares tips on creating an enriching and zen catio space for your cat, what types of cat-friendly plants you can grow, and ways to bring the outside in to your kitty.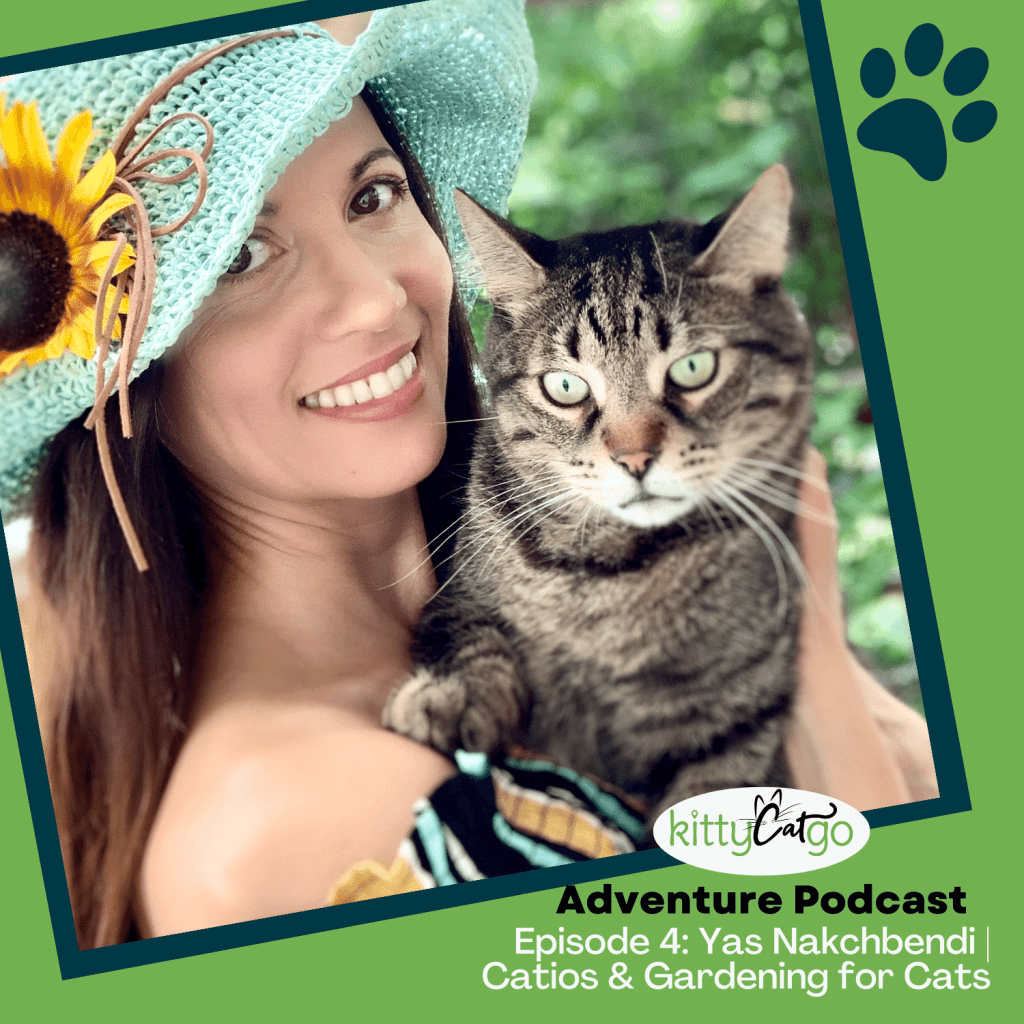 *Disclosure: This post contains affiliate links. If you make a purchase using one of these links, I will receive a small commission at no extra cost to you. This helps me to continue creating helpful content. Don't worry – I would never recommend something I don't like or use myself!
Overview of the Episode:
Yas's process of building her amazing catio
Adding tunnels onto your catio
Ways to spruce up a catio space, even if it's small
The floor of Yas's catio
Tips for creating a catio space on a rooftop terrace
Growing cat grass
Keeping bees and bugs out of your catio
Tips for creating a catio space for your cat if you live in an apartment or don't have much space
Cat-friendly plants
Creating cat puzzles with things you have at home
Growing catnip
Indoor enrichment ideas
Resources & Gear:
Blog Post: How to make outdoor cat tunnels to increase your cat's territory
Blog Post: 9 Awesome ways to bring your catio to life with these catio accessories
Blog Post: The ultimate guide to growing cat grass
Blog Post: How to Engage your Cat's Foraging Instincts With This Fun Cat Food Puzzle
Blog Post: How to Make This Unique and Simple Cat Grass Pond Using Water Beads
Where to find Yas:
Website: www.chirpycats.com
Instagram: @chirpycats
Did you enjoy this episode? SUBSCRIBE and LEAVE A REVIEW!
You can subscribe and listen to the KittyCatGO Adventure Podcast through Apple Podcasts, Spotify, Google Play, Stitcher, and anywhere else you might listen to podcasts.
To share the love and support what I do, I'd appreciate if you left a review for my show! This will help more people find it and learn more about traveling and adventuring with their cats.
---
About the Author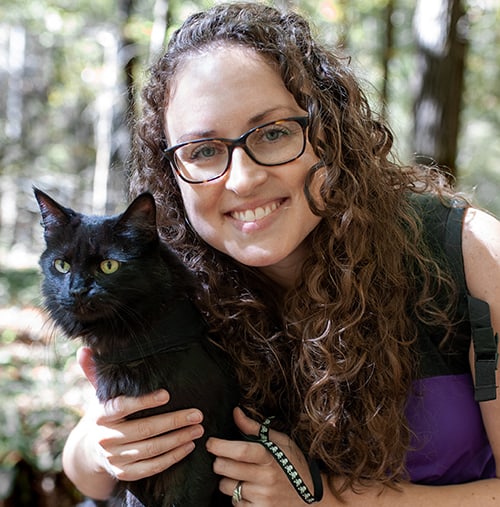 Emily Hall, ABCCT is a certified cat trainer and cat adventure enthusiast. As a "mom" to seven cats, one dog, and two sugar gliders, she has been writing in the pet industry for 10 years, with a focus on traveling and adventuring with cats. Emily and her husband enjoy hiking, road-tripping, camping, and canoeing with their three cat adventurers. Read more about her here.