If you do any sort of traveling or adventuring with your cat, taking your cat in the car is usually always going to be a part of the equation. While it may be tempting to let your cat roam freely in the car, that is not safe for anybody. Your cat should always be in a carrier.
"But my cat just sleeps quietly in the passenger seat when we ride in the car."
"But my cat hates her carrier. She cries the entire car ride unless I let her out!"
"But we aren't going far. He'll be fine sitting in my lap."
Believe me, I get it. I have used those arguments before myself. Back when my husband and I only had two cats (SO long ago…), I used to take them with me whenever I'd go visit my parents. One cat would ride in my lap the whole way, and the other would lie across my shoulders. They never caused any problems. They always rode calmly and quietly until we reached our destination.
Then there was Sophie who sang screamed the "song of her people" whenever she'd ride in her carrier. It was miserable for her; it was miserable for me. I'd eventually give in and let her ride in my lap instead.
I've since learned from my mistakes (thankfully not the hard way) and always keep my cats restrained in their carriers when riding in the car. Here are 3 reasons you should too!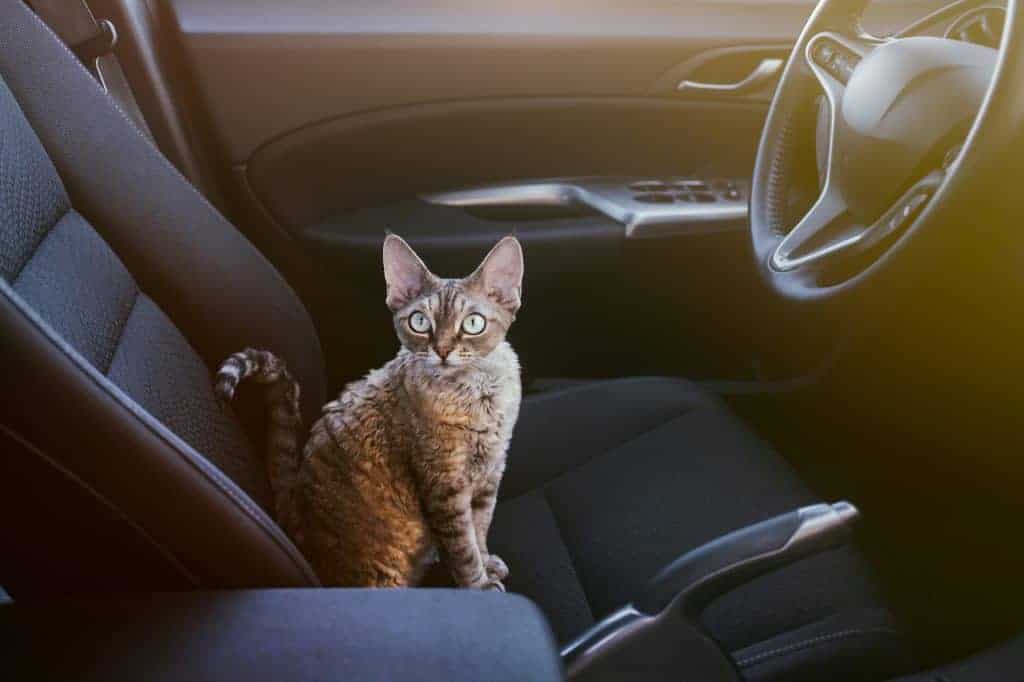 *Disclosure: This post contains affiliate links. If you make a purchase using one of these links, I will receive a small commission at no extra cost to you. This helps me to continue creating helpful content. Don't worry – I would never recommend something I don't like or use myself!
1. For everyone's safety, your cat should ride in a car carrier.
Safety: the #1 reason you should keep your cat in a carrier. What happens if something spooks your cat while he's riding in your lap, and he freaks out and claws you or jumps down by your feet? What happens if you have to brake suddenly and hard while your cat is sunbathing in the rear windshield? What happens if, God-forbid, you are in a car accident?
A 10-pound cat becomes 500 pounds of projectile force if in a car accident at 50mph. Holy cow!
I'm sure we have all been guilty of the "that-will-never-happen-to-me" mindset at some point. The truth is though, it CAN happen to you.
It is safer for your cat, for you, and for other people on the road if your cat is restrained in a carrier while riding down the road. End of story.
2. Depending on the state, it is against the law for pets to be unrestrained in the car.
The laws on restrained vs. unrestrained pets in cars vary from state to state. Some states will impose fines if pets are not restrained in a carrier, safety harness, and/or seat belt. Others can ding you with a distracted driver violation or even animal cruelty. You should familiarize yourself with the laws in your area.
3. You buckle up yourself and expect your passengers to do so too. The same consideration should be given to your cat.
It is second nature to buckle our seat belts when we get in the car. I don't even think about it – it's become an action I do on autopilot. If I have passengers riding with me, I expect them to buckle up as well. Not only do I not want to get a ticket, I also want everyone to be as safe as possible. If this care and consideration is given to the human passengers of our cars, why not the feline ones as well?
---
Our Top 5 Favorite Cat Carriers
Now that you understand why having a car carrier for your cat is so important, it maybe time to shop for one. We have done the leg work for you and put together a list of highly-recommended carriers in varying styles. We crowd-sourced these awesome cat carrier suggestions from everyone in our FB group. Here are the top 5 recommendations:
1. The Sleepypod Mobile Pet Bed
Perfect for: The safety conscious cat parent & the cats who are easily stressed by car travel
The Sleepypod is an all-around fan-favorite. Not only is it our favorite, but it was the top pick of several people in our FB group as well. We personally have 7 of them scattered around our house. The cats nap in them and hang out in them on a daily basis.
Remember how I mentioned how Sophie would cry incessantly during car rides? Once we got her a Sleepypod, that stopped almost completely. She still cries a little bit from time to time, but she is a lot more comfortable with car rides now that she rides in a Sleepypod. Plus, it is the safest cat carrier out there!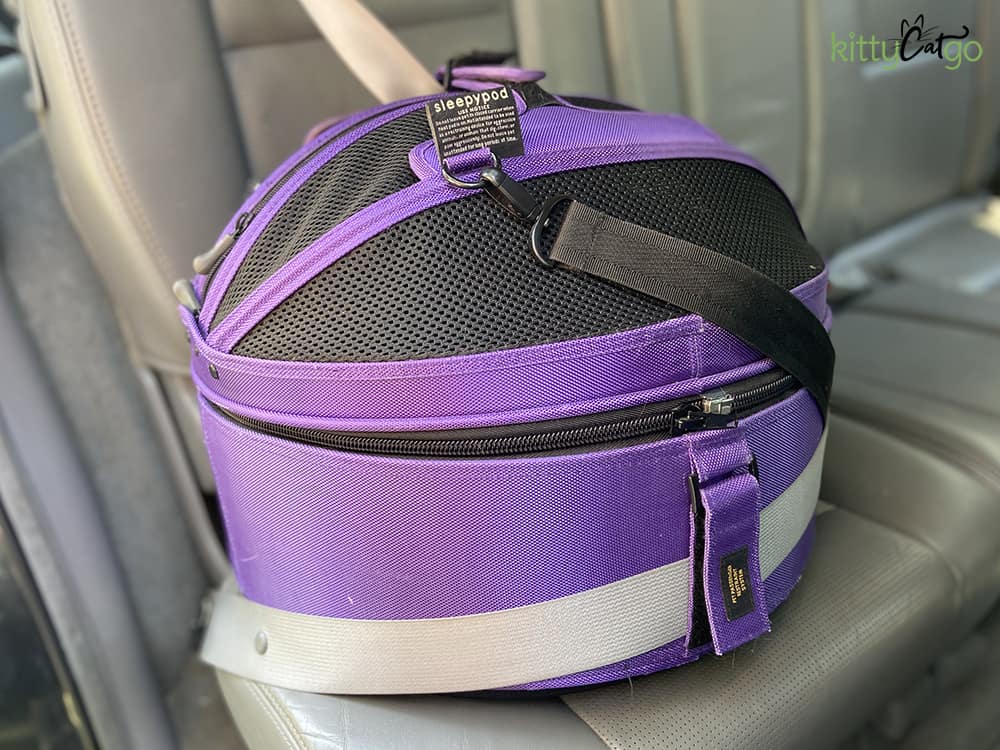 FEATURES:
***Has been crash tested and passed***
Mesh-dome top that allows your cat a wide field of view
Comfortable – lined with foam padding and ultra plush liner
Doubles as a pet bed and carrier – cuts down on travel stress by making your cat feel like she's traveling in her bed
Buckles in with a seat belt
Comes in stylish, fun colors
>> Click here to shop for a Sleepypod <<
2. Gen7Pets Carrier
Perfect for: The everyday adventurer
This Gen7Pets carrier is a great soft-sided carrier because it has rods that stand up inside each end to keep it from collapsing. Many soft-sided carriers don't maintain their shape very well, but this one does!
FEATURES:
Multiple points of entry
Seatbelt safety straps
Well-ventilated
Metal rods to help maintain carrier shape
>> Click here to shop for the Gen7Pets Carrier <<
3. Sturdi Car-Go
Perfect for: The cat and cat-parent who are always on the go
Sturdi Products has a great reputation for a reason. Their products are always top notch. Their Sturdi Car-Go pet carrier is no exception.
FEATURES:
Spacious
Wide field of view
Shoulder strap for easy portability
Storage pockets
Seatbelt safety straps
>> Click here to shop for a Sturdi Car-Go Carrier <<
4. Pet Fit for Life
Perfect for: The long road-trippers
The Pet Fit for Life carrier is incredibly spacious, making it especially good for long car trips. It's not the most heavy-duty/sturdy carrier, but if you are worried about your cat having access to litter box while riding in the car, it is a good solution.
FEATURES:
Roomy
Can fit 2 cats, or a cat and a litter box
Comes with a travel litter box
Can be strapped in with a seat belt
>> Click here to shop for a Pet Fit for Life Carrier <<
5. PetSafe Booster Seat
Perfect for: The cat who doesn't like to be confined
This one is completely different from the other carriers, as you can tell. It isn't an enclosed carrier, but rather a booster seat with a tether that attaches to your cat's harness to keep him secure. It comes in different sizes, but the larger size is tall enough to allow your cat to see out the window.
FEATURES:
Straps in with a seat belt
Allows your cat to see out the window
Comfortable – it has a quilted liner and pillow cushion
Gives your cat a full field of view
>> Click here to shop for the PetSafe Booster Seat <<
We hope you have found what you're looking for here, but if you any questions, please don't hesitate to contact us.
---
About the Author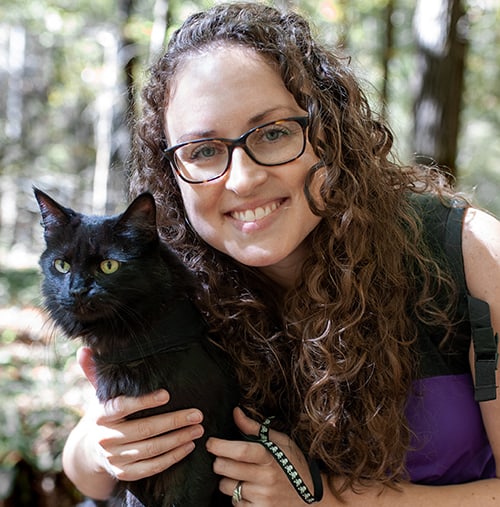 Emily Hall, ABCCT is a certified cat trainer and cat adventure enthusiast. As a "mom" to seven cats, one dog, and two sugar gliders, she has been writing in the pet industry for 10 years, with a focus on traveling and adventuring with cats. Emily and her husband enjoy hiking, road-tripping, camping, and canoeing with their three cat adventurers. Read more about her here.