It's no secret that many cats dislike being confined in a carrier, which can make knowing how to get a cat in a carrier a bit of an obstacle! If you plan on traveling with your cat though, riding in the car is unavoidable. And if you will be traveling with a cat in a car, a carrier is necessary.
While it may seem tempting to skip the carrier and let your cat free roam in the car, we do not advise that. A free-roaming cat in a car is an accident waiting to happen.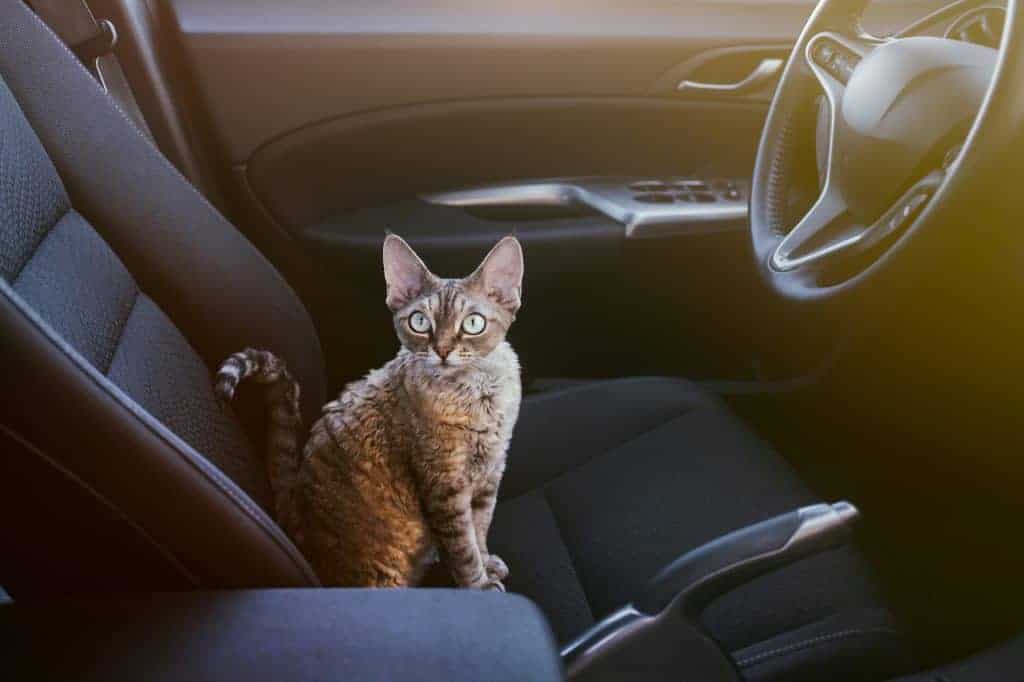 *Disclosure: This post contains affiliate links. If you make a purchase using one of these links, we will receive a small commission at no extra cost to you. This helps us to continue creating helpful content. Don't worry – we would never recommend something we don't like or use ourselves!
How to Carrier Train Your Cat
But what if your cat hates riding in a carrier? What if you don't even know how to get a cat IN a carrier? That's where carrier training comes in!
Keep in mind that there is no set time frame for how long the training process should take. Every cat is different. Some cats may only take a few days to get comfortable with their carrier, while others take weeks or even months.
Patience is key. Don't move on to the next step until you are sure your cat is ready. Rushing through the steps won't do any good.
1. Pick Out a Carrier / Restraint System
There are many types of carriers, backpacks, booster seats, and car restraint systems for pets. I am of the opinion that ANYTHING is better than nothing.
That being said, enclosed carriers specifically designed for car travel are best. With these, there is no chance your cat can slip out, get tangled in a lead, etc. – all of which are dangerous for your cat and can cause a distraction for the driver. There have even been studies that have proven how dangerous tether-based restraints are.
Whichever carrier you choose, be sure it can be strapped in with the seatbelt. We also recommend checking for car carriers and restraints that have been crash tested!
Our favorite cat carrier for travel: The Sleepypod Mobile Pet Bed
2. Leave the Carrier Out
Once you've found the right carrier or restraint system, leave it open and out around your house for your cat to investigate. The goal is for your cat to grow comfortable with the carrier on their own before you try putting them in it.
You can throw in some treats, catnip, blankets – anything to help attract your cat to the carrier. You can even go so far as to feed your cat in the carrier and incorporate it into their playtime.
Note: At this point, you are keeping the carrier open. Closing your cat in the carrier will come later. If your carrier comes apart, you can even start this step with the top or door off, adding those elements in later once your cat is ready.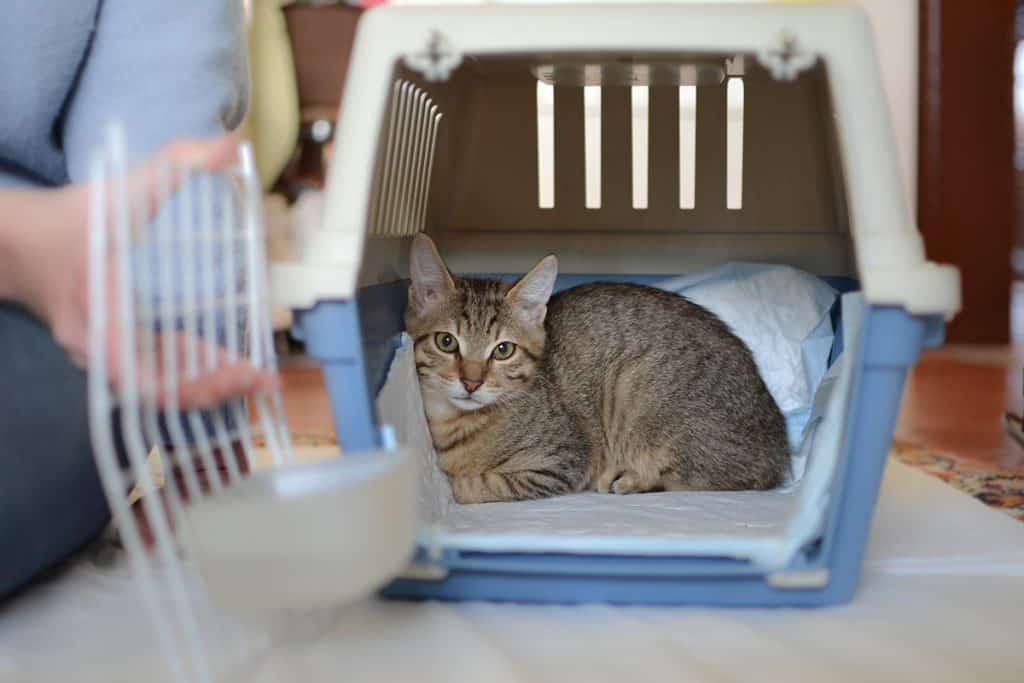 3. Positive Reinforcement
Just like with any sort of training, positive reinforcement is key. Reward your cat with treats and praise whenever you see them investigating it or getting inside.
Cat trainer and animal behaviorist Julie Posluns says to "place treats and toys inside the carrier to encourage them to go in there, and reinforce with more rewards once inside. Doing this work will create a positive association with the carrier, so your cat will be eager to go inside."
You can also incorporate clicker training, training your cat to get in and out of their carrier on command.
Ideally, your cat will begin to view the carrier as a safe and positive space. Don't be surprised if you start finding your cat napping in their carriers!
4. Close the Carrier
Once your cat seems to be comfortable with the carrier when it's open, you can try closing them inside. When your cat enters the carrier (either voluntarily or when you ask them to get inside), close the door/top and give them treats. Open the door again immediately after.
Gradually increase the amount of time your cat is enclosed based on how your cat seems to react. The goal is to work up to longer intervals of time.
When your cat seems comfortable with the door closed, try picking the carrier up with them inside. Immediately place it back down again, and reward your cat. Work your way up to be able to carry them around the house while they're inside.
Always reward with treats!
How to Train Your Cat to Ride in the Car
Okay, so your cat is comfortable in the carrier both with the door open and closed. They will tolerate being enclosed inside for more than just a few minutes. You think they're ready for the next step… THE CAR!
1. Move to the Car
If your cat seems to be okay being enclosed in their carrier, try moving the carrier to the car with your cat inside. Strap them in and sit in the car with them for a few minutes.
Keep the engine off for the first couple sessions, but eventually try turning it on so your cat can get used to the feel and sound of it. You can even turn on the radio, but don't turn it up too loud. The goal is to get your cat used to the sounds they will expect to hear when riding in the car
And as always, give treats!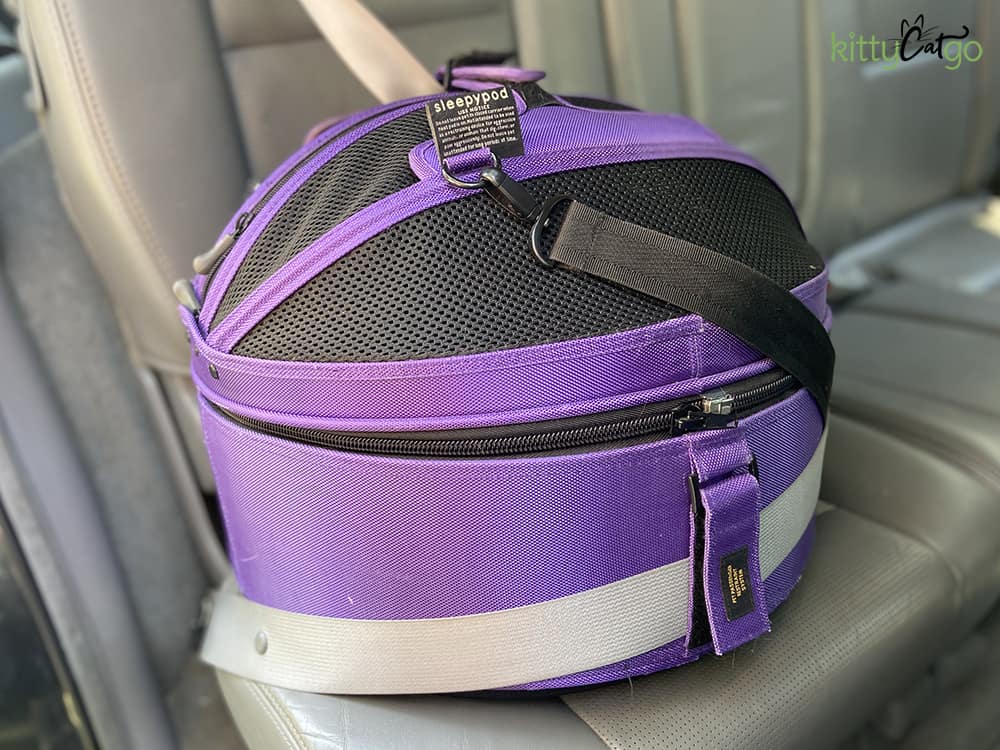 2. Go for a Drive
If you feel your cat is ready, try taking them for a ride around the block or down the street. Keep the rides short at first. You can gradually increase your distances and speeds as your cat grows more and more comfortable.
Eventually, start taking your cat to a variety of places in the car. Again, positive reinforcement is key. If your cat only ever travels to the vet in their car carrier, they will associate both the carrier and the car with negative experiences. You want to help them realize that the carrier and the car can both mean fun and happy experiences!
6 Products to Help Keep Your Cat Calm in the Car
We all know that car travel can be stressful for some cats. If after going through the proper carrier training process your cat continues to be stressed, there are some calming aids that may help.
Cat Treats – depending on the cat, a steady supply of their favorite cat treats might do the trick
Blanket/t-shirt that smells like home – having the familiar scent of home and "their people" in their carrier can help ease stress
Calming Treats – there are many cat treats on the market designed to help relieve stress and anxiety
Feliway Calming Spray – Feliway makes a calming pheromone spray that you can spray into your cat's carrier
Bach's Rescue Remedy – a homeopathic remedy to ease stress and anxiety.
Relaxopet Pro for Cats – a pet relaxation device that uses advanced vibration technology
Prescription aids for cats – there are some prescriptions that can help ease stress and anxiety in cats. See your veterinarian if you think you need to go this route.
Also be sure to test out the medication on your cat before any road trips. Some cats are affected by drugs differently and can either have the opposite reaction than what is intended (becoming more agitated instead of calm) or may even have a negative reaction and get sick. You don't want to be surprised by anything during your travels!
---
About the Author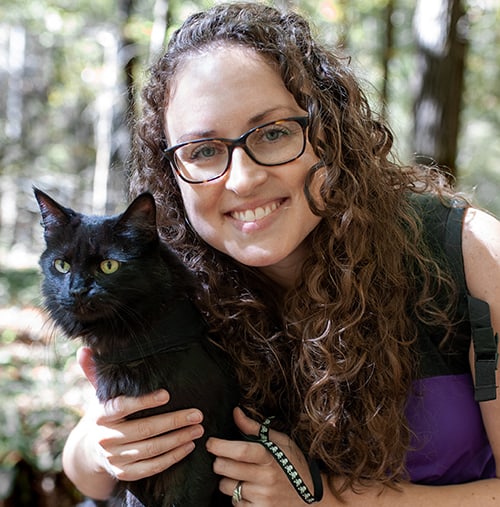 Emily Hall is a cat trainer and cat adventure enthusiast. As "mom" to seven cats, one dog, and two sugar gliders, she has been writing in the pet industry for 10 years, with a focus on traveling and adventuring with cats. Emily and her husband enjoy hiking, road-tripping, camping, and canoeing with their three cat adventurers. Read more about her here.