Traveling with a cat by car may seem like a crazy idea. Cats and car rides are just not usually two things you'd think would go well together. Most people would agree with you too.
Going on a cat road trip cat can actually be a lot of fun though, and your cat can even grow to enjoy it. There is also the added benefit of not having to hire a pet sitter if you're able to bring your cat along with you on your travels. It takes preparation and practice, but we've got you covered with everything you need to know about how to travel with a cat in the car. Whether you're wondering how to travel with a cat across country or just how to take a short road trip, keep reading for 13 cat road trip tips!
*Disclosure: This post contains affiliate links. If you make a purchase using one of these links, I will receive a small commission at no extra cost to you. This helps me to continue creating helpful content. Don't worry – I would never recommend something I don't like or use myself!
Planning a Cat Road Trip
As you may have guessed, traveling long distance with cats in the car is not as simple as just packing up and hitting the road. You'll need to plan things out and make sure both you and your cat are prepared. If your cat is already harness and leashed trained, that's a bonus. There are some other prep steps you'll need to take as well before your trip.
1. Pick out a safe and comfortable cat carrier.
Your cat should always ride in a carrier when traveling in the car. No matter how well behaved your cat is, it is safest for them to travel in a carrier. You never know when something might spook your cat, you have to brake quickly, or God forbid, you're in a car accident. A carrier will help keep you, your cat, and other people on the road safer.
Our favorite carrier is the Sleepypod Mobile Pet Bed. The Sleepypod doubles as a cat bed and a carrier, which allows for your cat to travel in the comfort of her own bed. This is perfect if your cat gets stressed while traveling. It also has a mesh-dome top that allows for your cat to have a clear view of their surroundings. The best feature of the Sleepypod though is that is has been crash tested. It can be strapped in with a seat belt and has proven to hold up in car accidents.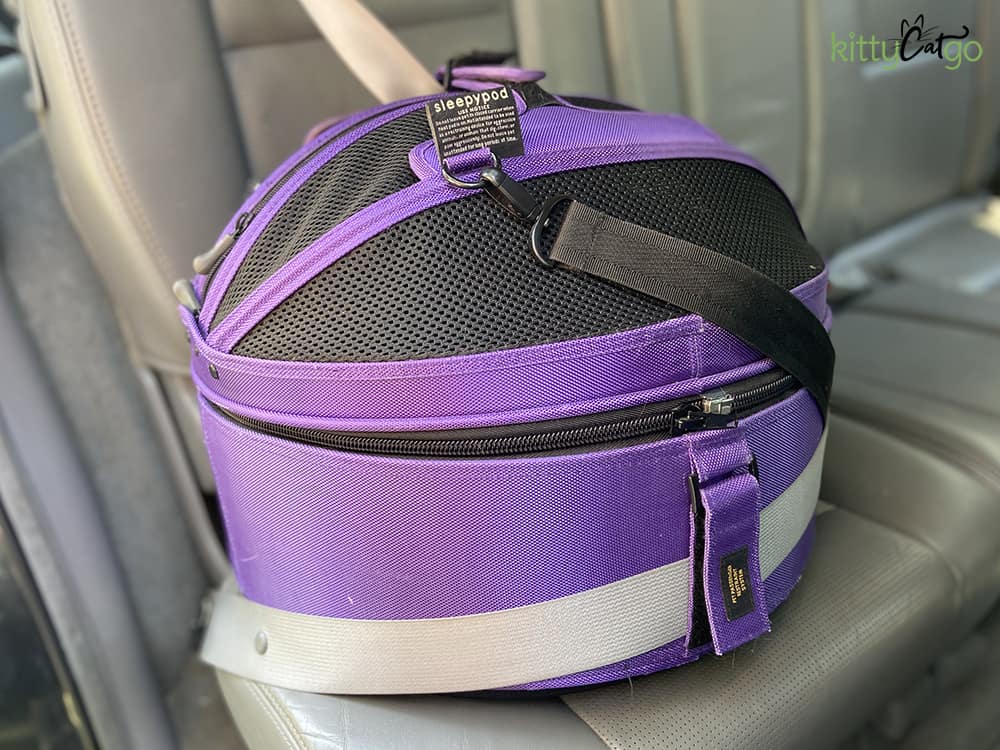 If you're looking for something more spacious, perhaps for a longer road trip, the Pet Fit for Life carrier is a good option. It doesn't have the safety features of the Sleepypod, but it can be strapped in with a seat belt and gives your cat more room to stretch their legs. The large size can fit two cats, and it also comes with a portable litter box.
2. Practice driving short distances with your cat.
If your cat is not accustomed to riding in the car, you'll want to ease them into it. Put them in the carrier you will be using for your trip*, and go for a ride around the block. Next time, increase the distance you go. You don't want their first car ride to be a trip across the country.
*Carrier Tip: Leave your cat's carrier out in the house so they can get used to it on their own before you take them in the car. You can feed them in the carrier as well so they begin to associate it with positive experiences. You want them to view the carrier as a safe and comfortable hang out spot.
3. Make sure your cat's ID tags are up to date.
Of course you don't expect or plan to lose your cat when on a trip, but it's always best to be prepared. On the off chance that your cat gets away from you, you want to be sure their ID tags are current before you leave for your trip. If they're not already microchipped, you might consider taking that step as well.
4. Make your reservations for cat-friendly accommodations.
While you may be able to wing it and stay at the first hotel you come to when you're traveling alone, it doesn't work that way when traveling with your cat. Finding cat-friendly accommodations isn't always easy. Make your reservations ahead of time so you are sure to be able to find a place to stay.
When making your reservations, always confirm that they are cat-friendly. Don't assume that because they are "pet-friendly" that that includes cats. Unfortunately, many hotels, motels, and other rentals are listed as pet-friendly, but what they really mean is that they are dog-friendly.
Contact the place directly and make sure they allow cats. Be sure to ask if there are any extra fees for staying with your cat as well. You don't want to be surprised by any unexpected charges when you check out.
5. Have a litter box plan (but understand things might not go accordingly).
If your road trip is only a couple hours long, you probably don't have to worry about having a litter box in the car. However, if you will be on the road for several hours, you will need to have a plan for how your cat can go to the bathroom. There are actually several ways you can handle the litter box situation when traveling with a cat by car.
Have a litter box in the car that you can give your cat access to whenever you make a pit stop. Good options for travel litter boxes include:
If your cat's carrier is large enough, you may be able to fit a small litter box in with your cat.
Line your cat's carrier with pee pads in case they need to go or have an accident.
If your cat is comfortable using the bathroom outside, then you can just stop and let her go at a rest stop (while harnessed and leashed, of course).
While you should definitely have a plan for how you're going to handle the litter box situation, please understand that your cat may have a different idea of how things will go. For example, I always bring a litter box in the car on long trips, but my cats have never once used it. They always wait until we're settled at our destination.
The best plan would be to have a couple different plans. Maybe have a litter box in the car for your cat to use on a pit stop, but also line her carrier with pee pads just in case. You never know how your cat is going to handle going to the bathroom on a road trip until you've done it a time or two. Give them options in the beginning until you know their road trip bathroom habits.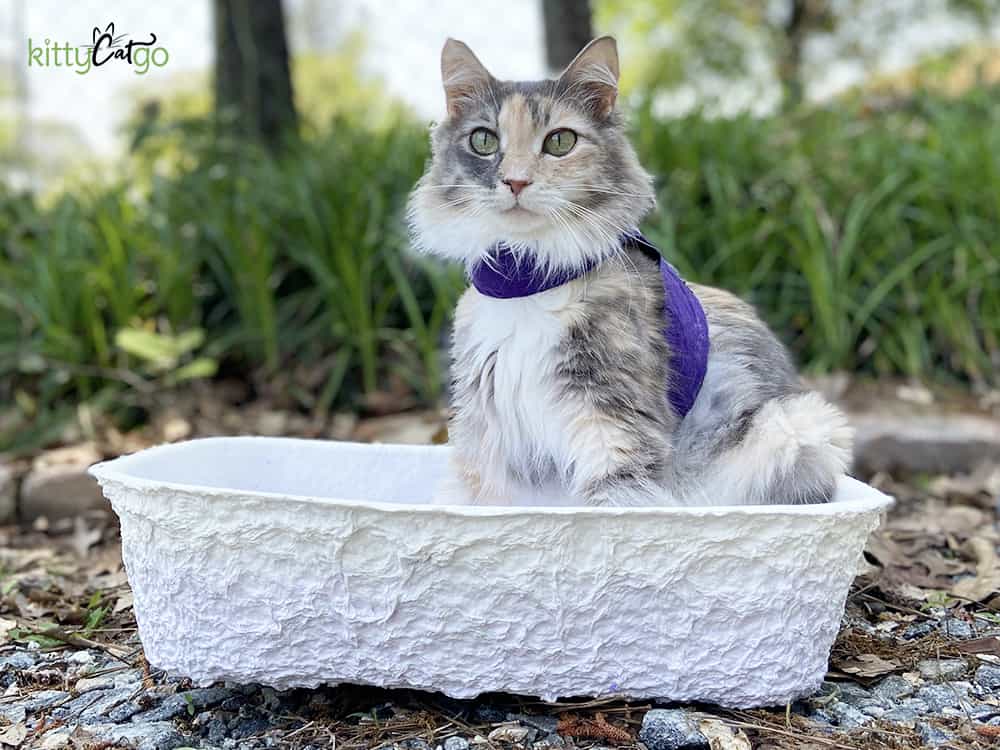 6. Make a list of things to pack for your cat.
Whenever I travel with my cats, I joke with my husband that their suitcase is bigger than mine. Cats need a surprising amount of stuff! Everything from the obvious food, water, and litter box to the less obvious dustpan and broom, trash bags, and can opener.
The best way to make sure you don't forget something is to make a list. Be sure to include the obvious essentials and anything else that might make your cat's trip more comfortable and less stressful. You'll want to pack extra of things like food and litter too. Best to be over-prepared than to run out of something on your trip.
What to Do the Day of Your Trip
The planning is done. You and your cat are packed. Today is the day you leave for your trip! Before you guys jump in the car, there are a few things you can do to make the road trip go a bit more smoothly…
1. Don't feed your cat the morning of your trip.
To prevent the chance of your cat getting nauseous or sick in the car, don't feed them for several hours before you leave. They will be fine waiting to eat until the end of the day when you get to your destination.
2. Administer any medication to your cat (as advised/prescribed by your veterinarian).
Some cats suffer from motion sickness just like we humans do. If that's the case with your cat, be sure to talk with your veterinarian about it. They can prescribe something or recommend an over-the-counter medication.
The same advice goes for if your cat gets stressed out riding in the car. There are several different prescription and over-the-counter sedatives and calming solutions that can help to keep your cat calm.
*Always consult with your veterinarian first before giving your cat any kind of medication.*
3. Exercise your cat.
In an ideal world, your cat would sleep through the entire road trip. That way you don't have to worry about them being stressed, going to the bathroom, or getting hungry. My cats have gotten pretty used to riding in the car and can actually ride for 5-6 hours without any issues.
If this is your cat's first road trip though, you shouldn't be surprised if your cat gets a little stressed and doesn't settle for the whole ride. If your cat is tired out though, the chances are higher that they will sleep or rest quietly for the trip. To tire them out, you can have a big play and/or exercise session before hitting the road.  
4. Try to get your cat to go to the bathroom.
Unfortunately, you can't have a conversation with your cat and explain to them the benefits of using the litter box before you get in the car. You can encourage it though by putting them in the litter box and seeing if they might go. You can actually even train your cat to use the litter box – check out these "how to" articles by our friends Cats Going Places and SparkleCat featuring Summer.
Using the Litter Box Before Cat Travel
Cats Going Places
Going Before You Go, or Using the Litter Box Before Traveling
SparkleCat featuring Summer
Hitting the Road with Your Cat
It's time to hit the road! Though all of the prep and training work is done, there are still several things to take into consideration as you and your cat make your way down the road to your destination.
1. Have the necessities handy and easy to reach.
Most of your luggage will be fine in the trunk or back of your car, but you'll want to have a bag of your cat's necessities within easy reach. Things like water, treats, medication, pee pads, etc. – anything you might need immediate access to while on the road.
2. Plan pit stops.
If your road trip is only a couple hours long, your cat will likely be fine without a pit stop. However, if you will be in the car for several hours, you should plan on taking a pit stop every few hours. Give your cat the opportunity to get a drink of water and go to the bathroom. If your cat is harness and leash trained, you can take them for a little walk and let them stretch their legs a bit. If they are not, you can at least let them out of the carrier to roam the car for a few minutes before you get back on the road.
3. Don't leave your cat in the car unattended.
Never leave your cat in a car unattended, especially in extremely hot or cold weather. What if you need to use the restroom yourself though and don't have another human traveling companion who can stay in the car with your cat? In this case, you have a couple options. The first and best option is to travel with two sets of car keys so you can leave the car on, lock it, and run in to use the restroom. Your cat will be safe with the doors locked and the A/C or heat going.
If you don't have an extra set of keys, then you'll want to run the A/C or heat on high for several minutes before your stop so that the car gets nice and cool/warm. When you get to your pit stop destination, you can leave your cat in the car while you run in to use the restroom. Make it as quick as possible, as you don't want to leave your cat in the car with no A/C or heat for more than a few minutes.
---
As you can see, there are many things to consider when traveling with a cat by car. It may seem overwhelming at first. The more you do it though, the better both you and your cat will get with it.
If you have any questions or need advice, feel free to contact us! We are here to help 🙂
KittyCatGO LIVE – Episode 6: Traveling with Cats
---
About the Author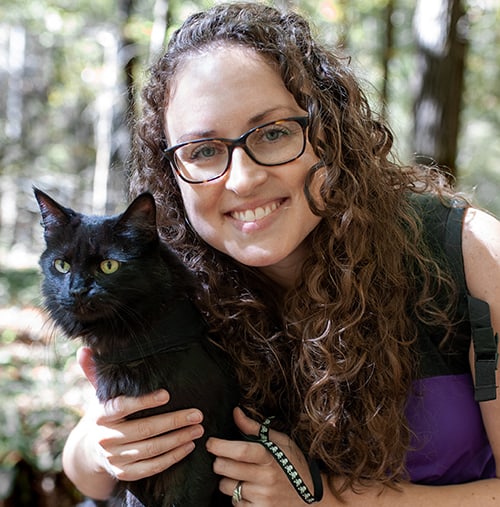 Emily Hall, ABCCT is a certified cat trainer and cat adventure enthusiast. As a "mom" to seven cats, one dog, and two sugar gliders, she has been writing in the pet industry for 10 years, with a focus on traveling and adventuring with cats. Emily and her husband enjoy hiking, road-tripping, camping, and canoeing with their three cat adventurers. Read more about her here.