Whether you're taking a big trip and bringing your cat along or you're moving across country, flying with a cat can seem like a big undertaking. You might even be wondering, "Can you fly with cats?" The answer is yes, and with proper training and preparation, it can be an exciting adventure. We are here to help get you prepared, so keep reading for our best tips for traveling with a cat on a plane.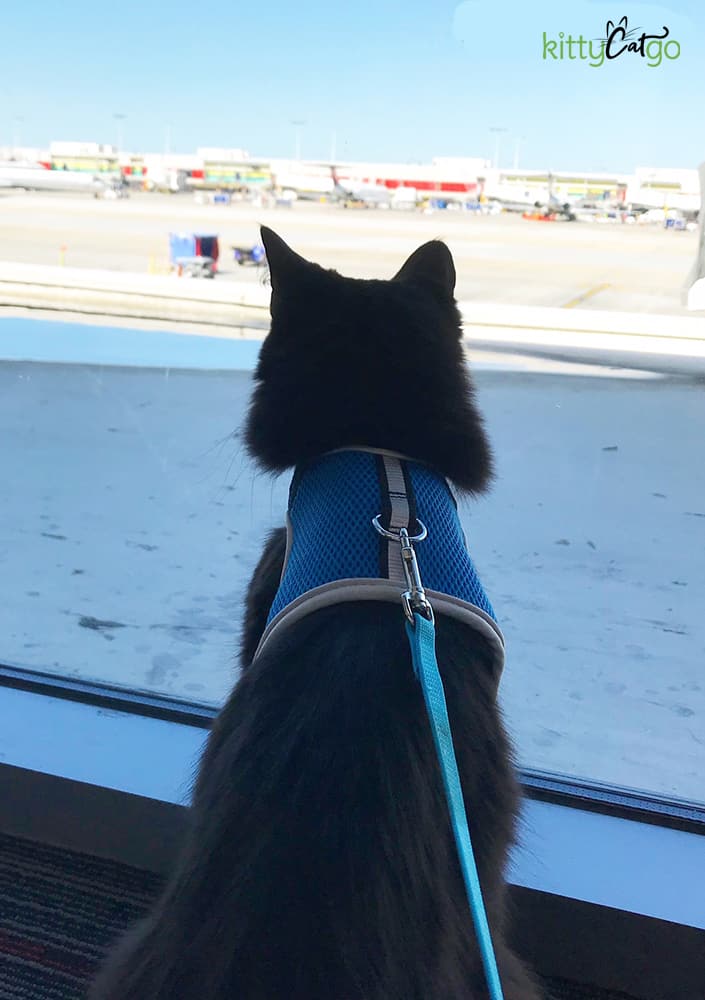 *Disclosure: This post contains affiliate links. If you make a purchase using one of these links, I will receive a small commission at no extra cost to you. This helps me to continue creating helpful content. Don't worry – I would never recommend something I don't like or use myself!
Before Your Flight
1. Research airline rules and regulations for flying with a cat.
The rules for flying with a cat vary from airline to airline. In general though, there will be regulations regarding:
How many pets are allowed per flight
How many pets are allowed per paying adult passenger
How many pets are allowed in a single carrier
The age of the pet
The need for a health certificate and up-to-date vaccinations
Whether your cat counts as a carry-on or personal item
The dimensions and specifications for accepted cat carriers
Familiarize yourself with all the rules and regulations before booking your flight to make sure you know what to expect and what you need to do to prepare.
2. Be aware of the associated costs.
All airlines require some sort of pet fee for your cat to travel with you. Some of them can be quite expensive.
Also, keep in mind that your cat counts as one carry-on or personal item, so you may have to check a bag. This adds expense too. Be sure to factor all of these costs in as you plan your trip.
3. The middle seats have more space under the seats.
Once you board the plane, your cat's carrier will have to go under the seat in front of you. On many airlines, the middle seat has the most room for your cat's carrier. If you're able to make specific seat requests when you book, you may want to ask for a middle seat.
4. When you book your flight, let the airline know you will be traveling with a cat.
Don't just show up at the airport with your cat. Even though your cat won't be taking up a seat on the flight, you still have to book them a spot.
5. You will need an airline-approved cat carrier.
Not all cat carriers are created equal, particularly when it comes to flying with a cat in cabin. Each airline has their own specific regulations when it comes to pet carriers, but generally, you need a carrier that:
Fits under the seat in front of you
Allows sufficient room for your cat to stand up and turn around in
Has a waterproof bottom
Has adequate ventilation
Before purchasing a carrier, be sure to check with the airline you are flying with for their specific requirements.
There are many airline-approved cat carriers out there, but our favorite is the Sleepypod Air. We have used it a couple times on flights before, and it worked well.
The Sleepypod Air has a unique soft-sided design allows it to contract in size to fit in the space below most airline seats. It can also expand to allow your cat more room when you're just hanging out at your gate or riding in the car.
When not in use, the Sleepypod Air folds flat for easy storage. It also has straps on both sides to secure it with a seatbelt during car travel, a pocket on each side to store travel necessities like cat treats and a leash, a safety tether to eliminate quick pet escapes when opening the carrier, and trolley pocket to secure the Sleepypod Air onto your other luggage while navigating the busy airport.
6. Start carrier training your cat.
If your cat is not already comfortable riding in a carrier, you will need to start carrier training. Even if your cat is used to riding in a carrier, if you had to get a new airline-approved cat carrier, you will need to do some training with that specific one.
Cat Carrier Training Tips:
Leave the carrier out for your cat to investigate on their own
Put treats and/or catnip inside to entice your cat to go in
Feed your cat inside the carrier
Leave the carrier out at all times so your cat begins to see it as a bed/safe space
Once your cat is okay with the carrier in the house, take your cat for short car rides while riding in the carrier
Increase the distance of your car rides
Reward with treats throughout the process so your cat always associates the carrier with positive things.
7. Take your cat to the vet.
While not all airlines require a health certificate for your cat to travel, some do. Even if the airline doesn't require it, the state you're traveling to may. To make sure you have all your bases covered and to make sure your cat is healthy and approved for air travel, make an appointment for a wellness check with your veterinarian.
Note: Health certificates usually need to be obtained within 10 days of travel.
8. Be sure to pack everything your cat will need!
It may seem obvious, but make sure you remember to pack all of the necessary things for your cat. Separate the items by what can be checked and what you will need easy access to while you're actually on the plane.
We have a complete cat packing list checklist you can download, but here is a list of the items you will need quick access to both at the airport and on the flight:
Treats
Harness and leash
Collar and ID tags
Pee-pads to line your cat's carrier (particularly if your flight is long)
Poop bags in case your cat goes the bathroom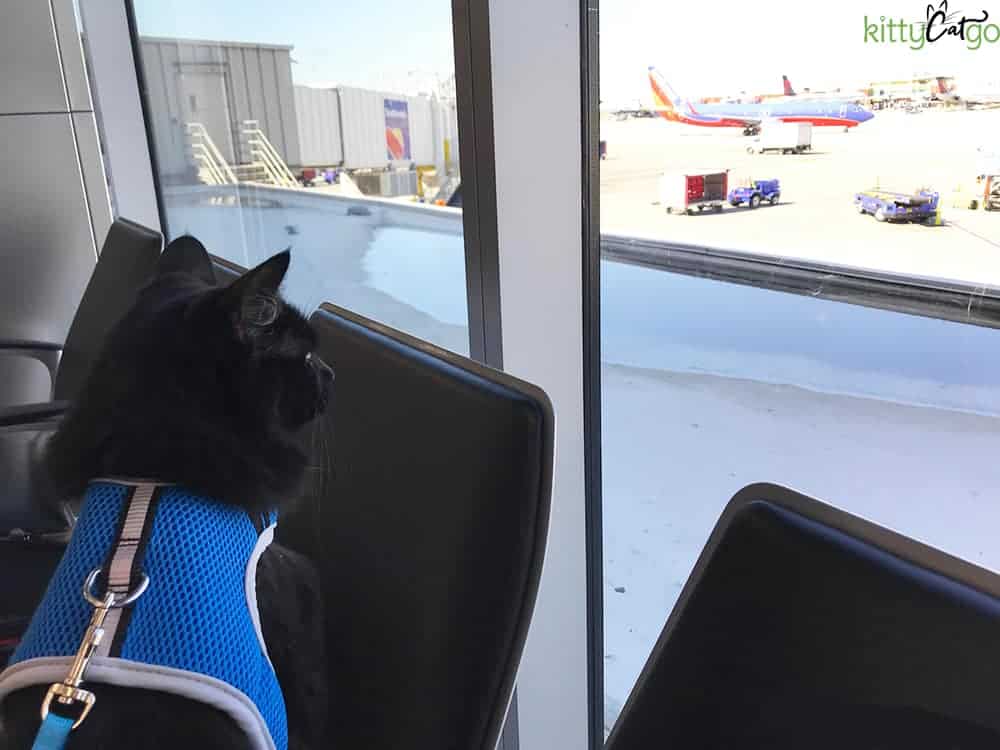 Time to Fly!
9. Factor in extra time to your flight check-in process.
With the addition of a cat traveling companion, there are additional factors to consider when planning your timeline for the day. When you check-in for your flight, you will need to also check-in your cat. The security checkpoint will likely take longer (more on that later). And what happens if your cat has to use the bathroom? Be sure to allow yourself extra time to deal with all of these things and arrive at the airport earlier than you might would if you were flying alone.
10. Be prepared to take your cat out of the carrier at the TSA Security Checkpoint.
When you get up to the security checkpoint, you will have to take your cat out of the carrier before walking through the scanners and metal detectors. The carrier goes on the belt through the X-ray machine with all the carry-on and personal items, but you have to carry your cat with you through the scanners.
Both times I've flown with a cat, the TSA agents made me take off my cat's harness and leash. Others have reported they were able to leave their cat's harness and leash on though, so there doesn't seem to be any consistent policy. You should be prepared for either scenario.
11. You might get flagged for a hand swab at the security checkpoint.
Apparently criminals have been known to hide explosives inside animals. Since you're traveling with a cat, there's a chance you may get flagged for additional screenings, especially in the form of a hand swab. If you do, they will swab your hands for explosive residue and run a quick test.
12. You can ask for a private security screening.
Obviously going through the TSA security checkpoint with a cat has the potential to be extremely stressful, especially if your cat doesn't do well with crowds and loud noises. If you think you or your cat might not handle it well, that's okay! You can ask for a private security screening instead.
If you decide to ask for a private screening, you do so once you arrive at the security checkpoint. A TSA agent will take you to a private room for your screening. This will take longer than going through the regular checkpoint, so be sure to factor that into your plans.
13. Have your cat's treats accessible at all times!
To reward your cat for their good behavior and to help keep them calm, giving treats throughout the day is a good idea. Not only will it make your kitty happy, it can give you an insight into how your cat is feeling. Cats won't usually take treats if they are too stressed.
Also, during takeoff and landing, your kitty may become uncomfortable and anxious. There is a lot of noise after all, and the pressure changes affect their ears the same as yours. To help them equalize the pressure, you can give them a few treats.
BONUS: How to Keep Your Cat Calm on a Flight
We all know that car travel can be stressful for some cats. Plane travel? Possibly even more so. You can practice car travel by going for short little drives, working up towards those longer road trips.
You can and certainly should do carrier training to prep for flying. Going for car rides may help too, but unfortunately there isn't really a way to practice traveling with a cat on a plane. There are some calming aids that may help though!
Cat Treats – depending on the cat, a steady supply of their favorite cat treats may be comforting enough
Blanket/t-shirt that smells like home – having the familiar scent of home and "their people" in their carrier is always a good idea
Feliway products – Feliway makes a calming pheromone spray that you can spray into your cat's carrier before the flight
Bach's Rescue Remedy – a homeopathic remedy to ease stress and anxiety.
***Be sure to get the regular Rescue Remedy, not the Rescue Remedy for Pets. The one for pets has glycerin in it, which will get you flagged for a potential threat and additional screenings at the security checkpoint.***
Relaxopet Pro for Cats – a pet relaxation device using advanced vibration technology
Prescription aids for cats – there are some prescriptions that can help ease anxiety in cats. See your veterinarian if you think you need to go this route. Also be sure to test out the medication on your cat before your trip. Some cats are affected by drugs differently and can either have the opposite reaction than what is intended (becoming more agitated instead of calm) or may even have a negative reaction and get sick. You don't want to be surprised by anything during your travels!
KittyCatGO LIVE – Episode 6: Traveling with Your Cat
---
About the Author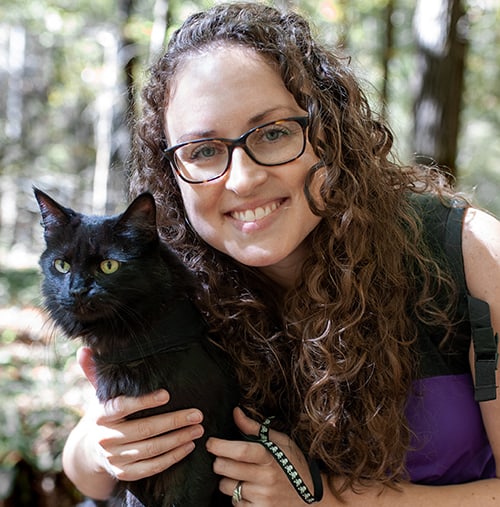 Emily Hall, ABCCT is a certified cat trainer and cat adventure enthusiast. As a "mom" to seven cats, one dog, and two sugar gliders, she has been writing in the pet industry for 10 years, with a focus on traveling and adventuring with cats. Emily and her husband enjoy hiking, road-tripping, camping, and canoeing with their three cat adventurers. Read more about her here.