If you're just getting started training your cat for adventure, you might be wondering what the best adventure cat gear is! As walking and hiking with cats has grown in popularity, the numbers of options out there for cat-specific gear has grown too. It can be overwhelming to know what you need to get started.
Don't worry, we've got you covered! In this guide, I'm going to outline the basic cat adventure accessories needed, why you need them, and which specific items we use personally on each outing.
*Disclosure: This post contains affiliate links. If you make a purchase using one of these links, we will receive a small commission at no extra cost to you. This helps us to continue creating helpful content. Don't worry – we would never recommend something we don't like or use ourselves!
1. Cat Harness
If you plan on taking your cat out, you will need a high-quality and secure cat harness. It is the gear item that will keep your kitty from getting away from you.
There are many styles out there, and what works best for one cat might not be what works best for another. You might even have to try more than one harness to find the right one, or you may find that you need different harnesses for different types of outings.
Our harness style guide outlines the most popular cat harness styles available, along with their pros and cons. It can help you select the right one for you and your cat.
My personal favorite cat harnesses:
2. Cat Leash
If you've got your cat on a harness, you obviously need a leash! While some would say a leash is just a leash, we'd argue differently. As with harnesses, there are different types out there made of different materials, of varying lengths, etc. Depending on what kinds of adventures you and your cat enjoy together, you may find that a certain material or length works best for you.
For someone just starting off, we recommend a standard 5–6-foot leash (not a retractable). You want the leash to be short enough to keep your cat close by and also to give you more control of the situation.
Leashes that we use personally: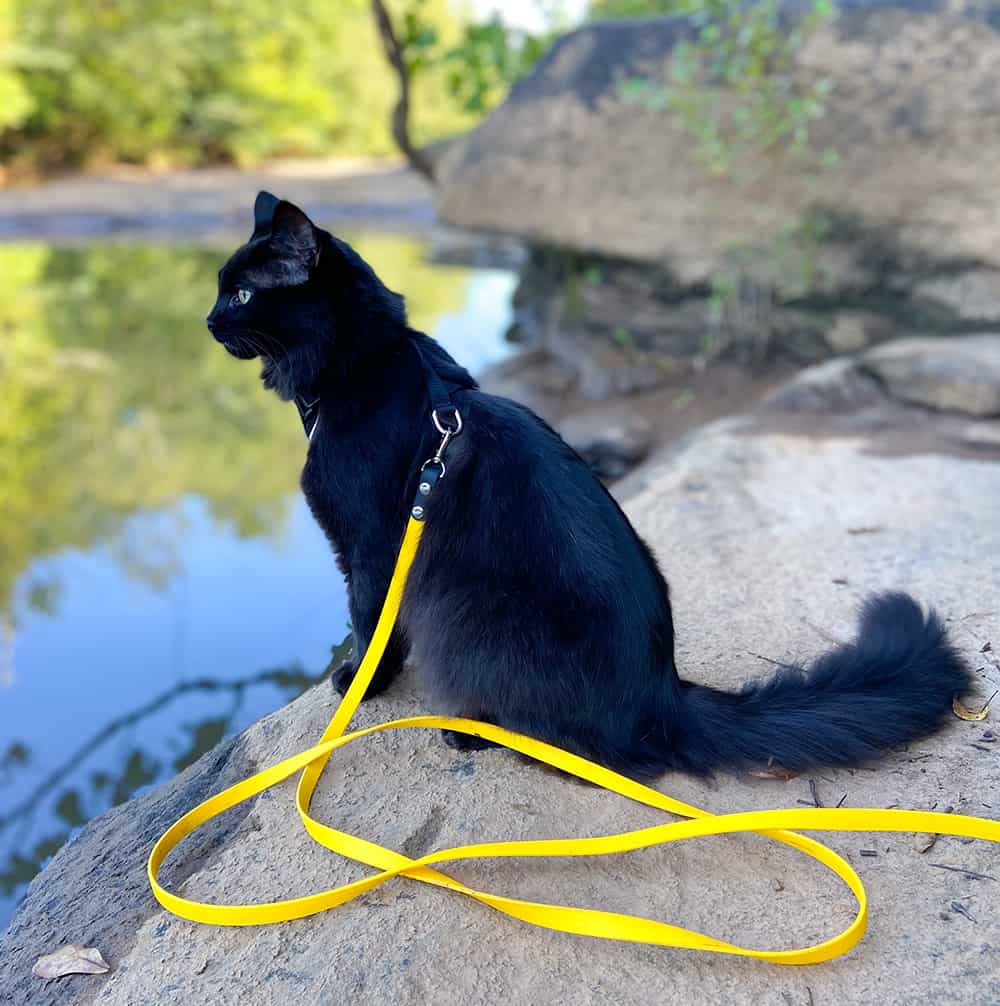 3. Collar + ID
For those "just in case" moments, you want to make sure your cat has proper identification should they ever slip out of their harness and get away. A collar and ID tags are great, but you should also get your cat microchipped.
On your cat's ID tags, you might want to add something like "I'm Lost" or something similar so that it's clear your cat is missing. Since many cats free-roam outside, some humans might not realize your cat is actually missing unless there is something on your cat's collar or tags to indicate they aren't normally and outside cat.
Cat collars we use personally:
4. Cat Car Carrier
Safety first! If your cat will be riding in the car, they should be confined to a cat car carrier. Having your cat loose in the car comes with too many dangers for you, your cat, and other people on the road. Heaven forbid, you have to slam on the brakes or are in a car accident. In our opinion, definitely NOT worth the risk.
There are many restraint options out there, from carriers to booster seats, to seat belts. While something is better than nothing, the safest option is an enclosed carrier – preferably a carrier that has been crash tested.
Carrier we use personally:
5. Cat Backpack Carrier
Cat backpacks are great for exploring new places with your cat. They give your cat a safe space to hang out in or retreat to if they get nervous. Plus, your cat might not be up for walking much sometimes, so they can just enjoy the view and ride from their backpack.
Just as with the harness and leash, you will probably need to do some backpack carrier training with your cat prior to going out.
Cat backpacks we use personally:
6. Treats
TREATS! One of the most vital pieces of cat adventure gear! Throughout the training process and as you go new places with your cat, you should always reward with treats. They are a great motivator, especially for the food-motivated cat. They help your cat to associate adventuring with good things too, which is crucial.
You may find that your cats regular treats aren't doing the trick. If that's the case, try a higher value treat, or just something different that is "special." Finding a treat that is high in water content is helpful too, as most cats won't drink water when they're out and about. A creamy treat like the Churu can serve double-duty – motivating your cat while also keeping them hydrated.
Treats we use personally:
7. Treat Holder
If you've got treats, you need something to put them in! Sure, you can just keep them in the bag they come in and store them in a backpack pocket. But I've found that having them easily accessible is much easier. A treat pouch that clips to your pants or slips into your pocket is so handy and allows you quick access to those treats.
Treat holders we use personally:
8. Favorite Toy
Bringing along your cat's favorite toy can help give your cat some familiarity when you're in new places. You can also use it to keep your cat focused on you and their toy when you need to distract them from something that might otherwise make them nervous. A wand toy can also be used to help encourage your cat to follow you along on a trail.
Cat toys we use personally:
9. Utility Belt
A utility belt or pouch might not be a necessity, but I've found they make adventuring much easier. Cat backpack carriers notoriously don't have much pocket storage space, and having things easily accessible makes things run more smoothly. With a utility belt, you can clip on your cat's treat holder and attach your cat's leash to it to free up your hands. A utility pouch gives you extra storage to hold your phone, keys, and cat toys too.
Utility belt we use personally:
10. Blanket / Towel
A blanket or towel can come in handy for a few different reasons. For one, lining your cat's backpack with a favorite blanket gives them something a familiar scent, something from home, which can bring them comfort when out and about. It can also be used to quickly grab your cat in an emergency, so you don't have to worry about scratching and biting. And lastly, if your cat gets dirty, you can use the blanket or towel to clean them off.
11. Cat First Aid Kit
While we hope you or your cat never sustain an injury when out on an adventure, it's always best to be prepared. If you can't fit a cat first aid kit in your bag or backpack, you can at least keep it in your car. You can check out our post about the 21 essential items to keep in your cat first aid kit for our recommendations on what to include.
Cat first aid kit we use personally:
12. Pet Waste Bags
The chances of your cat feeling comfortable enough to use the bathroom outside when you're first getting started are slim, but you never know. It's definitely one of those things you want to be prepared for, just in case. You don't want to be "that guy."
Pet waste bags we use personally: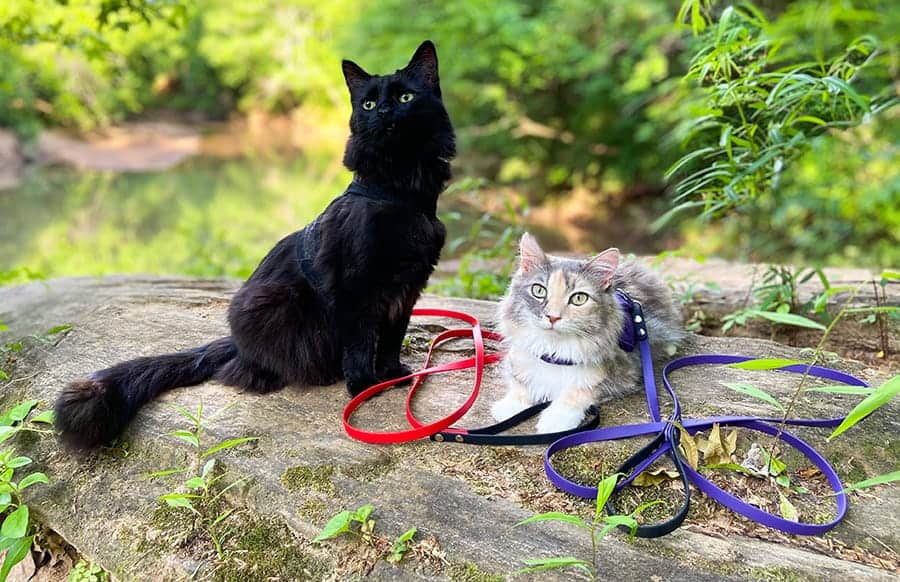 Additional Adventure Cat Gear Items
As you start adventuring with your cat more and more, you find a need for additional adventure cat gear items. Here are a few other things we typically carry, in addition to the basics listed above:
Adventuring in the extreme summer and winter weather will require specific cat hiking gear items as well. Check out these posts for our list of weather-specific gear items:
About the Author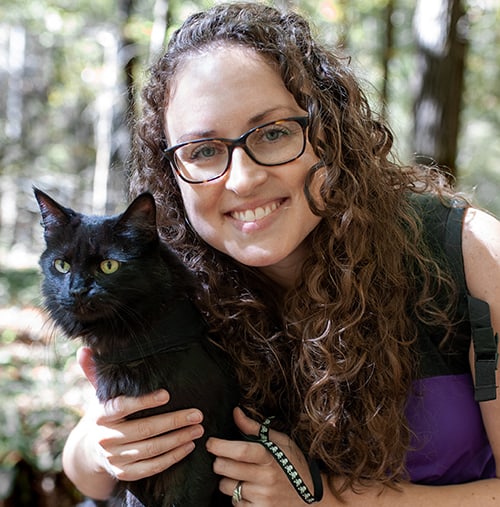 Emily Hall is a cat trainer and cat adventure enthusiast. As "mom" to seven cats, one dog, and two sugar gliders, she has been writing in the pet industry for 10 years, with a focus on traveling and adventuring with cats. Emily and her husband enjoy hiking, road-tripping, camping, and canoeing with their three cat adventurers. Read more about her here.