We had the opportunity to test out the Marco Polo Pet Tracking System from Eureka Technology and were extremely impressed! Pet tracking systems are a topic of conversation that comes up fairly often in the cat adventuring community. There are several different brands and types of pet trackers on the market, and people are curious to know which one is the best. They want to have the peace of mind to know that if their cat slips out of their harness while on an adventure, they will be able to locate the cat.
I've read a lot about the different tracking systems available and have never been satisfied enough by how they worked to actually purchase one. In my opinion, they either don't have a large enough range, they don't work if you have a poor cell phone signal, they don't take you to your pet's exact location, or they have expensive monthly fees.
Then I found the Marco Polo Pet Tracking System. It seemed like it checked all the boxes for features I'd want in a cat tracker.
Disclosure: We were given a Marco Polo Pet Tracking System in exchange for our honest review. All thoughts and opinions expressed in this article are our own.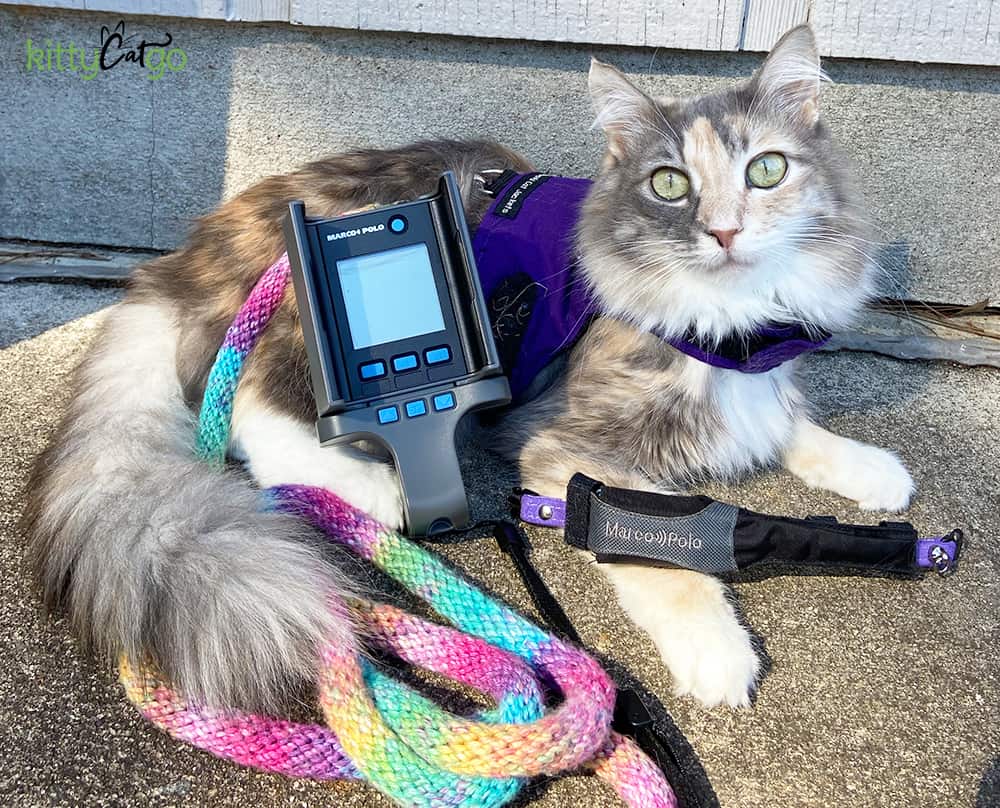 Marco Polo Pet Tracking System Features
No GPS, cellular service, or internet connection required, so it will work ANYWHERE
No monthly fees!
Up to a 2 mile range
Lightweight tracking tag – weighs 0.8oz (22g)
Waterproof tracking tag
Tracks up to 3 pets (you can add a 2nd and 3rd tracking tag at any time!)
Long battery life – up to 6 weeks
Extremely easy to use
So… how does the system work?
The Marco Polo Tracking System is an RF tracker, meaning it uses radio frequency to send and receive messages between the handset and the tag. The strength of the transmission received from the tag by the handset is used to indicate distance and direction.
When in Track mode, the handheld Marco Polo locator sends a signal to the tag on your cat's collar every 5 seconds. Each time your cat's tag "hears" the signal from the locator, it responds with a return signal. The locator then measures the strength of the signal coming back from the cat and finds the direction it came from. Both pieces of information are then displayed on the locator's screen. You simply follow the arrow pointing to your cat and watch as the signal strength gets higher the closer you get. It will bring you within inches of your cat!
Learn more on the Marco Polo FAQ Page!
Tell me more about that 2 mile range!
Marco Polo works up to 2 miles (3.2 km) in line-of-sight situations. Expect about a 1/2 mile to 1 mile (.8 to 1.6 km) range in mildly rolling terrain with moderate vegetation. It really depends on the specific conditions in the area of use, such as terrain, vegetation, and obstructions. If your cat is not within the system's initial range, you can walk or drive around the areal until you come within range. 
Monitor Mode vs Track Mode
The Marco Polo system has two different modes – Monitor and Track. When you're not actively tracking your cat, you'd keep the system in Monitor Mode. In this mode, the locator "pings" the tag on your cat's tag once every 40 seconds. It will warn you if your cat is outside of its programed "safe zone" so you can enter track mode and find them.
This is a great feature if you let your cat out in your backyard, for example. You can program your yard as a "safe zone," and the system will alert you if your cat wanders out of that safe zone. In monitor mode, the locator will also warn you if the battery is low on your cat's tag.
If your cat goes missing, you enter Track Mode with just one click on the locator!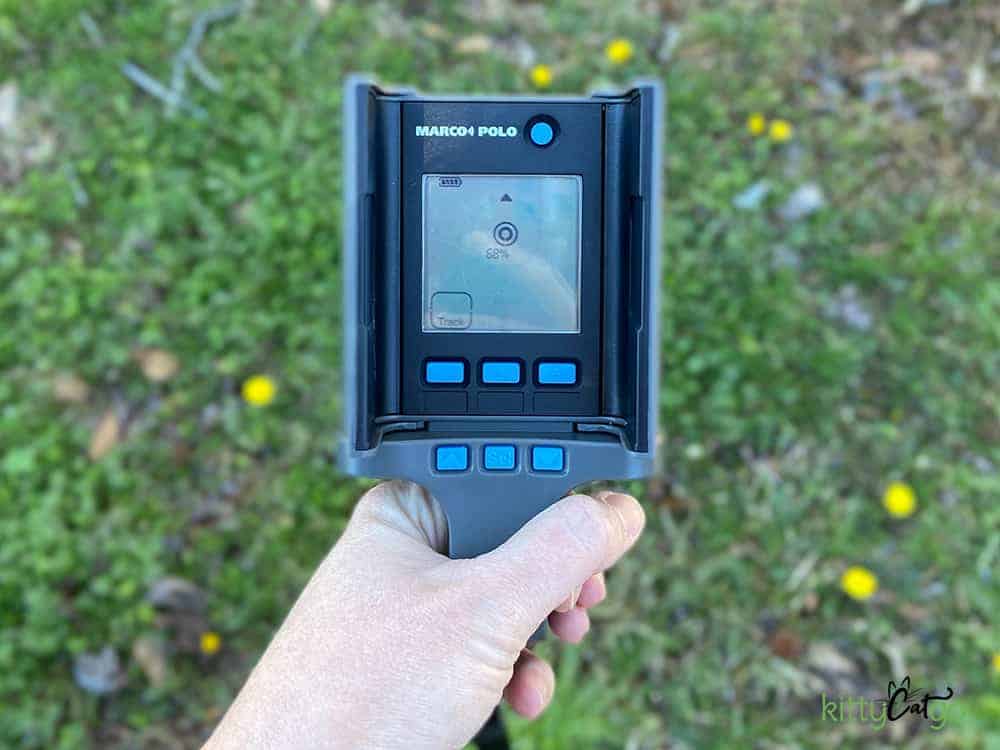 Recommendations from the Company
In Regards to Battery Life…
The President of Eureka Technology Partners, Tim Crabtree, recommends keeping the locator and tag on at all times in monitor mode, leaving the locator plugged in on your kitchen counter or other convenient location.
He says if you run things this way, "you don't need to ever touch anything, even if the collar or harness with the tracking tag is off the cat, just leave it turned on. About once a month the low battery alarm will go off on the locator letting you know it is time to recharge the collar tag. Charge it up, and you are good for the next month. This way, there is no possibility that you will forget to turn the tag on or leave the house with a battery that is below 25% charge level."
In Regards to Cats in Trees…
Tim also shared some helpful information with me about using the locator if your cat has climbed a tree —
"You can use the characteristics of the locator to your advantage. Say you are searching for your cat and you get to a spot where you are getting a high signal level but no arrows, or inconstant arrows. If you are under a tree canopy it is possible that the cat is above you, and the locator can only show bearings in the plane of the display. NOW, you can tilt the locator up so you are looking directly into the display like you were looking into a hand mirror. The display will now show the elevation off the ground instead of an azimuth about the horizon. If you then face one direction, say north, move side to side (east and west) until the arrow points straight up, then turn 90 degrees to face east or west and then shuffle sideways again (north and south) until the arrow again points straight up, now you are standing directly under the cat!"
Our Review of the Marco Pet Tracking System
We've had the system for a couple months now and have had the opportunity to take it out for a few tests. Before taking it out, I read through the manual, which was very helpful and descriptive. I was able to quickly and easily set the system up, pairing my locator with the cat tracking tag. It took just a few seconds.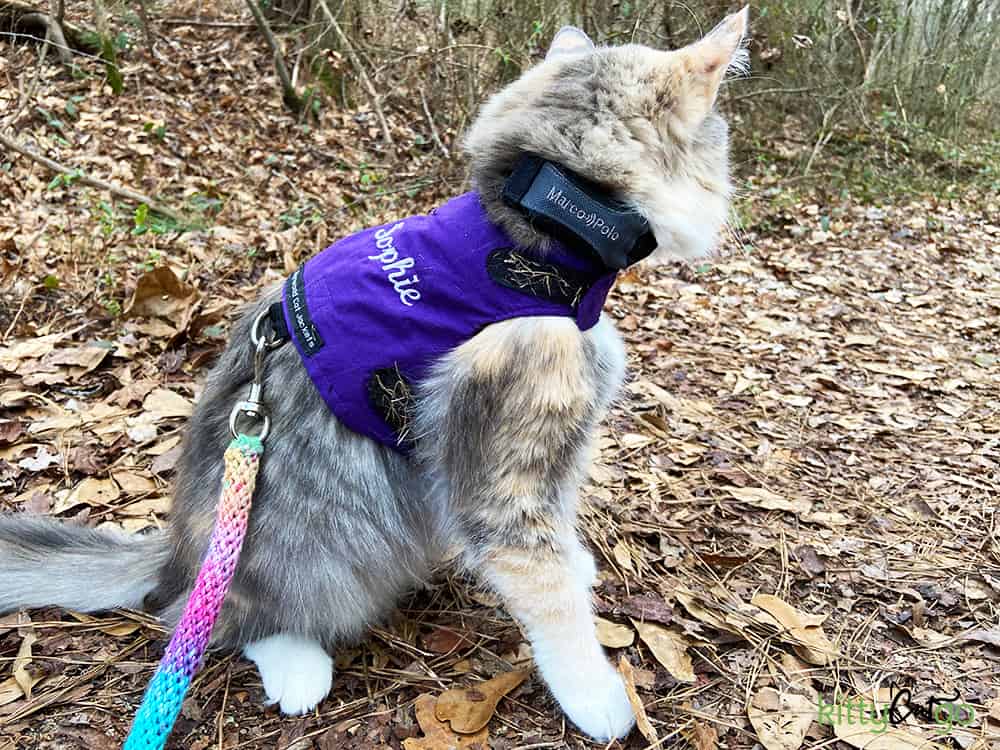 Test #1
My husband and I took our cat Sophie to one of our favorite wooded hiking spots, and we played the most fun game of "Hide and Seek" I've ever played. Sophie had the tracking tag on her collar, and she and my husband wandered off into the woods. After giving them about an 8-minute head start, I turned the locator into Track Mode and began my search.
The locator worked just as described in the manual. The display showed me a percentage (indicating how close I was to Sophie) and an arrow pointing me in the direction I needed to go. After about a 6 minute search, following the locator's directions, it took me right to Sophie and my husband. They were approximately .3 miles from where I started.
*In the video, I was angling the locator towards my camera so you would be able to better see the screen. For better tracking results, the locator should be kept parallel to the ground – like a compass!
Test #2
To test how the system did with some obstruction, my husband took the tracking tag on Sophie's collar and hid it inside a log about .25 miles from where I started. I again used the locator to find the tag. As I got closer to the tag's location, the locator did get a little bit confused about which direction I should go. It did ultimately take me right to the tag though.
Other Things to Note:
Though the tracking tag is lightweight (0.8oz / 22g), it does take up more collar space than other tracking tags. It requires a minimum collar length of about 7 inches. I tried it on all three of my adventuring kitties, and none of them minded it though. They didn't even seem to notice it was there.
Also, the Velcro tabs that attach the tag to the collar are very long. This is so it can fit on thicker dog collars. I just cut the tabs so the tracker would fit more snuggly on my cats' collars.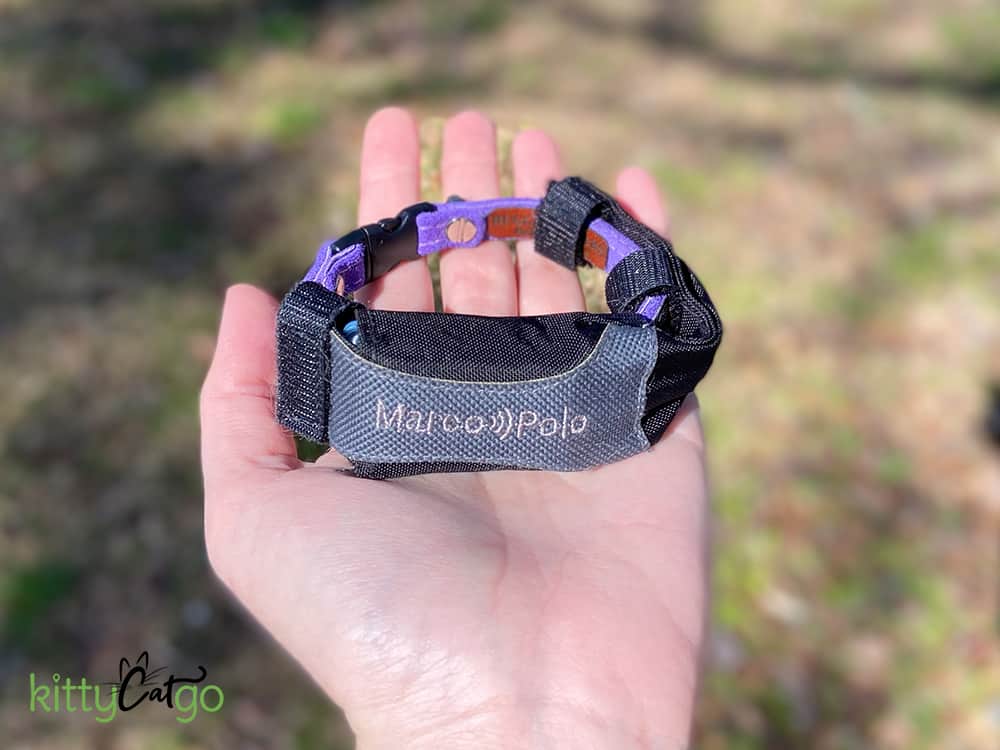 My Final Thoughts on the Marco Polo Pet Tracking System
I love it and would definitely recommend to anyone. It was extremely easy to use and has all the features and functionality I would want in a cat tracking system. Yes, it is on the more expensive side, but in the long-run it ends up being less expensive than the systems that have monthly fees.
It also seems to work better and more accurately than its competitors. If my cat gets lost on an adventure, I want to know that I'll be taken right to them. Marco Polo does that.
---
About the Author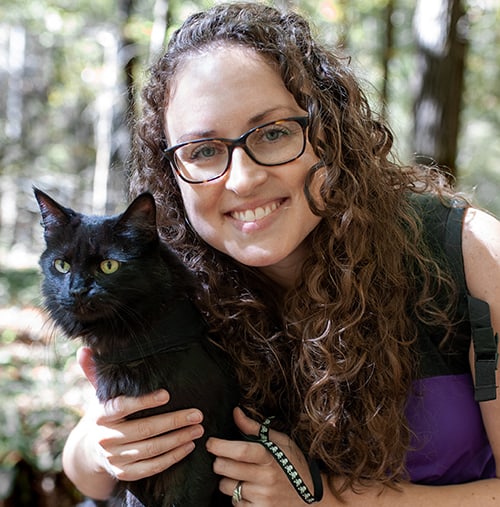 Emily Hall is "mom" to seven cats, one dog, and two sugar gliders. She has been writing in the pet industry for almost 10 years, with a focus on traveling and adventuring with cats. Emily and her husband enjoy hiking, road-tripping, camping, and canoeing with their three cat adventurers. Read more about her here.