In your search for the perfect pet tracker, you might have considered using the Apple AirTag for cat adventuring to help prevent them from getting lost. It can be overwhelming trying to figure out which pet tracking system to go with, and the Apple AirTag has a low barrier for entry – it's inexpensive, easy to use, and available basically everywhere. Plus, it's small and lightweight, which is exactly what you need in a cat tracker.
As an Apple fan (I'm writing this article on my Macbook, with my iPhone on the desk beside me, and an Apple Watch on my wrist), I really wanted to love the AirTag. I think I tested it out pretty thoroughly – multiple times in varying situations (in my home, in my backyard, and out in the woods). I wanted to give it every opportunity to impress me. I have to be honest though… it never really did. At least not for my intended purposes.
Keep reading for the full review of our experiences using the Apple AirTag as a pet tracker.
*Disclosure: This post contains affiliate links. If you make a purchase using one of these links, we will receive a small commission at no extra cost to you. This helps us to continue creating helpful content. Don't worry – we would never recommend something we don't like or use ourselves!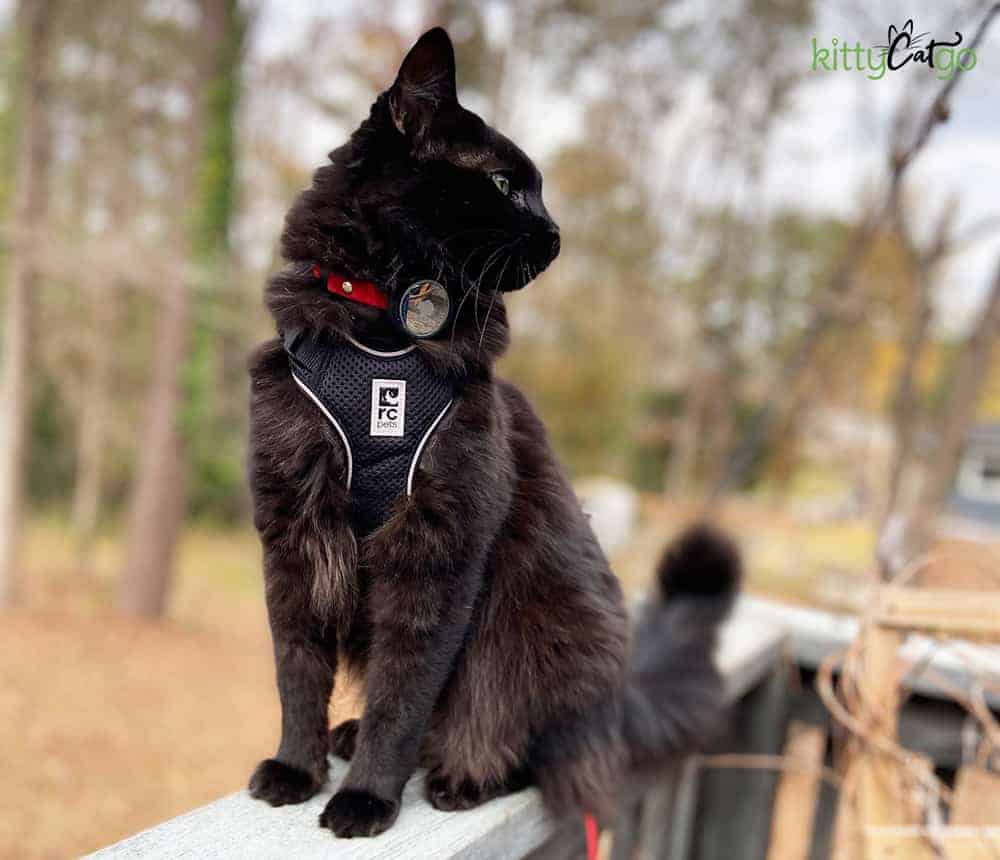 What is the Apple AirTag?
AirTag Specs:
Size: 1.26 inches in diameter and 0.31 inches thick
Weight: 0.39 ounces
Battery life: about a year – battery easily replaceable when needed
Range: unknown – not specified by Apple, but Bluetooth range is generally around 30 feet. Though with "Lost Mode," the range is theoretically infinite (more on that below)
Water resistance: can withstand immersion up to 3.3 feet for 30 minutes
Price: $29, or $99 for a 4 pack
The Apple AirTag is a Bluetooth tracking device, similar to a Tile tracker. It's intended to be attached to your keys, wallet, backpack, or any other item you are prone to misplacing. When needed, you can use the Find My app on your iPhone to see the last known location.
How Does the AirTag Work?
As mentioned, the Apple AirTag uses BlueTooth technology to track. If your cat goes missing when wearing the AirTag, you can use the Precision Finding feature. If you're in Bluetooth range of the device and have the Find My app open on your phone, an arrow will appear that is supposed to point you in the direction of your tag. It will also display the distance you are from your tag. (This feature is only available on iPhone 11 and newer.)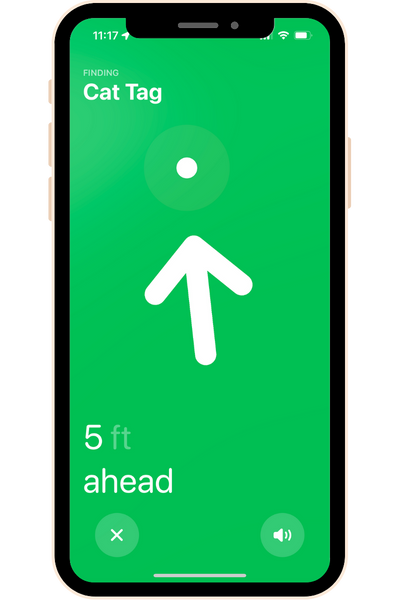 If you are not within Bluetooth range of the device, then your AirTag sends out a Bluetooth signal that can be detected by OTHER nearby devices within the Find My Network. If your AirTag is picked up by someone else's device, it will display the location on the map in your Find My app. The cool thing is that this whole process is totally anonymous and encrypted, so the other people don't even know when their devices are being used to help you track your AirTag.
In addition to Precision Finding, you have the option to play a sound on the AirTag to help you find it. It's pretty faint though, so unless you're super close by, you probably won't hear it. It could also startle your likely already stressed cat, so I don't think this feature is all that useful.
What is Lost Mode?
One of the coolest features of the AirTag is "Lost Mode." When Lost Mode is enabled, you will automatically a receive a notification when your AirTag is detected by a device in the Find My Network. You can also enter a phone number or email address so if someone else finds your tag, they can use their device to view the Lost Mode message and contact you.
This function will obviously only work if your cat is in an area where there are other people – so kind of useless if your cat gets lost hiking in the woods somewhere.
To enable Lost Mode, select your cat's AirTag in your Find My App, expand the menu, and tap "Enable" under the Lost Mode heading. Click through and follow the onscreen instructions.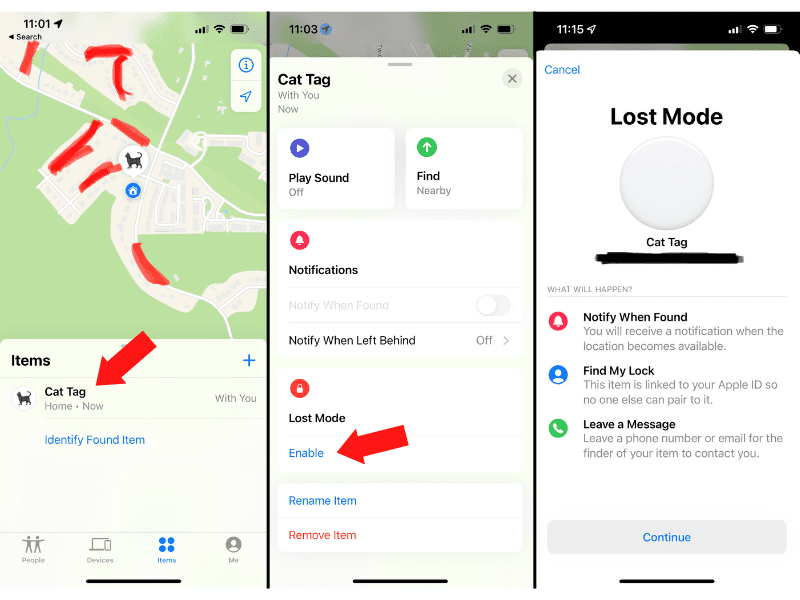 Can you use the Apple AirTag for cats?
Though the AirTag is not intended as a pet tracking device, you can certainly use it as one. Theoretically it should work well. However, because it is intended for use on stationary objects, the AirTag doesn't work quite as well when in motion – say, on a moving cat.
You will need to purchase a 3rd party device to attach it to your cat, like an Apple AirTag cat collar or holder that attaches to a pre-existing collar. You can find several different styles on Amazon as well as on Etsy.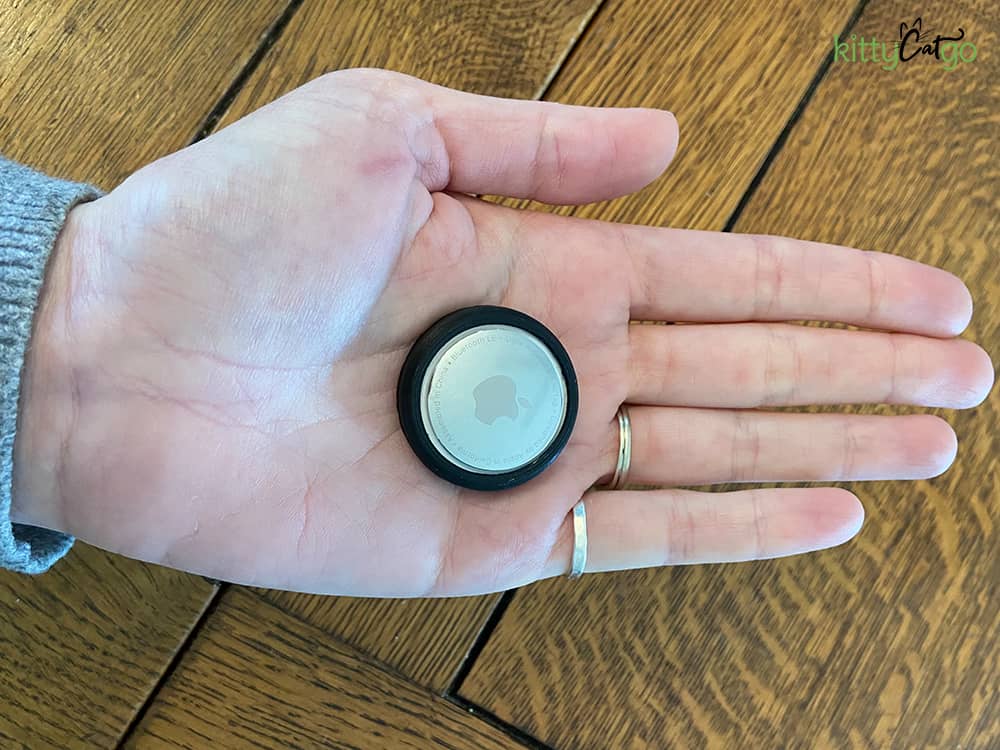 So how well does the Apple AirTag pet tracker actually work?
I put the Apple AirTag to the test in multiple scenarios – on a wooded hiking trail in the middle of nowhere, in my own backyard, and inside my house (I live in a suburban area, so I'm sure there are lots of Apple devices nearby). It worked decently in my house and in my backyard. But out in the woods in the middle of nowhere? Not so well.
The Precision Finder function is a bit finicky, even when testing in my backyard and in my house. I did tests both when I knew exactly where the AirTag was and also when my husband hid the AirTag and I had to find it.
I saw a lot of this message: "Signal is weak. Try moving to a different location." Even when I was within line of sight of the AirTag in my house (just down the hallway from it), I got that message some. The app did eventually always take me right to AirTag though, so that's good.
The AirTag did not perform very well when out in the woods. I haven't done a woods test where I didn't know where the tag was, but I have walked down the trail out of sight while my husband sat with Kylo (who had the AirTag on his collar). During those tests, the app struggled quite a bit to point me in the right direction. I consistently got the weak signal message, and only when I was within 3 feet and staring right at Kylo did the app really seem to register the AirTag's location.
Seeing as I was out in the middle of nowhere, there were of course not any other Apple devices nearby to help locate my AirTag.
In the video below, you can see how the app worked in 3 different testing scenarios:
In my backyard after my husband had hidden the AirTag
In my house after my husband had hidden the AirTag
Out on a hike in the woods, and I knew that my husband and Kylo were down the trail from me
Would I recommend the Apple AirTag as a cat tracker?
It depends. If you are looking for a device that will help you keep track of your cat within your home or yard, then I think it would work pretty well.
However, if you're looking for something that will reliably help you find your cat if they happen to slip out of their harness when you're out on a hike in the woods, the AirTag is definitely not a great option. Is it better than nothing? Yeah, probably. I'd recommend a more reliable pet tracking system instead though, like the Marco Polo.
Situations where the Apple AirTag works well:
Finding your cat in your home
Finding your cat in your yard
Finding your cat if they are within close proximity
Finding your cat in an urban area with lots of nearby Apple devices (I'm assuming – I haven't yet tested it in an urban setting)
Situations where the Apple AirTag fails:
Finding your cat in the woods, especially if they are not in close proximity (even with "Lost" mode, the chances of your cat pinging someone else's Apple device out in the middle of nowhere is pretty slim)
When your cat is on the move
Have you ever tried using the Apple AirTag for cat adventuring before? What was your experience? Tell us in the comments!
About the Author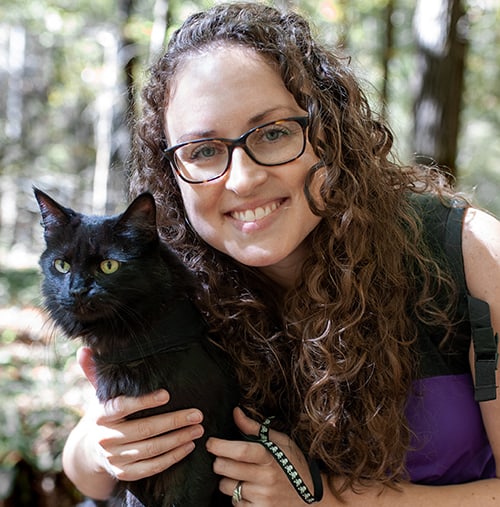 Emily Hall is a cat trainer and cat adventure enthusiast. As "mom" to seven cats, one dog, and two sugar gliders, she has been writing in the pet industry for 10 years, with a focus on traveling and adventuring with cats. Emily and her husband enjoy hiking, road-tripping, camping, and canoeing with their three cat adventurers. Read more about her here.