One of the most common questions people ask at the beginning of their cat-adventure journey is, "What is the best escape proof cat harness?" After all, we all want to keep our cats as safe as possible, which means we certainly don't want them escaping their harness!
Though harnesses are certainly not all created equal (there are definitely ones that are better than others), the truth is there is no such thing as an escape proof cat harness.
Don't get me wrong – there are plenty of harnesses out there that claim to be escape proof. I have to say though, that is one of my biggest pet peeves. In my opinion, making the claim that a cat harness is escape proof is giving people a false sense of security and does a disservice to cats everywhere.
In this article, I share about WHY there is no such thing an inescapable cat harness, and HOW you can best prevent cat harness escapes!
*Disclosure: This post contains affiliate links. If you make a purchase using one of these links, we will receive a small commission at no extra cost to you. This helps us to continue creating helpful content. Don't worry – we would never recommend something we don't like or use ourselves!
Why Cat Harnesses are NOT Escape-Proof
There are two big reasons why a cat is able to escape their harness: their anatomy and… well, their anatomy. Keep reading to find out what I mean.
"Floating" Cat Bones
We've all heard the jokes about cats really being made of liquid. It's no secret they can fit into small spaces – spaces that seem physically impossible for a cat to fit.
It just so happens that the same abilities that allow cats to fit through such small spaces are also the ones that allow them to escape cat harnesses.
Veterinarian Lynn Bahr explains: "There are actually two physical characteristics of a cat's anatomy that give them their unique "liquid-like" flexibility:
A cat's shoulder blades are attached to their body by muscle instead of bone
Their collar bone floats – meaning it is not attached to any other part of their body
These physical characteristics allow them to fit their bodies into or through any space that is big enough to fit their head. Their collar bone will adjust to allow them to fit into these tight spaces, even though their shoulders are naturally wider than their head."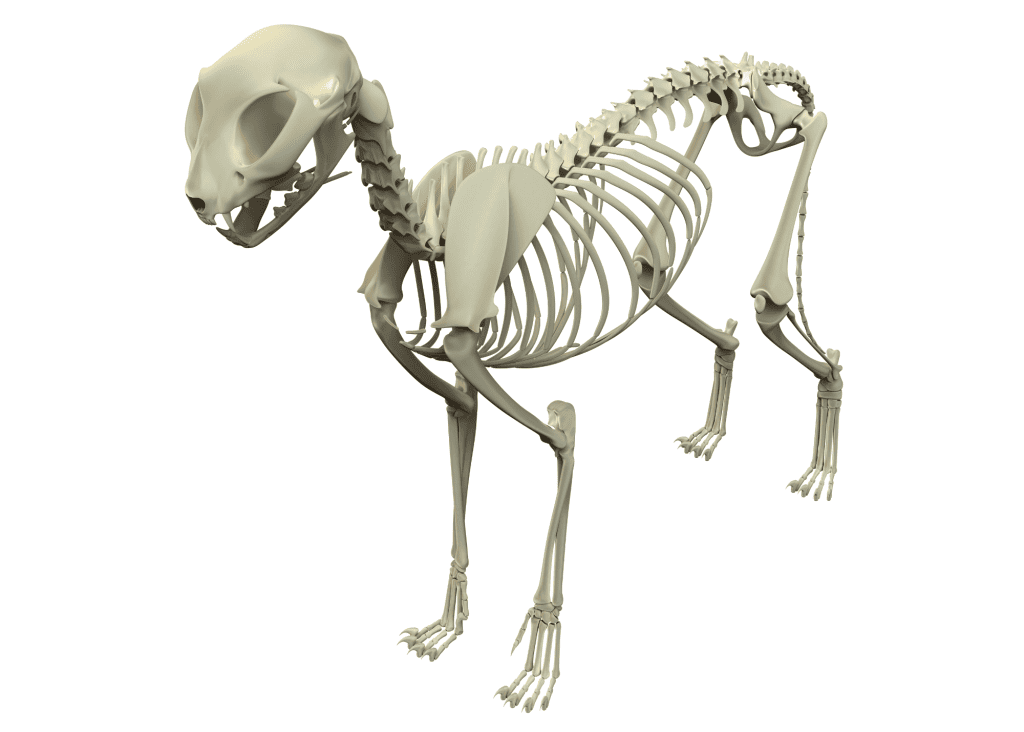 When it comes to harnesses, this means they are able to maneuver their bodies in such a way as to allow them to slip out.
Every Cat is Different
Just as with their "fluidity," the other big reason cats are able to escape harnesses is also related to their bodies – specifically, their body type. Just like the same pair of jeans won't fit every person the same way, the same can be said for cat harnesses.
Cats come in different shapes and sizes, and while one harness may be well-fitting and secure on one cat, that doesn't necessarily mean it will be on another. For this reason, a harness can't truly be "escape proof." Maybe some cats can't escape it, but I guarantee you, some cats somewhere can.
Because of the two physical reasons above, companies making blanket statements about their "escape proof cat harness" is misleading and potentially dangerous. Someone might read about such a harness and believe their cat to be fully safe from escaping and try taking them outside without going through the proper training steps.
7 Ways to Prevent Cat Harness Escapes
Though there is always a chance your cat may slip out of their harness, there are thankfully some steps you can take to make escapes less likely. Rather than putting your trust in the marketing of an "escape-proof" cat harness, try these things instead:
1. Pick out a good quality harness.
Though I don't believe in an escape proof harness, that doesn't mean I don't think good harnesses exist. As I said before, there are definitely high-quality ones and low-quality ones out there.
You should do your homework to find out which one would be best for your cat. You might even have to try out a few different styles before you land on "the one." In fact, depending on factors such as the types of adventures you go on and even the weather, you may find that you eventually have more than one go-to cat harness.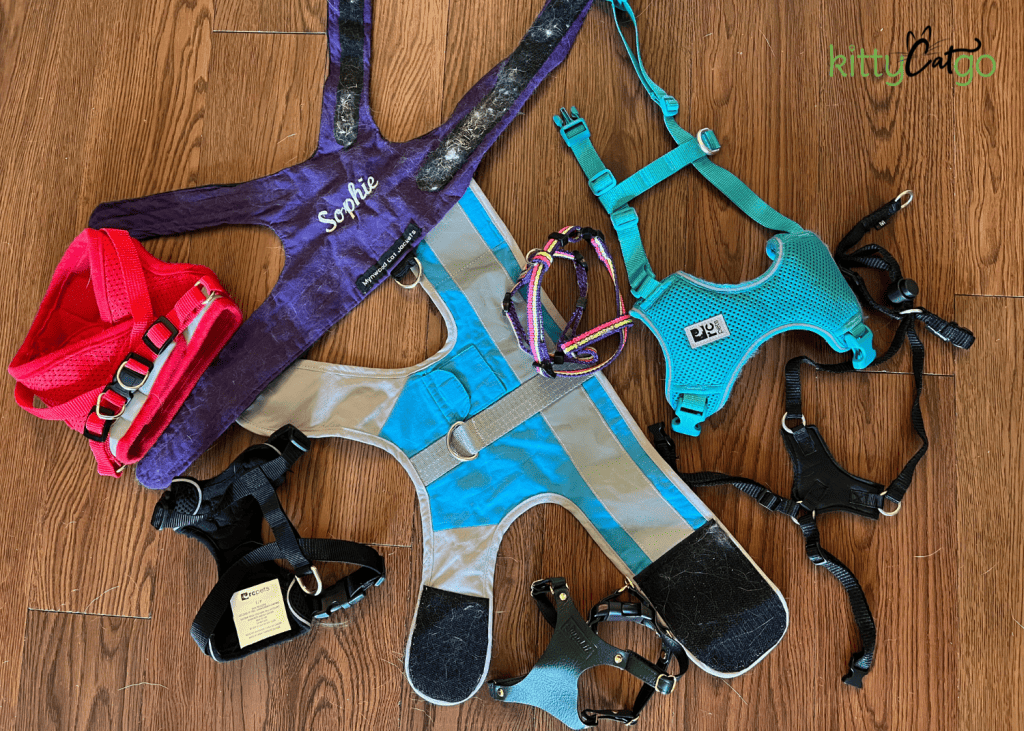 A good quality harness will have the following features:
MUST: Adjustable straps – the more adjustability the better!
MUST: A solid D-ring on the back for the leash attachment
MUST: Lightweight yet durable
MUST: Easy to put on
OPTIONAL: A chest piece to prevent damage to your cat's throat if they pully (if your cat doesn't pull or the harnesses has thicker neck straps, then a chest piece isn't absolutely necessary)
OPTIONAL: Reflective or high-visibility features to make your cat easier to spot in the dark or if they hide in the bushes
OPTIONAL: Pocket or place to attach a tracking device
My personal favorite cat harnesses:
2. Make sure the harness is fitted properly.
Even a high-quality cat harness will be easy to escape if it isn't fitted to your cat properly. Most harnesses have size guides and sizing recommendations based on the measurements around your cat's neck and girth, and some even include the length of your cat's back.
Measure your cat before selecting their harness size, and then be sure to adjust the harness even further. Whether your cat's harness has Velcro straps or adjustable buckles, the pieces that go around their neck and girth should be fitted in a way that allows for you to fit a finger between the harness and your cat's body.
You don't want it to be too snug and uncomfortably tight, but you also don't want it to be too loose.
Video demonstrating how to measure your cat for a harness:
3. Harness train your cat thoroughly.
One of the biggest mistakes I see people make is trying to take their cat outdoors before they've fully harness trained them. If your cat hasn't gotten 100% comfortable wearing their harness indoors before you take them out, they will be more likely to squirm and try to escape it because they aren't comfortable in it yet.
To prevent cat harness escapes, one of the best things you can do is thoroughly harness train your cat indoors before you even consider taking them outdoors. Though there is always the possibility that something may spook or startle your cat and cause them to try to escape their harness to get away, these types of situations can be minimized with proper training.
Cat harness training tutorial video:
4. Know how to properly handle the leash.
In addition to your cat's training, you should also train yourself on proper leash handling. The way you hold and handle your cat's leash can make all the difference in whether they are able to escape or not.
The most common way for cats to escape their harness is by backing out of it. To prevent this, you should always make sure there is slack in the leash and that you are positioned behind your cat and never in front of them. That way, there is no forward tension on the leash. If there is leash tension pulling forward, your cat will be much more likely to be able to slip backwards out of their harness.
Understand that a cat can move quickly, so their positioning in relation to you can change in the blink of an eye. To further ensure you and your cat's leash are always positioned properly, you should:
Keep your focus on your cat (not on your phone or other device)
Never tether your cat (tethering your cat to a fixed point will make it super easy for them to gain the leverage needed to back out of their harness)
5. Backpack train your cat.
Even the most well-trained cat can get spooked and try to bolt. A backpack carrier or stroller serves many purposes, including being a safe space for your cat to retreat to if they get scared.
If you work on training your cat to jump into their backpack or stroller when something makes them nervous or scares them, they will be less likely to try to flee and slip their harness.
6. Introduce your cat to new places gradually.
When you first begin taking your cat outdoors, I always recommend starting close to home – like your back yard or porch. You shouldn't go straight from indoor harness training to a busy park or hiking trail.
Once your cat is ready, you can start venturing further from home. This process should be done gradually though.
Sure, cat personalities come in all types – some cats are more outgoing and quick to adjust, while others are more shy, cautious, or even fearful. Generally speaking though, most cats are going to be nervous when they are exposed to new places or environments.
If you rush the process and take your cat somewhere new without letting them adjust first, they are more likely to get scared and try to escape.
When going somewhere new, you should:
Keep your cat in their backpack or stroller at first
Go somewhere that is less busy
Pick a quiet, out-of-the way corner or spot
Give your kitty treats and praise
If they seem okay, you can open the top of their backpack or stroller and let them pop their head out
Give them the opportunity to come out if they'd like to, but don't force them
If they seem super stressed or nervous, go home and try again another time
7. Know your cat's body language.
Though cats might not be able to speak, they do communicate a great deal with their body language. So much about adventuring outdoors with our cats requires us to follow our cat's lead, know their cues, and recognize how they're feeling.
The more quickly you're able to notice when your cat is scared or stressed, the better. A scared cat is more likely to try to slip their harness and flee.
As soon as you realize your cat is uncomfortable, you can begin to intervene and help calm them down. Depending on the severity of their feelings, you can help by either reassuring them, putting them in their backpack or stroller for a break, or even deciding to end the outing and head home.
The goal is always to mitigate your cat's fear or stress before things escalate and end in disaster.
Signs of Stress and Fear in Cats:
Crouching low to the ground
Wide, open eyes with dilated pupils
Ears back and flattened
Swishing tail
Panting
Shivering/shaking
Trying to find somewhere to hide
Fur standing on end
Aggression, including hissing, growling, or biting (this can even be directed at you – referred to as "redirected aggression")
What to Do if Your Cat Escapes
Of course, we never want our cats to escape their harness, but the truth is, there is always a chance it could happen. Short of not taking your cat outdoors on a harness and leash at all, there is no way to 100% guarantee they won't slip out of their harness.
Our job as responsible cat guardians is to mitigate the risks as best as we can by following the advice listed above. We should also be prepared in case of emergency and have a plan in place should things go awry.
In an effort to make escaped-harness situations less stressful and increase the chances of getting your cat back quickly, I recommend working on recall training and using a tracking device of some kind, such as an Apple AirTag or Marco Polo Pet Tracker.
If your cat should ever slip out, here are some steps you can take:
Don't panic. I know this is easier said than done, but cats feed off our emotions, and your panic will only make the situation worse.
Don't chase your cat. Chances are your cat is in flight mode at this point, and chasing them will only cause them to continue running from you.
Always keep your eyes on your cat, if possible.
If they didn't run off, walk slowly beside them without making any sudden moves or attempts to grab.
If they did run off, know that they probably didn't go far. Unlike dogs, cat generally won't just continue running. They will run in a short spring until they find a good hiding spot, such as in a bush, under a log, in the hole of a tree, etc.
Use a soothing voice, talk to your cat calmly, and call them to you.
Get out their treats and try to entice them to come back to you.
Once your close to them, set their backpack on the ground with the top open and offer it as a safe space to retreat to.
Crouch down slowly and offer out your hand and a treat.
If they won't voluntarily get into their backpack or stroller, slowly reach for them, calmly pick them up, and quickly place them inside and shut the openings.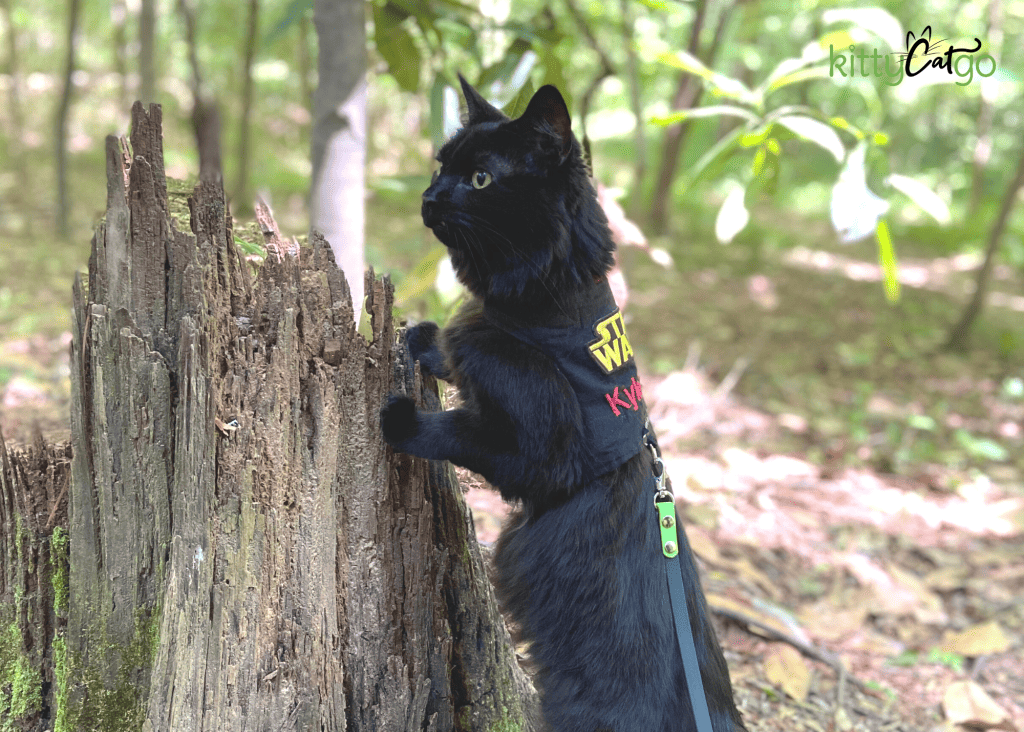 If your cat manages to completely get away from you, you should employ your recall training and activate your cat's tracking device.
If the unthinkable happens and you are unable to locate your cat quickly, listen to my podcast episode with Kimberly Freeman, the Lost Cat Finder for some advice on finding a lost cat.
YouTube Video
As you can see, while claims of an "escape proof cat harness" may abound, a cat's innate flexibility and varied body types make total containment impossible. Rather than relying on marketing promises, we must instead focus on practical steps. The true adventure lies not in a mythical harness, but in understanding, respecting, and safeguarding our furry companions on their outdoor explorations.
---
About the Author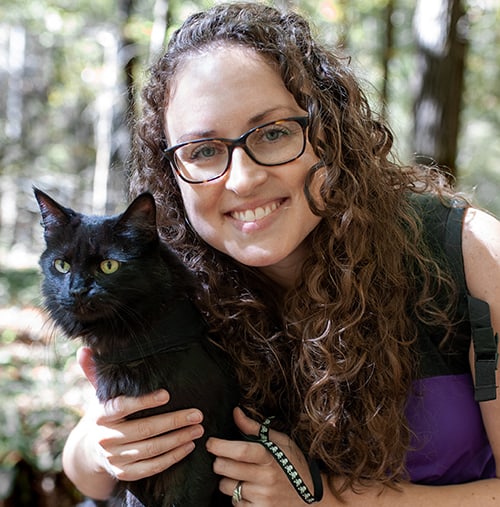 Emily Hall is a cat trainer and cat adventure enthusiast. As "mom" to seven cats, one dog, and two sugar gliders, she has been writing in the pet industry for 10 years, with a focus on traveling and adventuring with cats. Emily and her husband enjoy hiking, road-tripping, camping, and canoeing with their three cat adventurers. Read more about her here.