Okay, so you've decided to take the plunge into the adventuring world with your cat. What's the first step? Do you just pack up the car and head out on a camping trip with him? Unfortunately, no. Your kitty will need to be trained and work up to those big-time adventures. The first step towards traveling and adventuring is to harness and leash train your cat.
I can't stress enough that training your cat takes time and patience. Sure, there will always be the exceptions – the cats who are just naturally up for anything without much training. That isn't the norm though. Take the time to train your cat properly, however long it takes, and things will go more smoothly for both of you.
*Disclosure: This post contains affiliate links. If you make a purchase using one of these links, we will receive a small commission at no extra cost to you. This helps us to continue creating helpful content. Don't worry – we would never recommend something we don't like or use ourselves!
Picking Out a Cat Harness
Before you start harness training your cat, you'll need to figure out what kind of cat harness to get. You'll definitely want to get a harness rather than a collar because it is unsafe to leash-walk a cat with just a collar. Walking a cat that way can lead to choking or injury to your cat's throat.
There are several types of cat harnesses out there. Popular harness styles include the Roman harness, the step-in harness, and the walking vest or walking jacket. Each have their own pros and cons, and what works best for one cat might not be what works best for yours. You will likely need to buy a couple different ones to figure out which is best for your kitty. Check out our Cat Harness Style Guide for more information on the different cat harness styles.
Picking out a Cat Leash
There are many different leashes on the market. Retractable leashes, bungee leashes, braided leashes, nylon leashes… the list goes on. A basic 5 or 6 foot leash is the best kind to start with though. These leashes are lightweight, which is what you want in a cat leash. The length is ideal as well. You don't want something too long, especially when you're first starting out. A shorter length gives you more control and keeps your cat close by.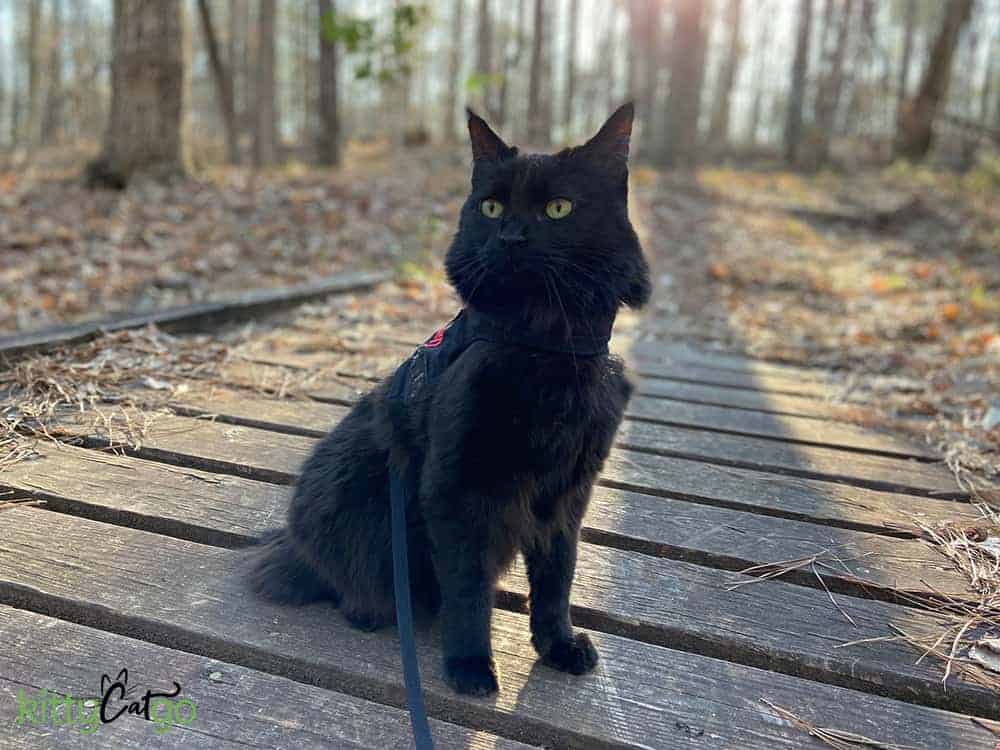 Harness Training Your Cat
Once you've picked out a harness and leash, it's time to begin the harness training! If your cat has never worn a harness before, the first step is to get him used to wearing one. Once you've purchased a well-fitting and secure harness, take it slowly and follow these steps:
Step 1 – Leave the harness out, and let your cat smell it. Undo any Velcro and snap any closures together so your cat can get used to the sounds the harness makes. Reward your kitty with treats for expressing interest in the harness.
Step 2 – Put the harness on your cat, but don't fasten it. Most cats aren't used to the feeling of having something on them like this. You may want to try this step right before mealtime so the food distracts him from having the harness on. Reward with treats, too. Repeat this step as many times or as many days as necessary until your cat is comfortable.
Step 3 – It's time to put the harness on your cat and fasten it. Reward with treats. Practice adjusting the fit as well. You don't want it to be too tight or restrictive, but you don't want it too loose either. You should be able to fit two fingers between the harness and your cat. Let your cat wear the harness for small increments of time – maybe just 2-3 minutes. Again, reward him with treats after wearing the harness, even if he just lies there.
It is completely normal for some cats to react negatively to the harness at first. They may flop over, freeze up and refuse to move, or act wildly. It just takes time for them to get used to having something on them. Be patient. There is no set time frame for harness training your cat. It may take a few days or even several weeks.
Step 4 – Once your cat is comfortable wearing the harness for small increments of time, increase how long you let him wear it. Always reward him. Encourage your cat to play or walk around while wearing the harness. Entice him with toys and treats.
Continue with Steps 4 until your cat isn't bothered by the harness at all and will wear it for extended periods of time without any trouble.
Depending on your cat, you may need to spend more time on Steps 1, 2, or 3 before moving on to Step 4. No matter how much time you have to spend on a step, always be sure to praise your cat and reward him with treats for his progress. The idea is to get your kitty to associate the harness with positive experiences.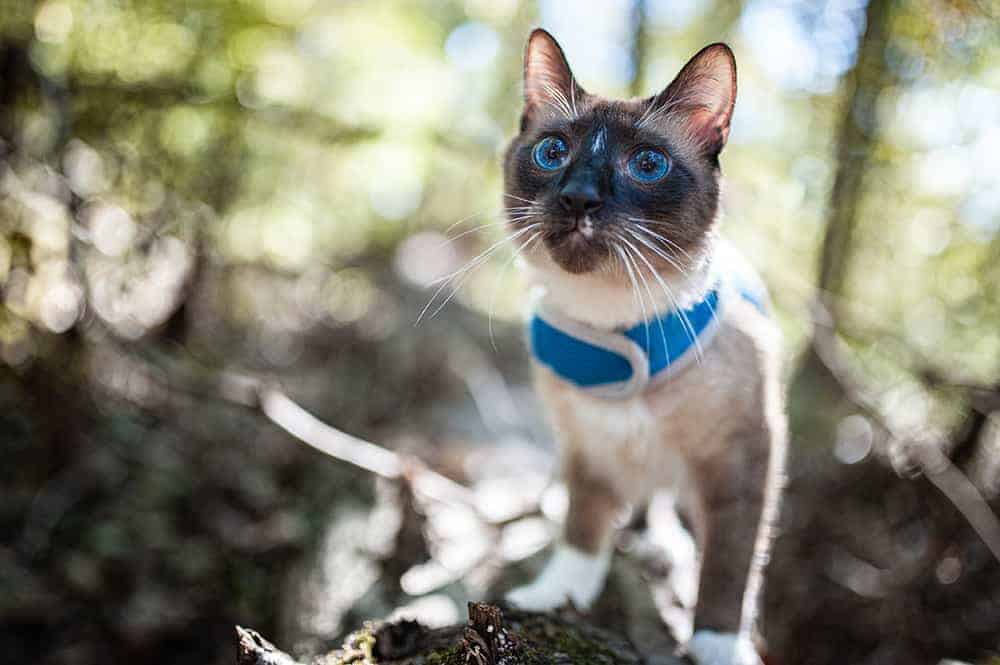 Leash Training Your Cat
Once your cat is comfortable wearing his harness around the house, it's time to add the leash to the equation!
Step 1 – From the comfort of inside your home, put the harness on your cat and attach the leash. Keep the leash in your hand and follow your cat, allowing him to freely explore. Praise and reward him with treats. Don't tug on the leash or try to guide your cat just yet. Avoid letting the leash drag on the ground as well because that can be frightening to some cats.
Step 2 – When your cat is comfortable with the feel of the leash, try gently leading him. Call your cat to you and apply gentle pressure to the leash to guide him in certain directions. Use a consistent voice command when leash training your cat, such as "Come on, (your cat's name)." If you are clicker training your cat, incorporate the clicker into this training session.
Step 3 – Once your cat is doing well with the harness-leash combo, it's time to move things outside. Carry your cat out to your backyard or some other quiet spot outside your home. If your cat has never been outside, be prepared for the possibility of him being scared and even freaking out a bit. Stay close to the door so you can quickly return indoors if need be. As always, use treats and praise to encourage and reward him.
Step 4 – As your cat becomes more comfortable with being outside, increase the distance you go from the door. Let your cat meander and explore your yard on his own terms rather than forcing him in certain directions.
Step 5 – Keep increasing your adventure radius. Start trying to lead your cat on the leash some, applying a gentle pressure and using your command word(s). Just like with Step 2, implementing your clicker training can be helpful here. Also, continue to reward your kitty and to entice him to follow you.

Additional Tips for Cat Leash Training
If your cat's regular treats don't seem to be motivating him very well, try something new – a "special" treat that's just for training. It could be a higher quality treat, freeze-dried treats, pieces of meat, whatever. Sometimes cats need a little extra motivation, and a new, special treat can do the trick.
Never leave your cat's harness and/or leash on him if he will be unsupervised. Leashes and harnesses can get snagged on things, possibly causing injury to your kitty. If you won't be around to keep an eye on him, remove the leash and harness.
After your cat is leashed and harnessed, always carry him outside. Don't let him walk out the door on his own. If your cat gets used to walking out the door, he may dash for it when you come and go. You don't want that!
Walking your cat isn't going to be like walking a dog. While cats will walk a trail and keep a steady pace sometimes, they also tend meander. If you go into this training experience expecting it to be like walking a dog, you will likely be disappointed. Try not to have any expectations, and just go with the flow.
Take things slowly, and watch your cat for any cues that he is scared or uncomfortable. Follow his lead, and don't force him to do things on your timeline. Be patient. You always want your training sessions to be positive experiences for him.
Remember that the amount of time spent on each training step is going to be dependent on your cat. Every cat is different. You may have one cat that flies through the steps and another that takes weeks or even months to progress through the steps. Patience and knowing your cat are key.
As your cat progresses and grows more and more comfortable with going outside on his leash and harness, you can try visiting different locations likes parks and other cat-friendly locations. Don't go straight from wandering your back yard to camping. When choosing your next adventure destinations, factor in how busy they are, how noisy they are, or if there will be a lot of other people or animals there. When you're starting out, try visiting places during off-times, like on weekdays during the day if possible.
KittyCatGO LIVE, Episode 1: Harness & Leash Training
Join our Community!
Share about your adventures, ask questions, find information on training and gear, read tips and tricks, and more.
---
About the Author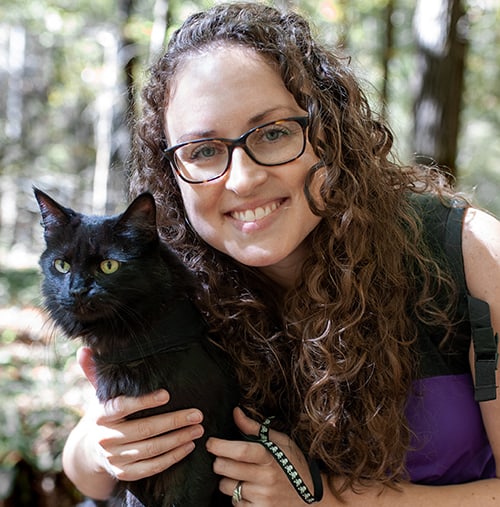 Emily Hall is "mom" to seven cats, one dog, and two sugar gliders. She has been writing in the pet industry for almost 10 years, with a focus on traveling and adventuring with cats. Emily and her husband enjoy hiking, road-tripping, camping, and canoeing with their three cat adventurers. Read more about her here.
Summary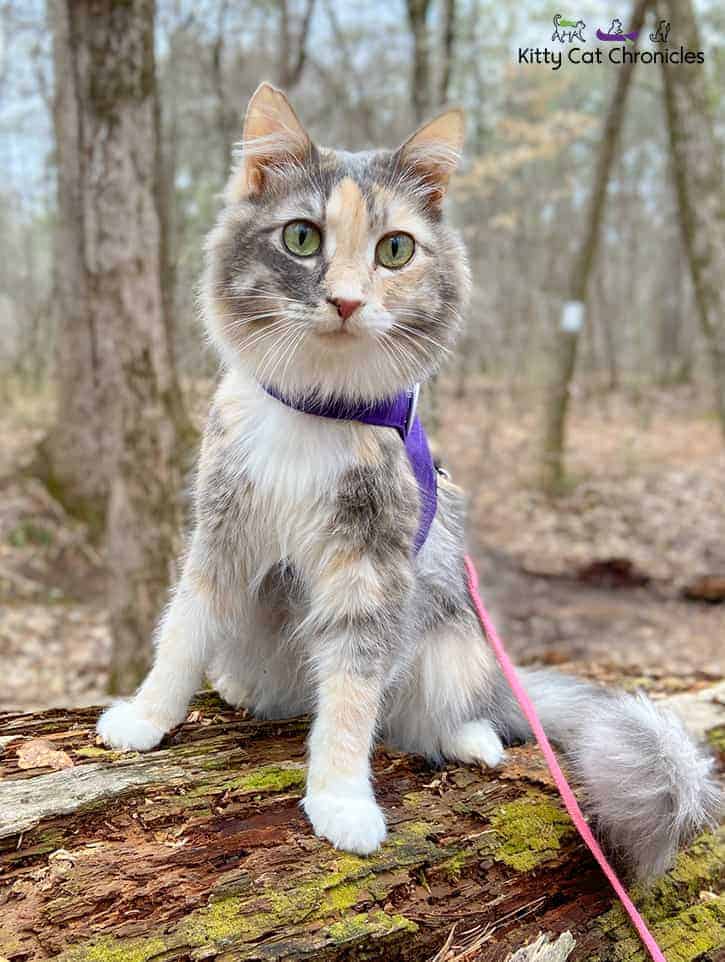 Article Name
How to Train Your Cat to Walk on a Leash
Description
Training your cat to walk on a leash is a great way to bond and enrich their life. It does take some patience, but it's easier than you think. Join the cat adventure world and start leash training your cat now!
Author
Publisher Name
Publisher Logo