When people first hear about or see an adventuring cat, it's pretty common for them to wonder, "Why would you harness train a cat?!" After all, when it's been the norm for so long for cats to either remain strictly indoors or be allowed to free-roam outdoors, the idea of putting a harness on a cat and walking them on a leash can seem odd.
Times are changing though, and more and more people are realizing the benefits of harness and leash training their cats, which is awesome!
If you're one of those people who are skeptical and wondering why in the world someone would harness train their cat, then you've come to the right place.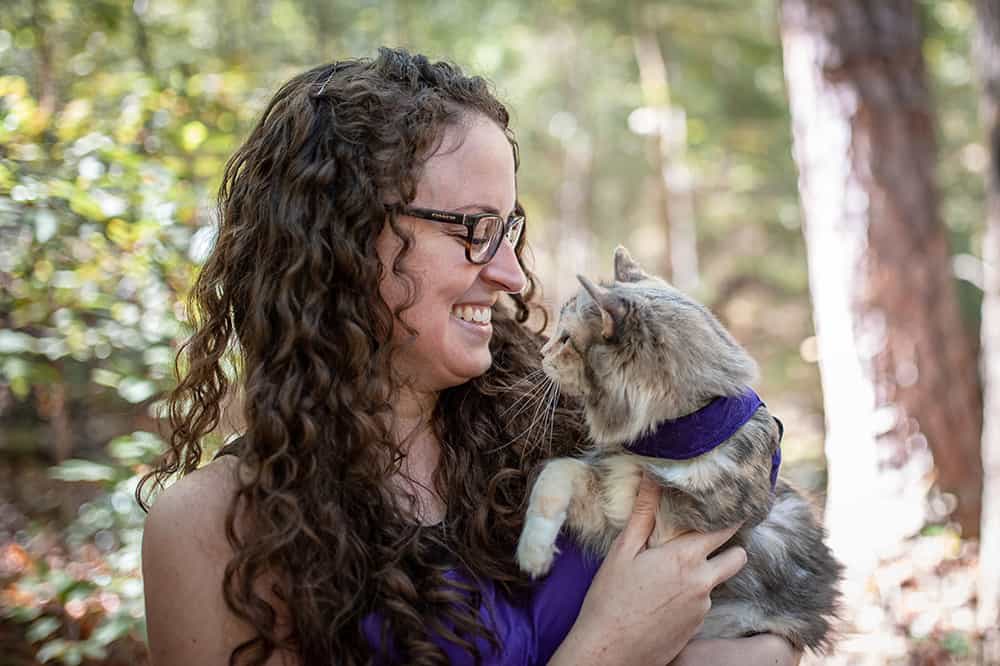 *Disclosure: This post contains affiliate links. If you make a purchase using one of these links, we will receive a small commission at no extra cost to you. This helps us to continue creating helpful content. Don't worry – we would never recommend something we don't like or use ourselves!
1. Safety
Letting cats free-roam outdoors isn't uncommon, though more and more people are beginning to realize this practice isn't the best idea. While exciting, the outside world poses many safety and health risks to cats. These dangers include:
Predators (large birds, dogs, coyotes, etc)
Cars
Other cats
Humans
Poisons/toxins
and more
On the other hand, keeping cats strictly indoors has it's downsides as well (see reason #2 below for more on this).
I think it's extremely important for cats to get to experience the outside world, and the best way to safely do this is with leashed outdoor time. Keeping your cat supervised outside on a harness and leash allows them to experience the outdoors in a safe and controlled way. It is a happy medium between free-roaming outdoors and staying strictly indoors.
2. Enrichment
Though cats may come with a stereotype of being lazy, low-maintenance pets that don't require much from you, this belief couldn't be further from the truth. Cats DO require enrichment and mental and physical stimulation to ensure they are living their happiest and healthiest life.
"The lack of physical activity and mental stimulation that indoor cats must contend with day after day and year after year affects them more deeply than we could possibly understand," reads a passage from the book Indoor Cat by Laura J. Moss and Dr. Lynn Bahr. "It takes a mental toll, often resulting in anxiety and depression. And it has physical effects as well, which can manifest as serious health ailments, such as skin conditions and gastrointestinal disorders."
As you can see, a bored cat is affected both mentally and physically.
While there are a multitude of ways to provide enrichment for your cat, safe outdoor time is one of them. The outdoors contains a myriad of sights, smells, sounds, and even tastes that your cat has no other way of experiencing first-hand. Harness and leash training your cat literally opens them up to a whole new world of possibilities.
3. Exercise
Exercise has many health benefits for us humans, but did you know it has the same benefits for cats too? Though cats do love to sleep, they also have a need to be up and active. Not only does physical activity help maintain their weight, it is also a great way for them to expend their energy and act on some of their natural instincts.
Experts agree that cats need about 30 minutes of exercise per day (two or three 10-15 minute sessions). This exercise can be in the form active play or clicker training, or a nice stroll outdoors. A combination of all of the above is even better!
If your cat is needing to shed a pound or two, outdoor walks can help with that as well.
4. Bond & Trust Building
Any activity you share with your cat (whether it's play, training, grooming, or snuggling) is great for bond building. If you're interested in forming a closer relationship with your cat that is built on trust and mutual respect, harness and leash training and enjoying outdoor adventures together will certainly help!
As you go through this process, you will learn more about your cat's body language, their likes and dislikes, how they adjust to new things, and more. Assuming you follow your cat's lead and go through the process at their pace without forcing anything, they will in turn come to trust you even more than they already did.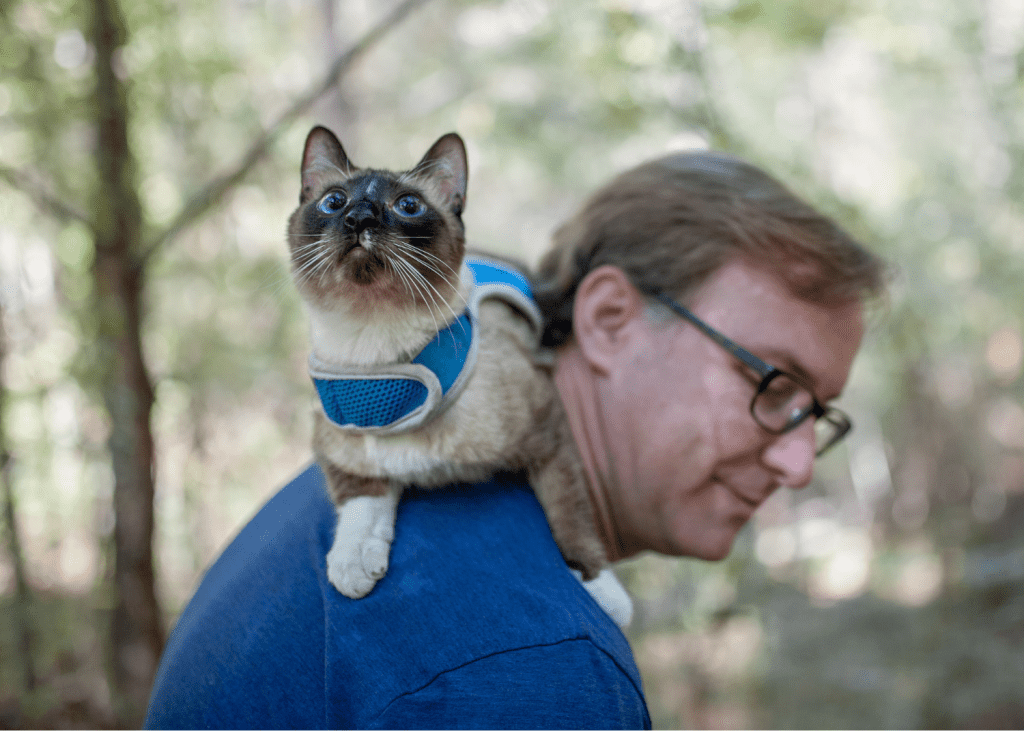 5. Fun
We all love to have fun – our kitties included! Adventuring outdoors, even if it's just in your backyard, can be loads of fun for everyone involved. Your cat will enjoy getting to sniff around, maybe chase some bugs or climb a tree. You can even bring their favorite toy or some catnip bubbles outside to enhance the experience.
You'll get to enjoy playing with your cat in a new environment and seeing the world through their eyes. There's nothing more fun than that!
6. Practicality
Even if you don't have any intention on taking your cat outdoors for any of the previously mentioned reasons, it's still a good idea to harness and leash train them for a handful of practical reasons:
Going to the vet
Emergency situations (for example, having to evacuate your home in a situation where having your cat in a carrier isn't practical)
Traveling in the car (you can let your cat out to stretch their legs)
Harness training a cat doesn't have to mean big outdoor adventures! It can simply mean that you're preparing yourself and your cat for situations in which being harness and leash trained would be helpful.
7. To Push the Bounds of Cat Expectations
The world at large has this view of cats that they are low-maintenance pets that sleep all day, that they don't need much besides a bowl of food and water, that they aren't trainable, and that they couldn't care less about us humans aside from when we feed them.
The truth is, these beliefs are simply NOT TRUE!
One of the best side effects of more and more people getting out there and doing more things with their cats (like harness and leash training) is that we are showing the world what cats are truly capable of. We are challenging people's stereotypical views and changing how people view cats for the better.
We are becoming a part of the cat revolution!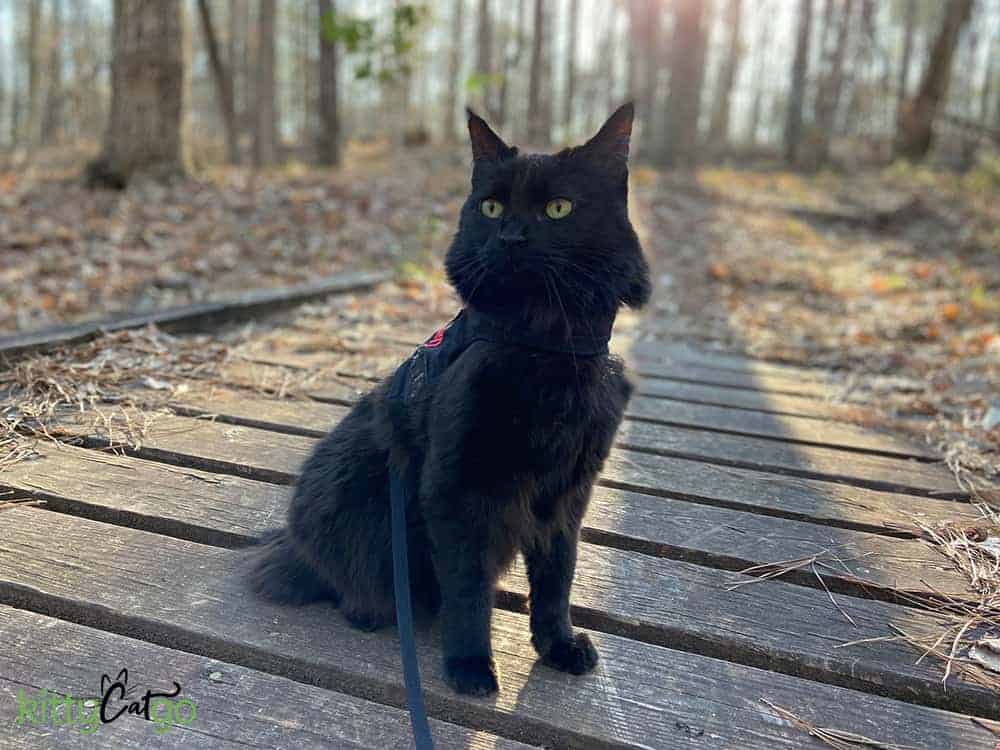 As you can now see, there are many reasons to harness train a cat. From enriching their life with new sights and smells to fostering an unbreakable bond that transcends the boundaries of the home, each step you take with your cat will bring you even closer to unlocking a world of wonder, discovery, and cherished memories. As you progress in your journey, keep these reasons close to your heart, and let them guide you as you embark on an adventure that will forever change the way you see the world through your cat's eyes.
Why do you adventure with your cat?
---
About the Author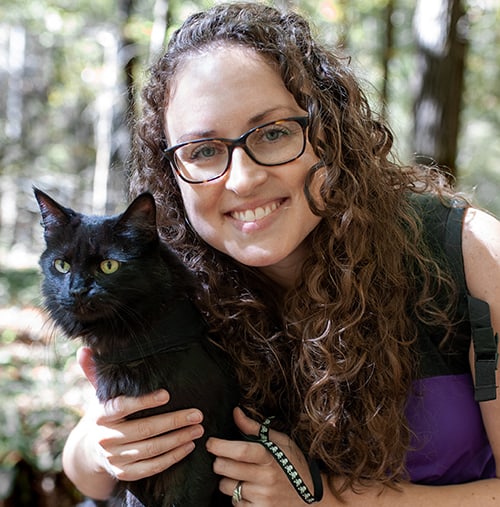 Emily Hall is a cat trainer and cat adventure enthusiast. As "mom" to seven cats, one dog, and two sugar gliders, she has been writing in the pet industry for 10 years, with a focus on traveling and adventuring with cats. Emily and her husband enjoy hiking, road-tripping, camping, and canoeing with their three cat adventurers. Read more about her here.