Curious what is the best leash for cats? There's a lot of information out there on the best cat harnesses, but not as much about the best cat leashes. The leash is arguably one of the most important pieces of gear for adventuring with your cat too!
It may seem like any old leash will do, but there are actually several factors to consider when choosing a cat leash:
Length
Width
Material
Weight
Retractable?
We're going to break each of these down for you so you can feel confident about your cat leash selection.
Leash Length: How long should my cat leash be?
There are two schools of thought when it comes to the length of a cat leash.
Use a long leash so your cat has plenty of freedom to explore.
Use a short leash so you have more control.
I personally lean more towards #2, but it is possible to find a happy middle ground.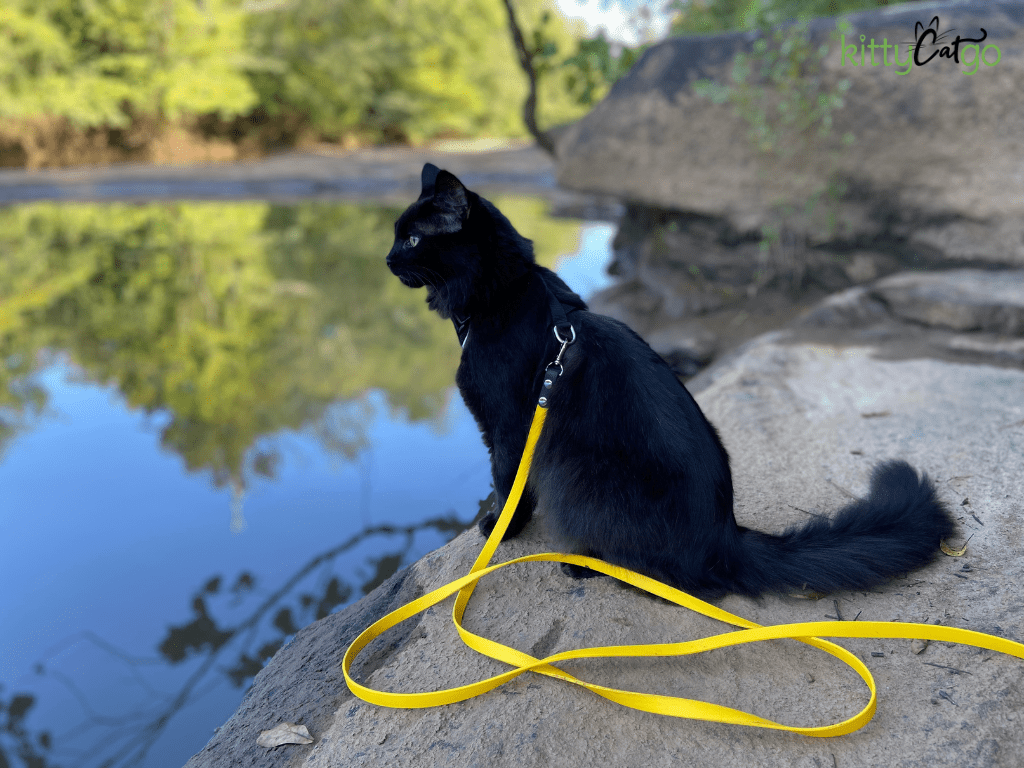 Most standard-length leashes are 5-6 feet long. Then there are your retractable leashes that can extend 10-20+ feet in length (more on those later). You can also find long-line leashes that are 20-30+ feet long.
If you've been walking your cat for any length of time, you know that cats tend to meander more than they walk a straight path. Simply put, walking a cat is typically not like walking a dog. Cats like to explore, sniff, and wander around at their own pace. They like to go in bushes or into hard-to-reach areas.
For all the above reasons, many people prefer to use a longer leash to allow their cat those freedoms. The downside to a longer leash is that you have less control over your cat.
What happens if an off-leash dog approaches or some other kind of emergency arises, and your cat is 15 feet away from you? What if you need to quickly pick your cat up, and they are 20 feet away? For these reasons, I prefer to keep my cat closer and use a 6ft leash.
That being said, you don't want your leash to be too short because then your cat might be more likely to slip out of their harness. No matter what some companies may claim, there is no 100% escape-proof cat harness. Sure, some harnesses are better than others, but whether or not your cat slips out ultimately comes down to a combination of proper fit, proper training, and leash tension.
To prevent your cat from being able to back out of their harness, you and the leash should always be behind your cat. If your cat gets behind you, the tension of the leash pulling forward will make it easier for your cat to back out of their harness (see image below). A shorter leash will increase the chances of that happening.
As you can see, there is no clear-cut answer about how long a cat leash should be. It all comes down to personal preference and what each individual is comfortable with.
Leash Width: How wide should my cat leash be?
As with leash length, the width is a matter of personal preference. Some people prefer the feel of a wider leash in their hand, while others prefer a narrower leash.
That being said, the width of the leash will affect the overall weight, which is an important factor when making your selection (see below section).
I would generally recommend a leash that is 3/8" – 1/2" wide to keep things as lightweight as possible.
Leash Material: What should a cat leash be made of?
There are a few popular materials for cat leashes:
Nylon
Bungee Nylon
Leather
Biothane
Your standard leash found at any pet store is typically made of nylon. They are inexpensive and lightweight, which is always great. The biggest downside to nylon is that it quickly picks up dirt and debris. It won't be long before your nylon leash is stained, smelly, and dirty.
Bungee leashes are usually covered in nylon as well. The upside to bungee leashes is that they provide a bit of shock-absorbency if your cat tends to pull on the leash or quickly dart after things. They come with the same downsides as a nylon leash though.
Leather leashes are a more upscale option. Leather is durable and comfortable in the hand. However, if you don't keep it maintained and oiled, it will dry out and crack.
Biothane is a faux-leather option that is durable, waterproof, odor proof, easily cleanable, lightweight, flexible, and vegan! Since discovering biothane, that is the only kind of cat leash I use. No looking back!
(Psssst…. our Kylo Leashes are made from biothane and come in varying lengths and styles!)
Leash Weight: Does it matter?
The short answer: YES! Leash weight is arguably the most important factor when choosing a leash for your cat.
All the previously discussed factors play into the weight of your leash. In addition to the length, width, and material, the clasp that attaches the leash to your cat's harness will greatly affect the weight as well. Most dog leashes have bigger, heavier clasps, which will cause your cat's harness to slide to the side as they walk.
Cats are smaller than most dogs and are built differently. A heavy leash designed for dogs will weigh your cat down, making the walking process more difficult.
Finding a leash that is lightweight and durable is of the upmost importance!
Retractable Cat Leashes: Should I use one?
As with many of the factors discussed so far, whether or not to use a retractable leash is truly a matter of personal preference. Some people love them, some people hate them.
I understand the appeal of the retractable leash. They allow your cat more freedom to explore, and they can also be locked into position at shorter and longer lengths.
However, I am not a fan of retractable leashes and would not use one for my cats (or my dog), nor would I personally recommend them. Why?
Retractable leashes can break. It's not unheard of for the inner workings of a retractable leash to malfunction while in use. For example, the locking mechanism could break or the cord could pull out completely.
They can cause injury. The thin cord of the leash can easily get wrapped around fingers and legs, potentially causing rope burns or cuts.
If you drop a retractable leash while walking your cat, it will "chase" your cat around as it tries to retract itself. This is terrifying for some cats, which can cause serious setbacks in the leash training process.
They are bulky and uncomfortable in the hand.
There are many cat adventurers who use them and love them though. I just prefer the simplicity and reliability of a fixed-length leash.
The Best Leash for Cats: The Kylo Leash
In my quest to find the best leash for cats, I tried several different kinds. Nylon, bungee, biothane. I even made my own crochet leashes for a while. Nothing fit the bill.
The biothane leashes came close, but because they were all designed with dogs in mind, they were thicker, heavier, and had bigger clasps – making for a less-than ideal experience.
I eventually decided to try my hand at making my own biothane leash designed specifically for CATS! Thus, the Kylo Leash was born!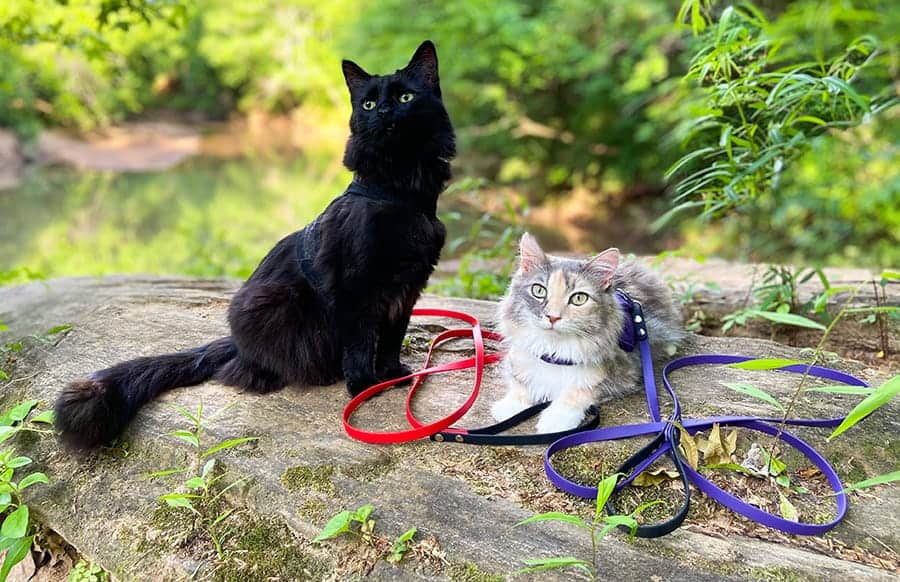 The Kylo Leash, named after my best adventure companion Kylo Ren, is a biothane cat leash that is:
Lightweight
Durable
Easy to clean
Waterproof
Odor Proof
Flexible
Vegan
Customizable!
There is both a basic model with a regular leash handle, as well as a hands-free model that can be worn in several ways. There is also a long-line Kylo Leash, which is perfect for backyard hangs or chilling at a campsite.
While I am obviously a fan of the Kylo Leash, don't just take my word for it. Here are some reviews given by fellow cat adventurers who use their Kylo Leashes on the regular:
So in conclusion, the best cat leashes are Kylo Leashes! 😉
Have you found the perfect cat leash? What kind is it?
---
About the Author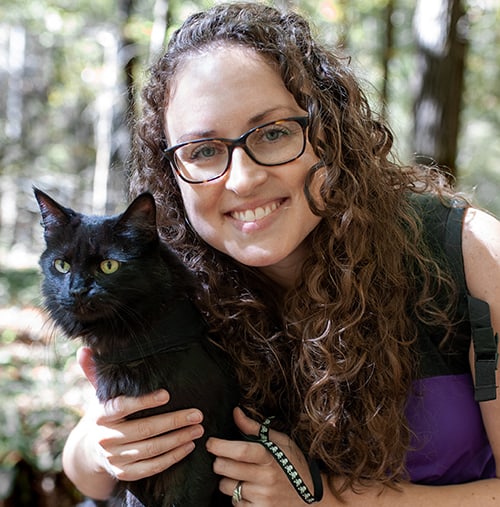 Emily Hall, ABCCT is a certified cat trainer and cat adventure enthusiast. As a "mom" to seven cats, one dog, and two sugar gliders, she has been writing in the pet industry for 10 years, with a focus on traveling and adventuring with cats. Emily and her husband enjoy hiking, road-tripping, camping, and canoeing with their three cat adventurers. Read more about her here.