Adventuring in the winter time with your cat, especially in the snow, poses its own set of challenges. One of the biggest being how to protect your cat's paws, not just from the cold, but from toxins as well. Salt, antifreeze, and other deicers are toxic to your cat, so you don't want him to pick any of those up on his paws and then possibly ingest later.
Pet booties will protect your cat's feet from these things, but most cats won't tolerate them. If that's the case for you, paw wax is a good alternative form of paw protection! It will form a protective barrier between your cat's paws and the ground, keeping them moisturized, preventing cracking, and preventing direct exposure to things like salt and antifreeze.
Even if your cat wears paw wax on winter adventures, be sure to wipe his feet off when you get home.
*Disclosure: This post contains affiliate links. If you make a purchase using one of these links, we will receive a small commission at no extra cost to you. This helps us to continue creating helpful content. Don't worry – we would never recommend something we don't like or use ourselves!
Easy DIY Paw Wax/Paw Balm Recipe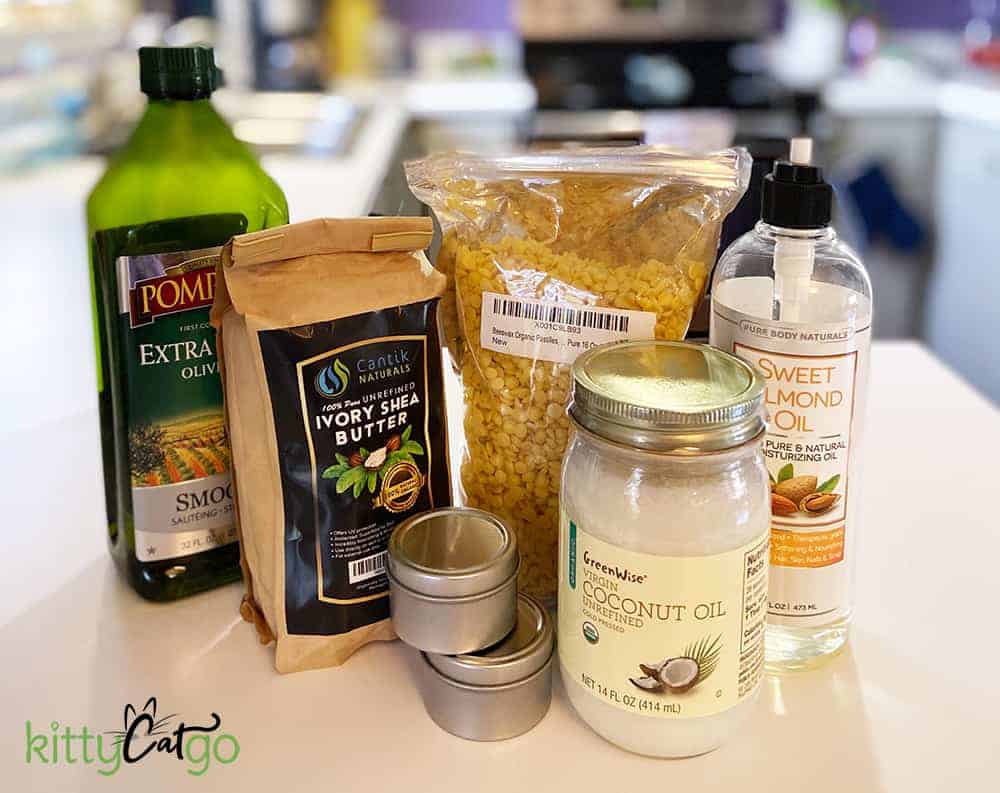 Prep Time: 15 minutes
Cooling Time: ~2 hours
Makes 6 ounces of paw wax. Recipe can be halved, doubled, etc. to suit your needs.
Mix all ingredients in a double boiler. (If you don't have a double boiler, you can make a homemade version like I did by putting a heat safe measuring glass or small pot inside a larger pot.)
Set stove to medium heat and stir the ingredients until they are completely melted and blended together.
Pour mixture into your tin.
Let the tin cool until the wax has hardened.
To apply the balm to your cat's paws, you can rub it on with your fingers or apply the tin directly to your cat's paw and rub it in.
Join our FB Group!
Share about your adventures, ask questions, find information on training and gear, read tips and tricks, and more.
---
About the Author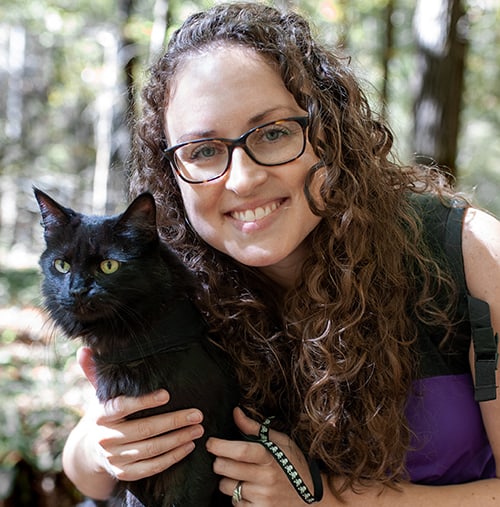 Emily Hall is a cat trainer and cat adventure enthusiast. As "mom" to seven cats, one dog, and two sugar gliders, she has been writing in the pet industry for 10 years, with a focus on traveling and adventuring with cats. Emily and her husband enjoy hiking, road-tripping, camping, and canoeing with their three cat adventurers. Read more about her here.