Do you experience cold, snowy winters where you live? If so, you might be wondering if winter adventures with cats are possible. While your outings may need to change some, you don't have to let the winter weather stop you all-together from enjoying the great outdoors!
We've got some tips and suggestions on how to enjoy winter adventures with your cat, but first let's get a better understanding of how cats naturally withstand cold temperatures…
*Disclosure: This post contains affiliate links. If you make a purchase using one of these links, I will receive a small commission at no extra cost to you. This helps me to continue creating helpful content. Don't worry – I would never recommend something I don't like or use myself!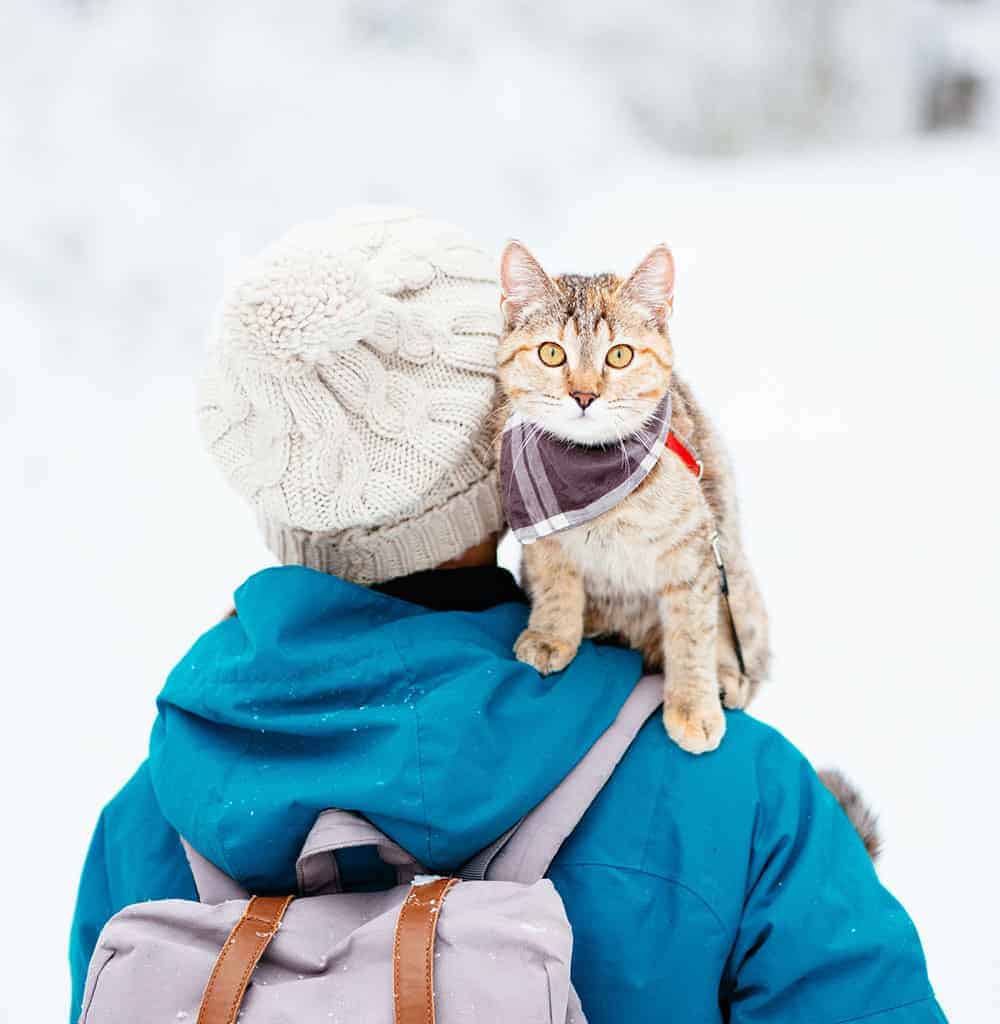 How cold is too cold for a cat?
When trying to determine if the weather is too cold for your cat, the general rule of thumb is that if you are cold, so is your cat. Cats can experience frostbite and hypothermia just like us humans can, so it's important to keep them from being exposed to freezing temperatures (under 32°F/0°C) for too long. Their ears, nose, tail, and paws are particularly susceptible to frostbite.
There isn't a hard and fast rule about what temperature is officially "too cold" for a cat though. Just like with people, some cats are more tolerant of cold weather than others. Some breeds are even better suited for the cold – like the Siberian and Norwegian Forest Cats. Cats can also acclimate to colder weather if exposed to it enough.
How do I know if my cat is too cold?
If you will be going on outdoor adventures with your cat in the wintertime, watch out for the following signs that your cat is too cold:
Shivering (Shivering may not always be visibly noticeable. Touch your cat from time to time so you can feel whether or not he is shivering.)
Lifting or holding their paws up like they're in pain
Ears and paws cold to the touch
Looking for shelter
If you notice any of the behaviors mentioned above, it is time to wrap up your adventure and get your kitty inside to warm up.
As mentioned frostbite and hypothermia can also be concerns if the temperatures are extremely cold. If you notice any of the signs below, be sure to end your adventure right away and take your cat to the vet for treatment.
Is my cat's fur enough to keep him warm?
You may be thinking, "Hey, my cat has a permanent fur coat on! They don't need a jacket." While it is true that a cat's fur is designed to help keep them warm, it will only do so if their coat stays dry. If a cat's coat gets wet (from snow and ice, for example), they are especially susceptible to hypothermia.
If you will be adventuring with your cat outside in extremely cold temperatures, they may need a little extra help keeping warm in addition to their fur. Again, there is no hard and fast rule about when your cat should wear a jacket. It depends on your cat and what they can comfortably tolerate.
Many cats don't like wearing sweaters or jackets, but since your cat is already accustomed to wearing a harness, they will likely be more accepting of other outerwear. Be careful with thicker jackets and coats though, as they could possibly cause your pet to overheat.
Side note: There are actually some cat breeds that are better suited for cold weather, such as Norwegian Forest Cats, Maine Coons, Siberians, Ragdolls, Russian Blues, Himalayans, etc. On the flip side, hairless cat breeds such as Sphynxes and Peterbalds should avoid being out in the cold or should always have on a coat or jacket to keep them from getting too cold even in mild but cool weather.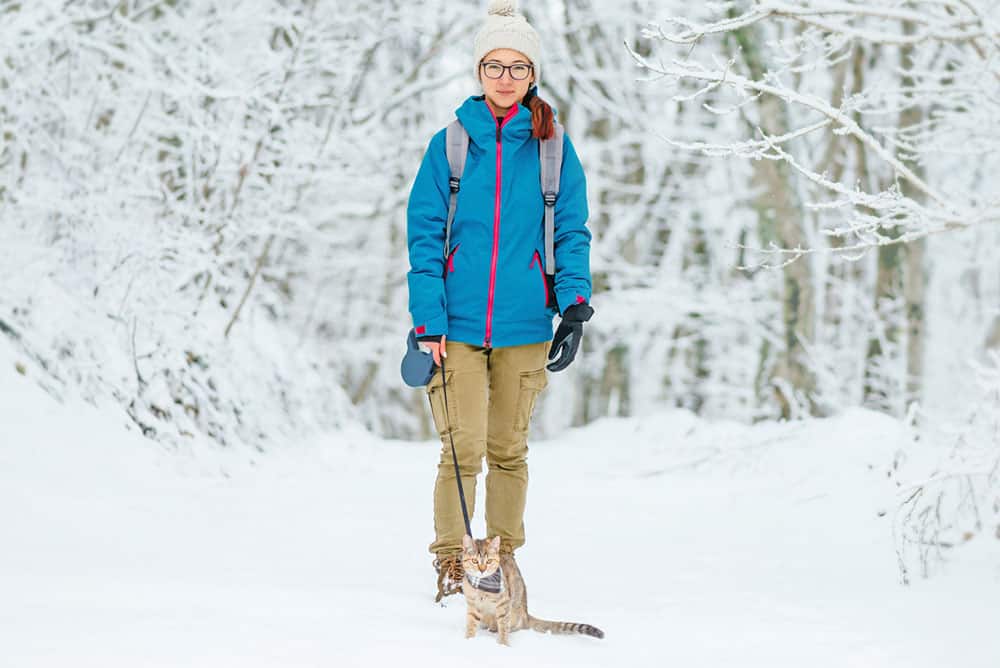 12 Tips for Making Winter Adventures with Cats Safe and Enjoyable
Alright! You now have a better understanding of how your cat can physically handle being outside in the cold, and you know what to keep an eye out for. It's time to make sure you and your cat are prepared with the necessary training, gear, and accessories. Here are our best tips and suggestions for winter adventures with cats:
1. Assess your cat's well-being.
If your cat is sick, frail, or unhealthy in any way, you shouldn't expose them to the cold. You and your cat should stick to indoor adventures for now until your cat is healthier and feeling better.
2. Train your cat to tolerate the cold.
Just like you trained your cat to get used to his harness, you can, to some extent, train them to better tolerate the cold. Start by taking your cat out for short periods of time – maybe 5 minutes or less. Gradually increase the outdoor increments by just a few minutes at a time until your cat is ready for a longer adventure.
3. Invest in a jacket or coat.
If you'll be outside with your cat for an extended period of time (I'd say more than 10-15 minutes – or even just a few minutes if the temperatures are below freezing), you may want to get them a jacket or coat.
Knowing whether or not your cat needs a jacket depends on the individual cat. For example, my Southern cats start shivering if the temperature is below 60°F (I know, we are whimps). The more you adventure with your cat in cold weather, the more easily you will be able to assess their needs.
How to pick out a cat jacket/sweater/coat:
Make sure it doesn't restrict your cat's movement – they should still be able to walk, jump, go to the bathroom, etc.
Be sure it has a small hole above the shoulder blades for the leash to be able to go through and attach to your cat's harness.
Check the sizing – though dog coats and jackets will work for cats too, they sometimes tend to be too short in the body. Cats are longer and leaner than dogs, so to ensure your cat's body is adequately covered, you want to find a jacket/coat that is long enough.
If you will be exploring in the snow or ice, you should look for a waterproof or water-resistant jacket/coat.
To get your cat used to wearing their jacket, you can let them wear it indoors for short increments of time (just as you did when you were harness training). Also, always supervise your cat while they are wearing outerwear in case it gets caught or snagged on something.
Coat Recommendations for Cats
Brands:
Specific Jackets/Coats:
4. Keep your cat's ears warm with a fleece snood.
As mentioned before, your cat's ears are especially sensitive to the cold. If your cat will tolerate having things on their head/ears, a fleece snood is great for protecting ears.
5. Protect your cat's feet with a set of booties.
If your cat will be out in the snow or ice, a set of pet booties will help to keep their feet protected from direct contact with the cold ground/snow. Booties will also protect your cat from toxins such as salt, antifreeze, and other deicers. Most cats won't tolerate wearing booties on their feet, but it's worth a try.
If you decide to try booties, it's best to start with a thinner, more flexible set. As your cat gets accustomed to wearing the booties, you can eventually upgrade to a thicker, more durable set.
6. Protect your cat's feet with paw wax.
If your cat won't wear booties, paw wax is a good alternative form of paw protection. Cats' paws tend to dry out and crack if exposed to the cold for too long. Paw wax will form a protective barrier between your cat's paws and the ground, keeping them moisturized and safe from exposure to things like salt and antifreeze.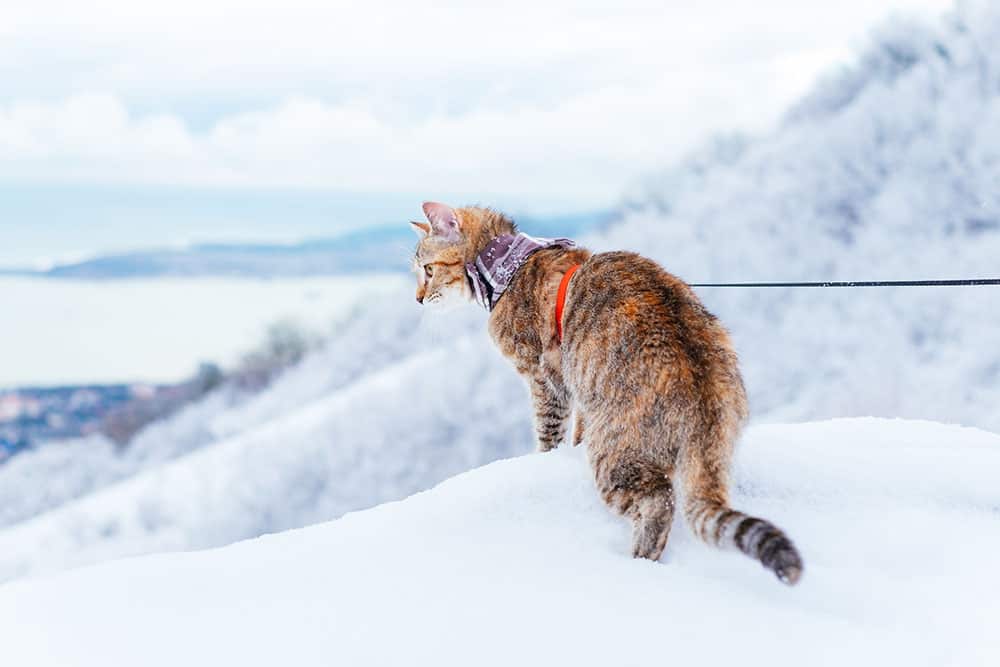 7. Keep your cat's backpack/carrier warm.
If you'll be exploring outdoors in the cold for a longer period of time, you can line your cat's backpack or carrier with blankets. You can also add a heat source, such as a self-warming heating pad, heated bed, or hand warmers (like Hot Hands). Your cat can take breaks from the cold by riding in their backpack and enjoying some warmth.
Be sure to wrap hand warmers and heating pads in a blanket so your cat isn't in direct contact with the heat source. You wouldn't want them to get too hot or even burnt.
8. Avoid salt, antifreeze, or any kind of deicer.
Some of the biggest outdoor hazards for cats in the wintertime are toxic chemicals like salt, antifreeze, and deicers. These products can be extremely harmful to your cat if ingested. Your cat can easily pick up these hazards on his paws, legs, and under belly if they walk through the snow or on any pavement where these products may have been put down.
Even if you don't think your cat was exposed to these things, always wipe their paws, belly, and legs off with a damp, warm rag when you get home. Better safe than sorry! You don't want them to ingest any of these toxins when they are grooming themselves.
9. Check your cat often for cold paws or ears and wet bellies.
Be proactive about checking on your cat. Snow and ice can stick to you cat's toes, so check their feet and ears to make sure they aren't too cold. Check their under belly to make sure they haven't gotten wet.
Long-haired cats are especially prone to catching snow and ice between their toes and along their furry bellies. Know that you need to be constantly monitoring your cat for any signs that they may be getting too cold.
10. Limit your cat's exposure to snow or ice to under an hour.
If you live in a place that gets a lot of snow or ice, you have to be extra cautious about adventuring outdoors with your cat in the winter. When braving the cold and exploring in the snow, it's best to limit the amount of time your cat spends outside. Depending on the temperatures, this may mean limited your outing to under an hour or even under 15 minutes.
Prolonged exposure to snow and nice can cause your cat's paw pads to crack or their paws to freeze. Keep your winter adventures short!
11. Limit your cat's ground time.
If your cat isn't a fan of walking around in the cold, snow, or ice but still wants to enjoy some outside time, taking a ride in their backpack carrier may be the perfect compromise. You can add blankets and a heat source to the backpack as mentioned in tip #7, and your cat can enjoy the sights and smells of the outside world from the comfort and warmth of their backpack.
Pulling your cat in a sled or sleigh is another fun alternative. If you decide to go that route, you can pad the sleigh with warm blankets and even pet sleeping bags.
Even if your cat doesn't mind exploring in the cold, having a warm place like a backpack or sleigh to retreat to for breaks is always a good idea.
12. Don't leave your cat in the car.
Just as you shouldn't leave your cat unattended in the car during the summer months, the same is true during the winter. Cars can quickly become ice boxes, so never leave your cat unattended in a car when it's cold outside.
---
KittyCatGO LIVE Episode 2: Winter Adventuring with Your Cat
For more information and discussion about adventuring with your cat in the cold and snow, be sure to watch episode 2 of KittyCatGO LIVE!
Do you adventure with your cat in the winter? What are your must-have gear items and accessories? Tell us in the comments below, or tag us in a post on Instagram (@kittycatgoadventures).
---
---
About the Author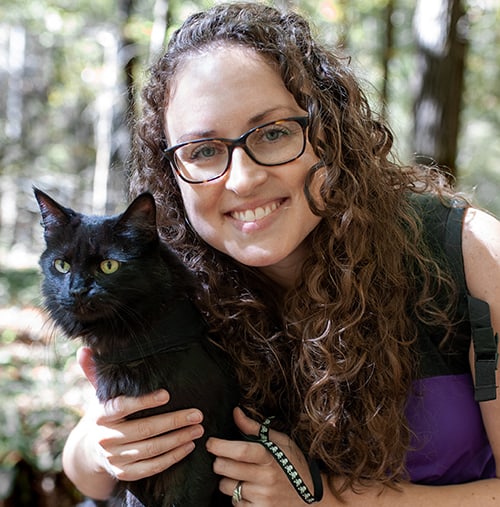 Emily Hall, ABCCT is a certified cat trainer and cat adventure enthusiast. As a "mom" to seven cats, one dog, and two sugar gliders, she has been writing in the pet industry for 10 years, with a focus on traveling and adventuring with cats. Emily and her husband enjoy hiking, road-tripping, camping, and canoeing with their three cat adventurers. Read more about her here.