Getting a cat backpack carrier for your cat can be an adventuring game changer. As someone who put off investing in a cat backpack for a while, I really wish I had gotten one sooner. I can remember one instance in particular when I wished we had one. My husband and I were on a hike with one of our cats, and he quickly and unexpectedly decided that he'd had enough. Unfortunately, he decided this when were still a mile from the car. That mile hike back carrying an angry cat felt like it lasted forever! A backpack carrier would have made the situation a lot more manageable.
In this guide, you can find information on why you should backpack train your cat, how to pick out the right cat backpack, how to train your cat to ride in it, and a list of our favorite backpack carriers.
*Disclosure: This post contains affiliate links. If you make a purchase using one of these links, we will receive a small commission at no extra cost to you. This helps us to continue creating helpful content. Don't worry – we would never recommend something we don't like or use ourselves!
(Please note that it's important for your cat to be harness and leash trained before backpack training. Check out our tips for harness and leash training, as well as our cat harness guide.)
Before we get to the training tips, we need to start with the reasoning behind investing in a cat backpack carrier, as well as what to look for in one…
4 Reasons to Get a Cat Backpack Carrier
If your cat is already harness and leash trained, you may be wondering, "Why do I need a cat backpack carrier?" They are actually an awesome and highly-recommended adventuring accessory for a few reasons…
1. They are a helpful training tool. If you're just beginning training your cat for adventures, having him ride in a backpack at first will help to get him acclimated to new situations. Chances are your cat isn't going to be ready for a long hike or feel comfortable at your local pet store the first time you go. Introducing your cat to these situations slowly is best, and a backpack carrier allows you to do that. Your cat will feel a lot more comfortable in new places if he's in his backpack than if he's just out on his leash and harness.
2. They give your cat a "safe place" to retreat to. Even if your cat is an experienced adventurer, you never know what you're going to encounter when you're out and about. If your cat gets nervous for some reason or you encounter a potentially dangerous situation, it is wonderful to have that backpack for your cat to escape to. It gives you both peace of mind.
3. If your cat gets tired, he has somewhere to rest. Say you're on a hike with your cat, and after a mile or two, he gets tired. If you have a backpack carrier, you can just put him inside and continue on with your hike.
4. They are versatile! Backpack carriers can be utilized with all types of adventures – hiking, biking, canoeing/kayaking, going to the park, visiting the pet store, hanging out at your favorite restaurant/brewery, etc! Many of them also double as car carriers and even air travel carriers, so they can be used for safer travels all around!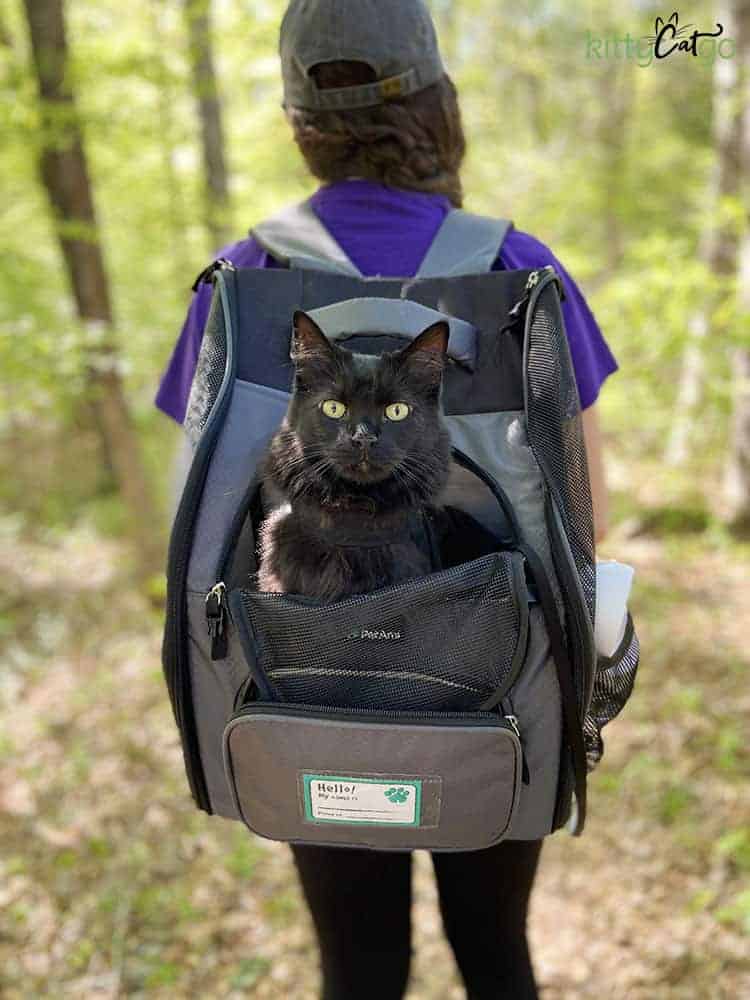 Picking Out the Right Cat Backpack
There are many styles of pet backpacks on the market. Backpacks in all shapes and sizes, backpacks for all different purposes, backpacks that are cute and trendy, and backpacks that are more functional. Finding the one that best suits your needs and is comfortable for both you and your cat is of the upmost importance.
Features to Look For and Things to Consider
Pick a backpack that is the right size for your cat. Check the dimensions and weight limit of the backpack carrier before purchasing. Don't just guess your cat's size and weight either – measure and weigh them so you are sure to pick the right size. A backpack that is too small won't work.
The activities you plan on enjoying with your cat will have a bearing on what kind of backpack you want. Some backpacks are better suited for urban adventures, while others are best for the serious hiker. Investigate the features of the backpack and make sure it has everything you need. For example, a backpack with no pockets is probably not going to work well for you if you're planning on doing a lot of hiking and need a place to store your belongings.
YOUR comfort is important, too. Obviously, you want your cat to be comfortable in whatever backpack you choose. Be sure to consider your own comfort as well though. You're the one who has to carry the backpack on your back. Make sure the straps are comfortable and padded and that the carrier doesn't dig into your back or hips in ways that are uncomfortable or even painful to you.
Pick a backpack that is well-ventilated. You don't want your cat to get over-heated, uncomfortable, or claustrophobic while riding in an enclosed backpack. Look for a backpack that has mesh windows or ventilation holes of some sort that allow for adequate air-flow and viewing. Most backpacks even allow for the top to unzip so your cat can peek out. Whichever backpack you choose, just make sure it has adequate ventilation for your cat's safety and enjoyment.
Check how many openings the backpack has and where they are located. Some backpacks have an opening/entrance just on the top, while others have an opening on the side. The backpack carrier we use has both top and side openings. Whichever one you choose, we recommend one that has at least an opening on the top. That way your cat can poke his head out if he wants to. Having additional side openings is nice too, but not completely necessary.
Consider the structure of the backpack. Some pet backpacks are soft-sided and easily-collapsible, while others are more rigid and firm. Both types have their advantages and disadvantages. If your cat is on the heavier or larger side, a backpack with a more firm base is probably best because it will support your cat better and hold up better under your cat's weight. Just make sure your cat is comfortable in whichever type you choose.
Features and Styles to Avoid
Pet backpack carriers have become somewhat of a fashion accessory, which isn't necessarily a bad thing. However, many of the fashion backpacks are designed purely to be cute and stylish. This means they lack many of the functional features you want in a backpack carrier you'll be adventuring with. That being said, just because a backpack carrier looks super cool doesn't mean that it isn't also functional.
Avoid the backpack carriers that look like space ships. You know the ones I'm talking about – they have that plastic cat backpack bubble on the front for your cat too look out of. These do look cool and have a sense of novelty to them. However, many are not very well-ventilated and are often small and cramped. Cats tend to like a more spacious backpack, and they need good air flow with mesh windows on all or most sides – not just a plastic bubble on the front. If you are looking at a "spaceship backpack carrier," check that it has ample ventilation and space before purchasing.
Avoid the backpack carriers that look like purses. This style of cat carrier often lacks the firmness and stability cats prefer. There is usually no solid base or body, which can be uncomfortable for your cat, especially for longer periods of time. Plus, these carriers are usually made with the intention of your cat's head sticking out the top. While some cats may not mind that, many often prefer a more fully-enclosed style of carrier, especially in the beginning when they might be more nervous.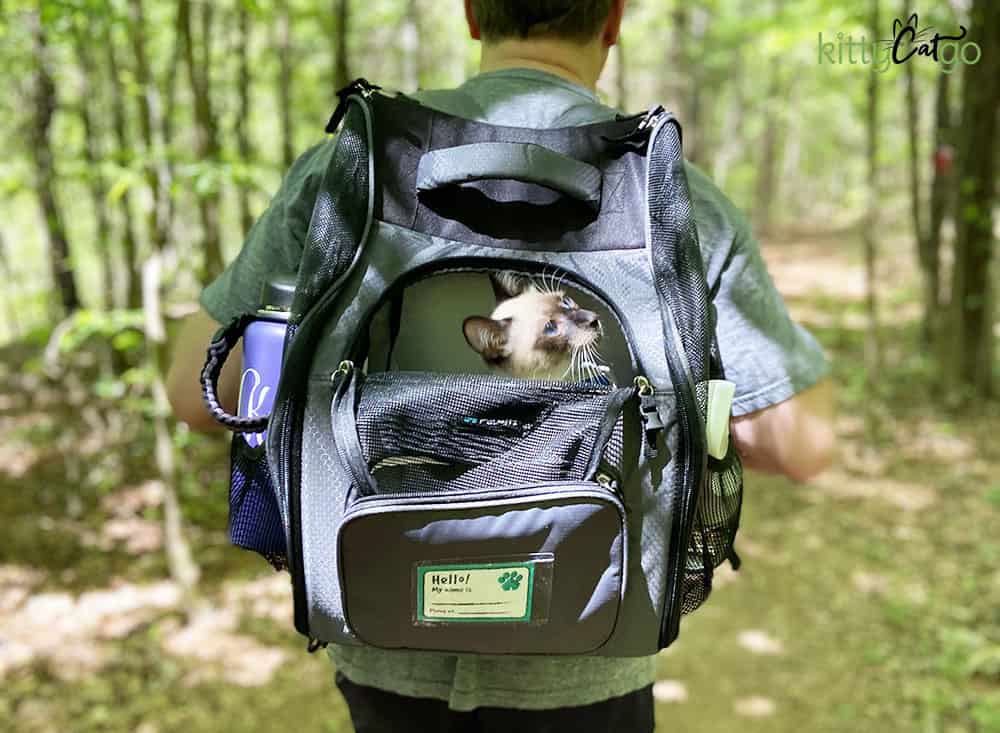 How to Train Your Cat to Ride in a Backpack
1. Once you've found the right backpack, leave it open and out around your house for your cat to investigate. Cats are generally pretty curious, so your kitty will likely sniff it out and even jump inside. The goal is for your cat to grow comfortable with the backpack on his own before you try putting him in it.
2. Throw treats, toys, and/or catnip inside the backpack to help attract your cat to it. You can also try putting one of your cat's blankets or an article of your clothing inside so the backpack starts to take on familiar scents. Feeding your cat inside his backpack is helpful as well.
3. Use positive reinforcement. Just like with any sort of training, positive reinforcement is key. You want your cat to associate the backpack with good things. Reward your cat with treats and praise whenever you see him investigating the backpack or getting inside.
4. Use the backpack around the house. Again, cats are naturally curious. If your cat sees you walking around the house with the backpack, it will likely pique his interest.
5. Once your cat seems to be comfortable with the backpack, try putting him inside and closing the top for small increments of time. Always reward with treats!
6. Once your cat is comfortable being inside the closed backpack, try carrying him around the house. Maybe just try carrying your cat from one end of the house to the other.
7. Work your way up to venturing outside your house. Start with your backyard, then maybe a walk down your street, etc. Eventually your cat will be ready for a full-on adventure in his backpack. Be sure to reward your cat with treats and praise along the way! Positive reinforcement is ALWAYS important.
Bonus Training Tip: Implement clicker training with your cat's backpack training. For example, you can clicker train your cat to get in and out of his backpack on command. If your cat knows not to jump out of his backpack until you tell him to, it will reduce the likelihood of him jumping out when you don't want him to.
Practical Backpack Tips for When You're Out and About
No matter how well your cat is trained before going out for your first hike or outing, you will likely encounter situations that throw him off his game. I've learned a lesson or two from my mistakes, and I hope my practical wisdom will be helpful for you on your backpack training journey!
If your cat gets nervous or restless while riding in his backpack, have a spouse/significant other/friend walk behind you. Being able to see the friendly face of someone he knows can help calm your cat down.
If you are adventuring by yourself, you can wear the backpack on your front if your cat gets nervous. That way you and your cat can both keep an eye on each other, and you can pet and reassure your kitty if needed.
Always keep your cat tethered inside the backpack. This is especially important if you have a flap open for your cat to poke his head out. Having the backpack's tether attached to his harness will keep him from being able to jump out. This is one reason why it's important for your cat to be harness trained before beginning backpack training.
Best Cat Backpack Carrier Recommendations
The PetAmi Deluxe
Perfect for: The Everyday Adventurer
This backpack is versatile and suitable for all sorts of adventures, whether is be light hiking, canoeing, visiting the pet store, or just walking around your neighborhood.
We have used this backpack and love it. It has a sturdy bottom, a couple of pockets for storage, a flap for your cat to poke his head out, and it is well-ventilated.
>> Click here to shop the PetAmi Deluxe <<
The Kurgo G-Train Backpack Carrier
Perfect for: The Serious Outdoorsman
If you are the kind of adventure duo that goes on long hikes or backpacking excursions, this backpack is for you! While this backpack may not be quite as spacious as the PetAmi Deluxe, it has a lot more pockets and storage for your personal items and various other gear you may need on your adventures.
The Kurgo G-Train wears more like a regular backpack and is durable and comfortable for both kitty AND human (hands-down the most comfortable backpack we've tried)!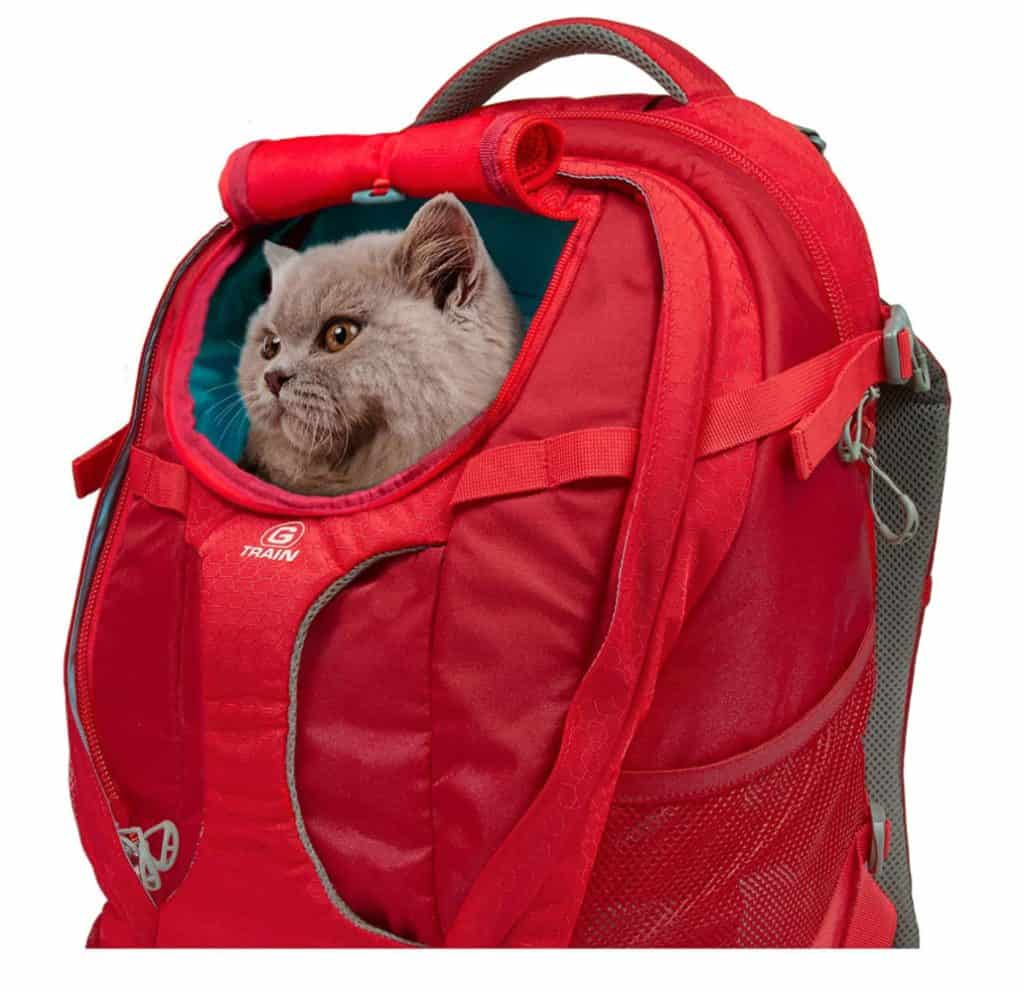 >> Click here to shop the Kurgo G-Train K9 Backpack <<
The Petsfit Hiking Pet Carrier Backpack
Perfect for: The Shoulder-Riding Cat
Many kitty adventurers enjoy riding on their human's shoulders while out and about. If your cat enjoys a good shoulder ride, then this cat backpack is for you. It is sturdy enough to support the weight of your cat riding on top of it. It also has plenty of ventilation for when your cat is ready for a more restful ride inside the backpack.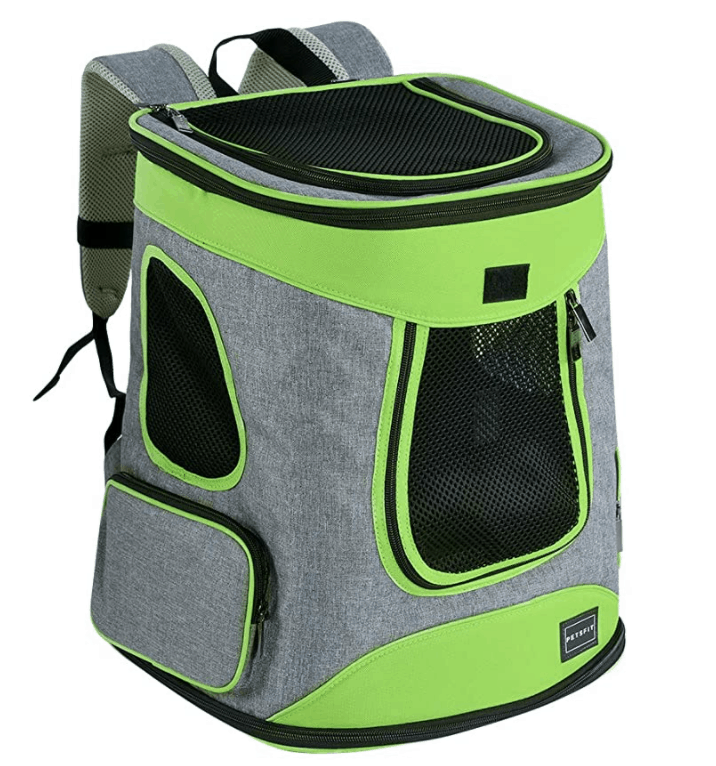 >> Click here to shop the Petsfit Backpack <<
The ibiyaya Double Compartment Pet Travel Backpack
Perfect for: The Two-Cat Adventuring Family and/or Larger Cats
Juggling two cats while adventuring can sometimes be tricky, especially if you are a one-person catventure team. While most cat backpacks won't fit two cats, this one will! The middle divider can also be removed to make an extra-large space in side, which is great if you have a bigger cat.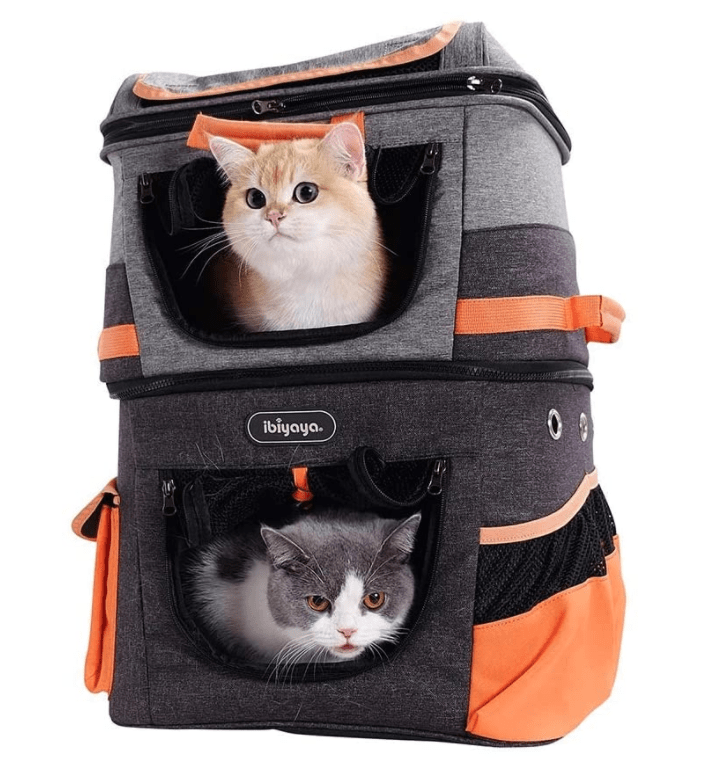 >> Click here to shop the ibiyaya Double Compartment Backpack <<
The Pet Gear I-GO2 Roller Backpack
Perfect for: The Larger Felines / Humans with Back Trouble
If your cat is on the larger size, you may need a backpack like this one. It comes highly recommended in our Facebook Group because it is so roomy. It also has wheels, which is great for those who have back trouble or don't like to wear packs on their back.
>> Click here to shop the Pet Gear I-GO2 Roller Backpack <<
Join our Community!
Share about your adventures, ask questions, find information on training and gear, read tips and tricks, and more.
---
About the Author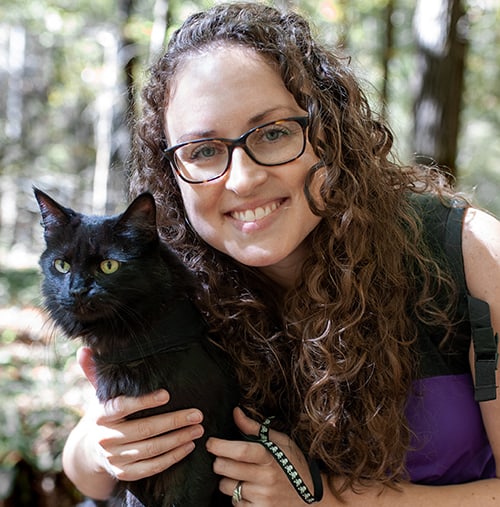 Emily Hall is "mom" to seven cats, one dog, and two sugar gliders. She has been writing in the pet industry for almost 10 years, with a focus on traveling and adventuring with cats. Emily and her husband enjoy hiking, road-tripping, camping, and canoeing with their three cat adventurers. Read more about her here.