*Disclosure: This post contains affiliate links. If you make a purchase using one of these links, we will receive a small commission at no extra cost to you.
Getting a backpack carrier for your cat can be an adventuring game changer. As someone who put off investing in a cat backpack for a while, I really wish I had gotten one sooner. I can remember one instance in particular when I wished we had a backpack carrier. My husband and I were on a hike with one of our cats, and he quickly and unexpectedly decided that he'd had enough. Unfortunately, he decided this when were still a mile from the car. That mile hike back carrying an angry cat felt like it lasted forever! A backpack carrier would have made the situation a lot more manageable.
Please note that it's important for your cat to be harness and leash trained before backpack training. Check out our tips for harness and leash training, as well as our cat harness guide.
3 Reasons to Get a Cat Backpack Carrier
1. It's a helpful training tool. If you're just beginning training your cat for adventures, having him ride in a backpack at first will help to get him acclimated to new situations. Chances are your cat isn't going to be ready for a long hike or feel comfortable at your local pet store the first time you go. Introducing your cat to these situations slowly is best, and a backpack carrier allows you to do that. Your cat will feel a lot more comfortable in a new places if he's in his backpack than if he's just out on his leash and harness.
2. It gives your cat a "safe place" to retreat to. Even if your cat is an experienced adventurer, you never know what you're going to encounter when you're out and about. If your cat gets nervous for some reason or you encounter a potentially dangerous situation, it is wonderful to have that backpack for your cat to escape to. It gives you both peace of mind.
3. If your cat gets tired, he has somewhere to rest. Say you're on a hike with your cat, and after a mile or two, he gets tired. If you have a backpack carrier, you can just put him inside and continue on with your hike.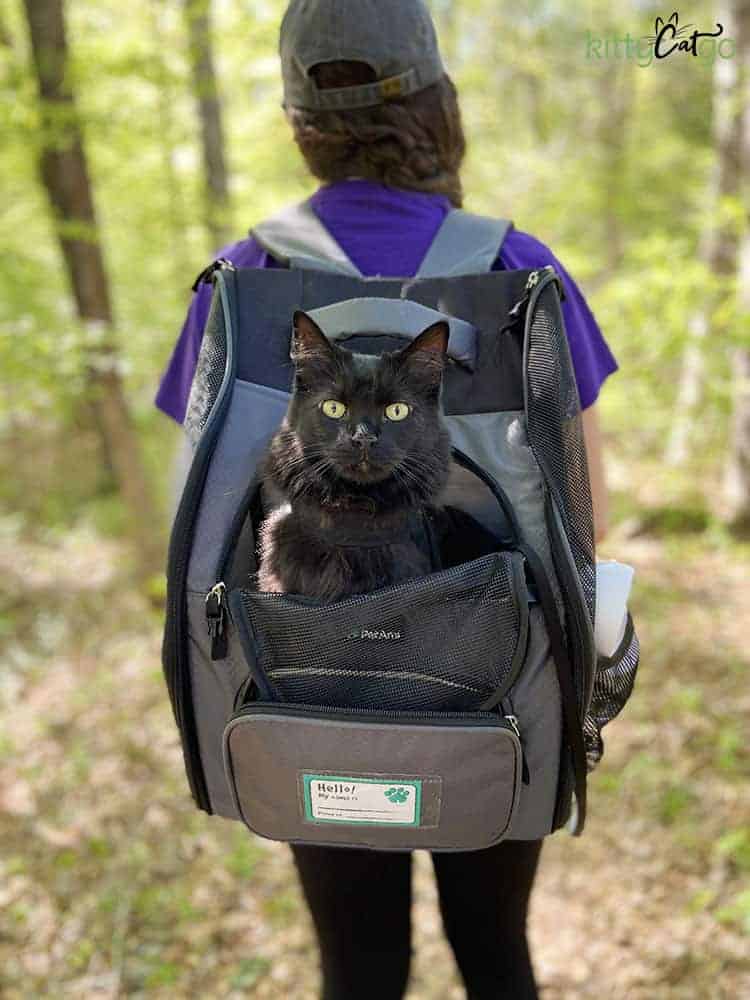 Picking Out the Right Cat Backpack
There are many styles of pet backpacks on the market. Finding the one that best suits your needs and is comfortable for your cat is important. Here are several things to take into consideration:
You want to pick a backpack that is the right size for your cat. Check the dimensions and weight limit before purchasing. You certainly wouldn't want to end up with a backpack that is too small!
The activities you plan on enjoying with your cat will have a bearing on what kind of backpack you want. Some backpacks are better suited for urban adventures, while others are best for the serious hiker. Investigate the features of the backpack and make sure it has everything you need. For example, a backpack with no pockets is probably not going to work well for you if you're planning on doing a lot of hiking and need a place to store your belongings.
YOUR comfort is important, too. Obviously, you want your cat to be comfortable in whatever backpack you choose. Be sure to consider your own comfort as well though. You're the one who has to carry the backpack on your back. Make sure the straps are comfortable and that the carrier doesn't dig into your back or hips in ways that are uncomfortable or even painful to you.
Pick a backpack that is well-ventilated. You don't want your cat to get over-heated or be uncomfortable riding in an enclosed backpack. Most backpacks have mesh windows or ventilation holes of some sort. Some even allow for the top to unzip so your cat can peek out. Whichever backpack you choose, just make sure it has adequate ventilation for your cat's safety and enjoyment.
Consider the structure of the backpack. Some pet backpacks are soft-sided and easily-collapsible, while others are more rigid and firm. Both types have their advantages and disadvantages. Just make sure your cat is comfortable in whichever type you choose.
Be sure the backpack has a tether to attach to your cat's harness. Safety first! You don't want your cat to be able to freely jump out of the backpack. A tether will keep your cat securely in his backpack.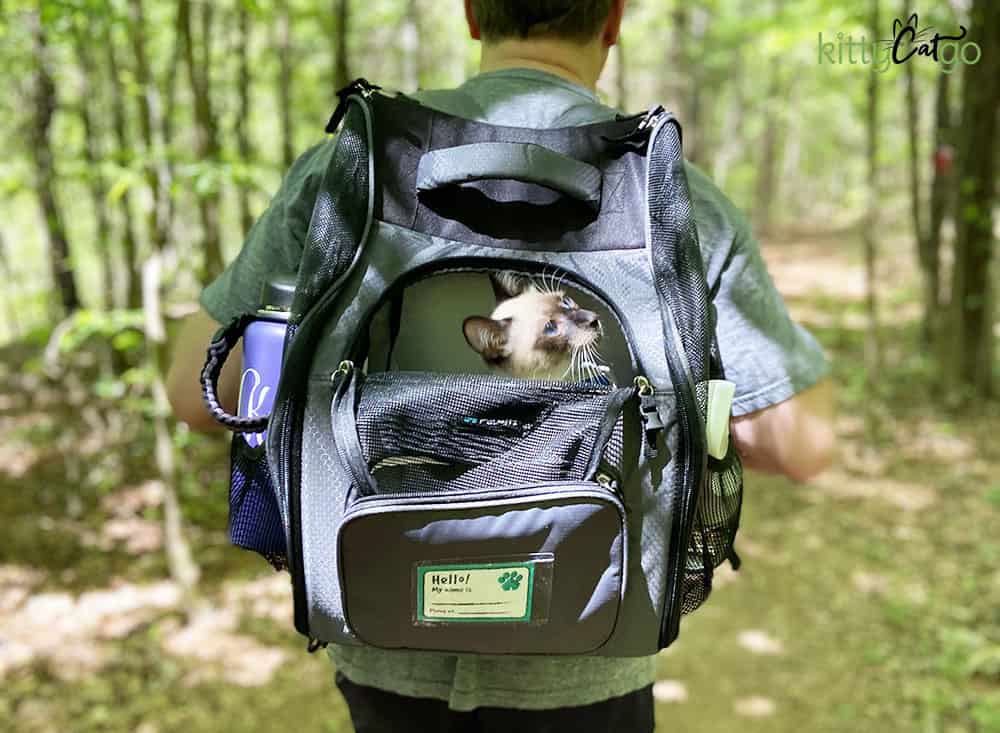 How to Train Your Cat to Ride in a Backpack
1. Once you've found the right backpack, leave it open and out around your house for your cat to investigate. Cats are generally pretty curious, so your kitty will likely sniff it out and even jump inside. The goal is for your cat to grow comfortable with the backpack on his own before you try putting him in it.
2. Throw treats, toys, and/or catnip inside the backpack to help attract your cat to it. You can also try putting one of your cat's blankets or an article of your clothing inside so the backpack starts to take on familiar scents. Feeding your cat inside his backpack is helpful as well.
3. Use positive reinforcement. Just like with any sort of training, positive reinforcement is key. You want your cat to associate the backpack with good things. Reward your cat with treats and praise whenever you see him investigating the backpack or getting inside.
4. Use the backpack around the house. Again, cats are naturally curious. If your cat sees you walking around the house with the backpack, it will likely pique his interest.
5. Once your cat seems to be comfortable with the backpack, try putting him inside and carrying him around the house. Maybe just try carrying your cat from one end of the house to the other. Then work up to going out in your backyard, for a walk down your street, etc. Eventually your can will be ready for a full-on adventure in his backpack. Be sure to reward your cat with treats and praise along the way! Positive reinforcement is ALWAYS important.
Other Tips for Using a Backpack Carrier with Your Cat
If your cat gets nervous or restless while riding in his backpack, have a spouse/significant other/friend walk behind you. Being able to see the friendly face of someone he knows can help calm your cat down. If you are adventuring by yourself, you can wear the backpack on your front instead. That way you and your cat can both keep an eye on each other.
Always keep your cat tethered inside the backpack. This is especially important if you have a flap open for your cat to poke his head out. Having the backpack's tether attached to his harness will keep him from being able to jump out. This is one reason why it's important for your cat to be harness trained before beginning backpack training.  
Implement clicker training with your cat's backpack training. For example, you can clicker train your cat to get in and out of his backpack on command. If your cat knows not to jump out of his backpack until you tell him to, it will reduce the likelihood of him jumping out when you don't want him to.  
Our Top Cat Backpack Carrier Recommendations
The PetAmi Deluxe
We have used this backpack and love it. It has a sturdy bottom, a couple of pockets for storage, a flap for your cat to poke his head out, and it is well-ventilated.
>> Click here to purchase the PetAmi Deluxe <<
The Kurgo G-Train K9 Backpack Carrier
This is one of the top-rated backpack carriers for cats and humans who do a lot of hiking. It has a lot of storage space for personal items, and it is very comfortable to wear.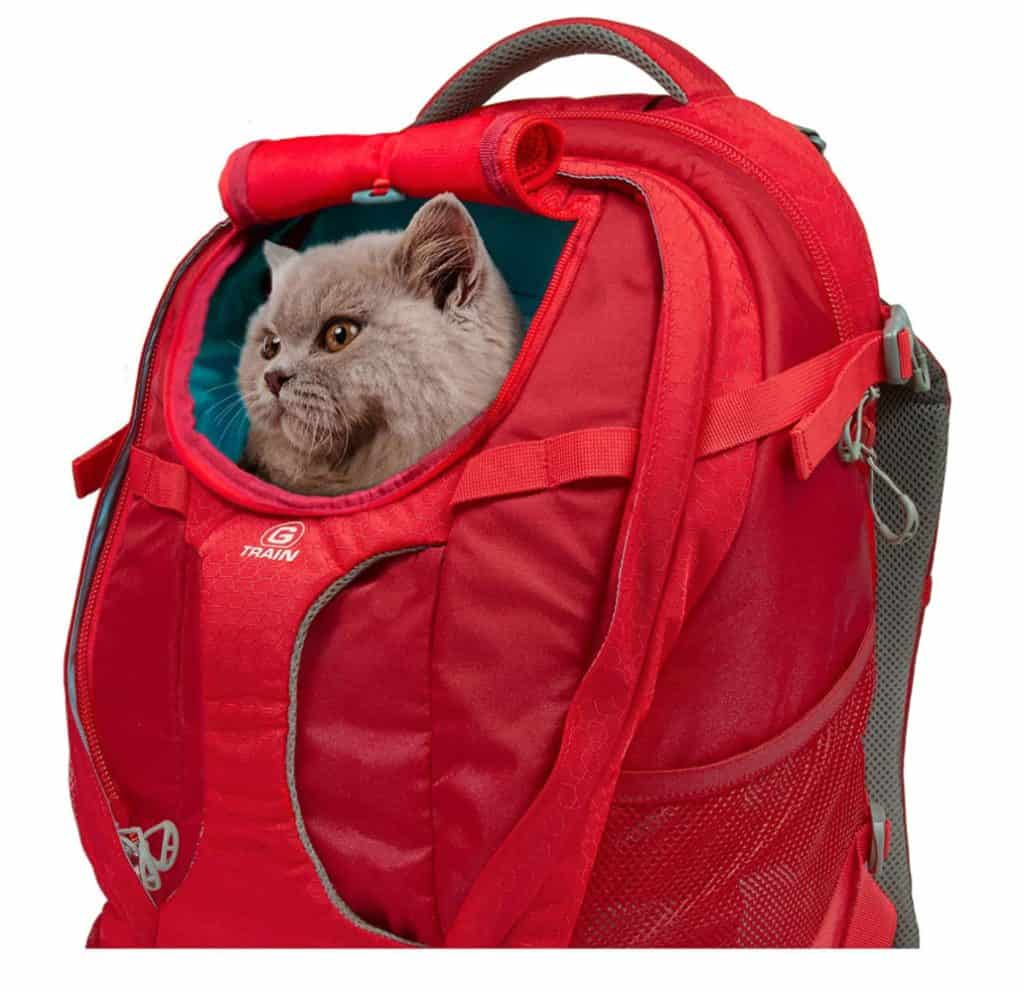 >> Click here to purchase the Kurgo G-Train K9 Backpack <<
The Pet Gear I-GO2 Roller Backpack
This backpack carrier comes highly recommended in our Facebook Group because it is very roomy. It also has wheels, which is great for those with bad backs.
>> Click here to purchase the Pet Gear I-GO2 Roller Backpack <<