Ever thought about going camping with a cat before? Bringing your cat along on your next camping trip can be an excellent bonding experience. Plus, it's a lot of fun! That said, cat camping does require some practice and preparation.
(If your cat is new to adventuring, we'd recommend starting with smaller adventures first. Make sure your cat is harness and leash trained, and try hiking or visiting local parks before pitching a tent somewhere. You'll need to work up to a big camping adventure!)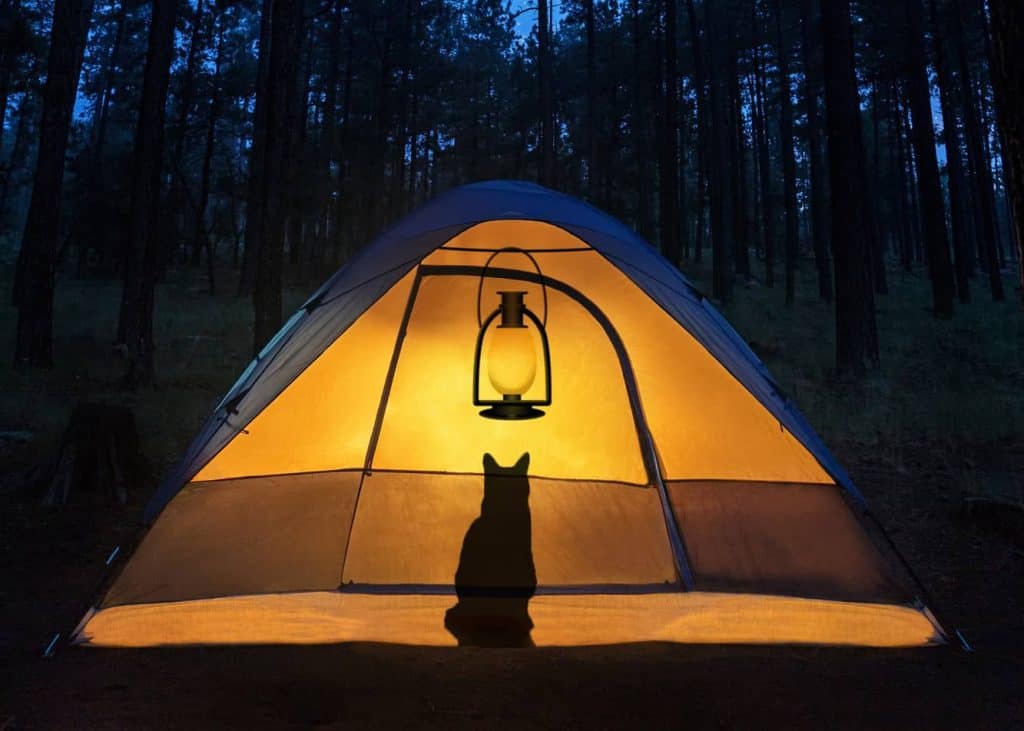 *Disclosure: This post contains affiliate links. If you make a purchase using one of these links, we will receive a small commission at no extra cost to you. This helps us to continue creating helpful content. Don't worry – we would never recommend something we don't like or use ourselves!
Preparing for Camping with a Cat
1. Do a test run.
If you feel your cat is ready to give camping a try, the first step is do a test run. If you have the space, set up your tent in your living room or somewhere else in your house. Let your cat discover it on their own. Maybe put some treats and/or catnip inside. Even feed your cat in the tent. Spend the night in it.
Then move things to your backyard and try backyard camping with a cat for a night. If things don't go well, you can always abort the mission and go back inside.
If you don't have a yard to do a camping test run in, you could do it in your living room or in the yard of a friend or family member.
2. Acquire all the necessary cat camping accessories.
In addition to all the usual things you'd bring with you when traveling with your cat, there are some extra gear items you'll probably want to pack.
3. Start using all your new gear at home.
It's no secret that new things can throw your cat off, so you don't want to spring any new gear items on your cat while you're camping. Whether it's a new food or water bowl, LED collar, playpen, etc., start using your new gear items before your big trip so your cat can get used to them.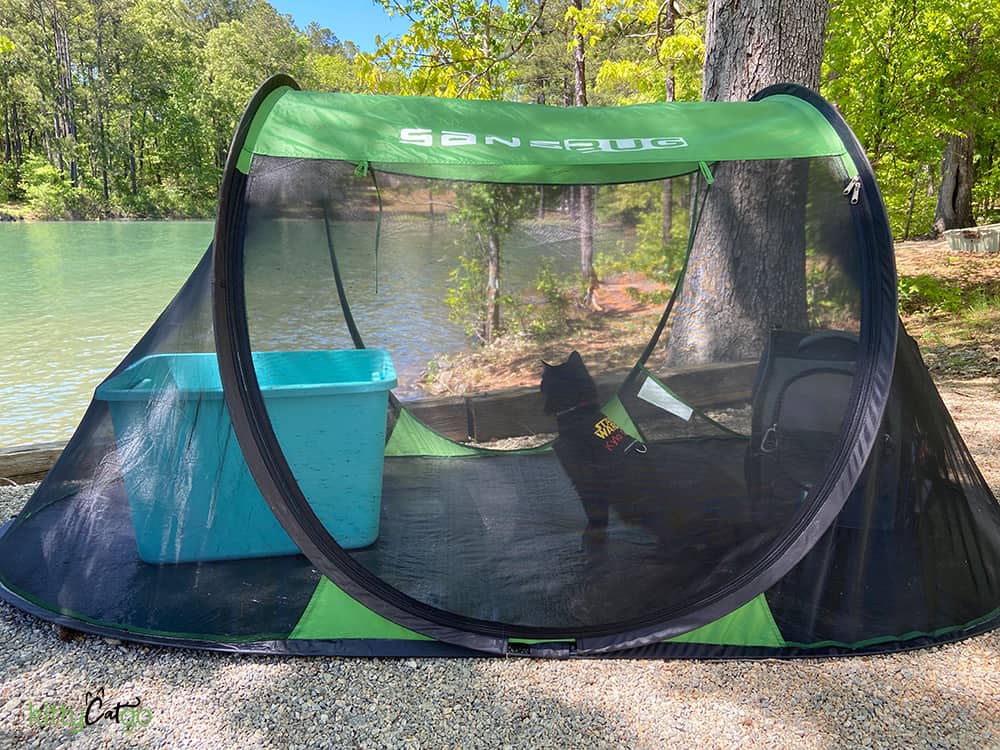 Planning Your Cat Camping Trip
1. Make sure the campground is pet-friendly.
Not all campgrounds are pet-friendly, so check to make sure the place you're wanting to go allows pets before booking!
2. Check the weather.
Though you may be able to handle camping in extreme temperatures or in the rain, I wouldn't recommend that kind of camping trip for your cat's first time. Make things as easy as possible for you and your cat by booking your trip when the weather will be clear and mild.
3. Decide how you will handle your cat's meals.
Depending on how you normally feed your cat at home, you may have to alter things while you're camping. It's probably not practical to feed raw when camping, unless you will be able to keep a cooler with ice for the entire duration of your trip. Canned food may or may not work out for you either for the same reasons. Plus, canned food is heavy.
A good alternative to raw and canned food is freeze-dried raw food. This comes in dried nuggets that are lightweight and come in a resealable package. You just add water and feed. To make sure your cat is staying hydrated, you can even add extra water to the nuggets.
If you'll be feeding your cat differently than you do at home, just be sure to start getting them used to the new food before your trip.
4. Come up with a plan for the litter box.
Unless your cat is comfortable going the bathroom outside, you'll want to set up a litter box in your tent. What kind of litter box you use is a matter of personal preference. Some good options are:
A storage bin with high sides so the litter isn't scattered as much
A storage bin with a lid so you can easily close it up in the car
A disposable litter box that you can throw away when your trip is over
Regardless of what kind of litter box you decide on, be sure to bring a towel or litter mat as well to prevent any stray litter from being tracked all around the tent.
5. Plan to stick to your cat's regular routine/schedule.
Sticking to your cat's regular feeding schedule and routine will help to comfort them and keep them relaxed while in the new camping environment. Cats are creatures of habit, after all, and giving them something they know they can count on (like their regularly scheduled meals) will help.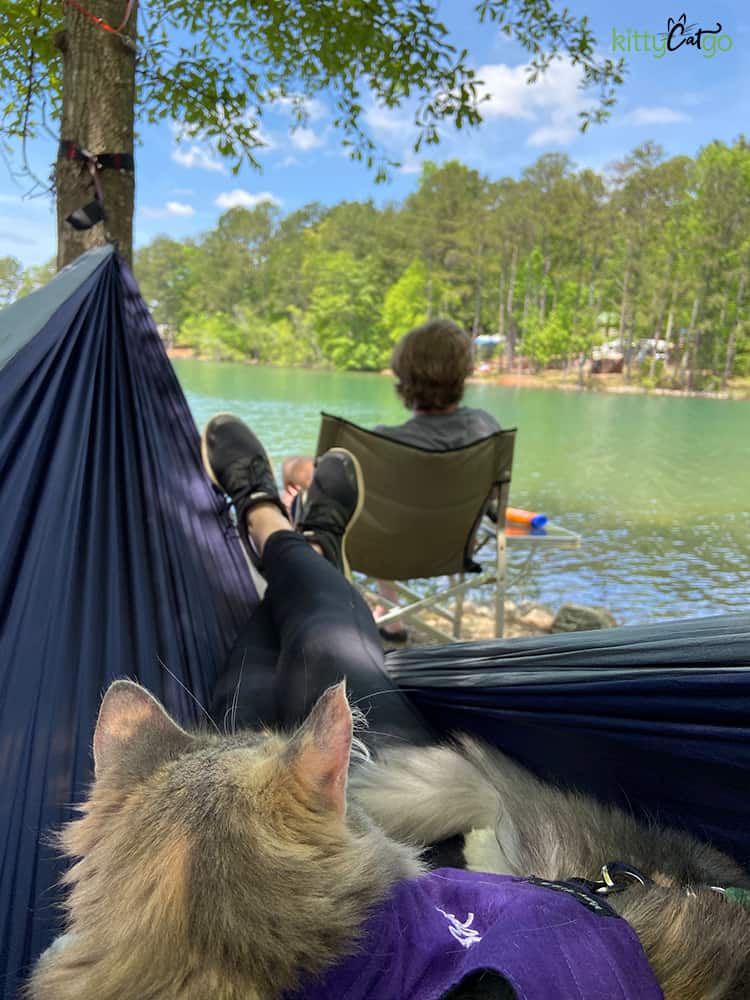 When You Arrive at the Campsite
1. Set up your tent and campsite.
Before you let your cat out of their carrier, you'll want to get everything set up. If your cat is comfortable in their playpen or mini tent, you can set that up first and move your cat to it while you set up everything else.
2. Take a walk around the campground and let others know you are camping with a cat.
Let's face it – camping with cats is not a common thing (yet). Many campers at your campground will probably have dogs, and they won't be expecting any cats to be around. If you let everyone know there is a cat at your campsite, those with dogs will know to keep their dogs leashed and will hopefully respect the fact you have a cat.
3. Take your cat on a walk around the campground.
To give your cat a chance to orient themselves and get a lay of the land, load them up in their backpack carrier or put them on their leash and go for a stroll around the campground.
4. Clip your cat's nails.
If you didn't do this before you left for your trip, take the opportunity to do it now! You don't want your cat to scratch up your tent or put a hole in it.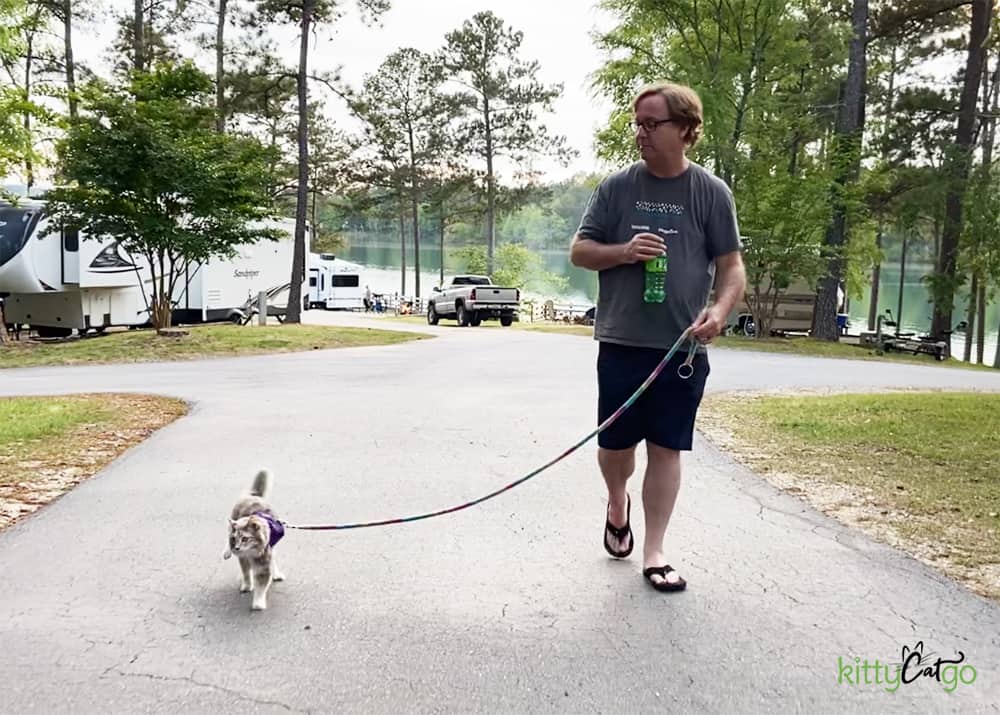 Sleeping with Your Cat in the Tent
1. Tire your cat out!
Cats can sometimes tend to be rambunctious and energetic at night, especially if they're in a new environment. To help encourage your cat to sleep through the night, engage in activities that will tire them out before you go to bed. Wand toy play is great for this, as is clicker training practice.
2. Keep to your nighttime routine.
Whatever your regular nighttime routine is at home, do your best to stick to it while camping as well. Cats are creatures of habit, so going through their normal routine will help to let them know that it's time to settle in for the night. Maybe that means giving your cat their nightly brushing, an end-of-the-night treat, or whatever.
3. Set up the playpen or mini tent inside* your tent (if you need to).
If you anticipate your cat being rowdy through the night and preventing you from sleeping, you can bring their playpen or mini tent inside and keep them enclosed in it during the night. Doing this will also prevent them from clawing at bugs on the outside of the tent.
If you opt to do this, be sure to use a playpen or mini tent rather than their regular backpack or carrier. They might not appreciate being enclosed during the night, and you want to avoid having them associate their backpack with a negative experience. Plus, backpacks and regular carriers aren't usually spacious enough for spending a whole night.
*I do NOT recommend keeping your cats in a separate cat tent. There is too much opportunity for something to go wrong.
4. Make sure your tent's zippers are well-secured.
Cats like to play with dangly things, and zippers definitely fall into that category. To prevent your cat from opening the tent (unintentionally or otherwise), make sure zip the zippers all the way closed at the top of the entrance, out of your cat's reach. If that isn't an option with your tent, you can use bread bag ties to "lock" the two zippers together.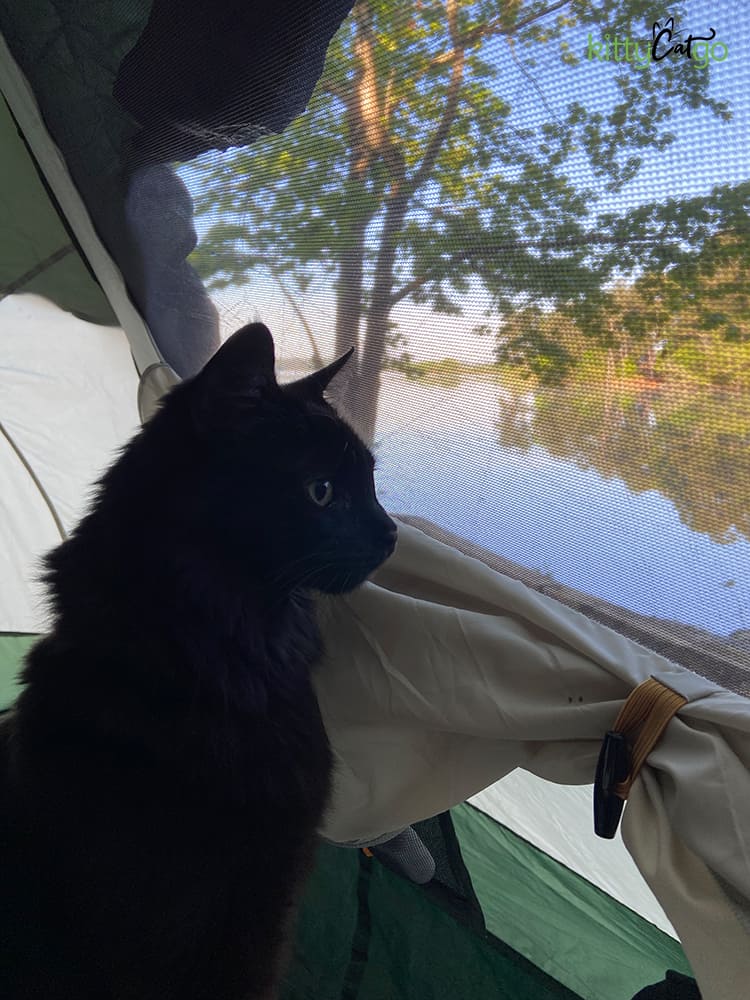 Leaving Your Cat Unattended
I do NOT recommend leaving your cat behind at the campsite unattended, either in the tent, on a zipline, or in a playpen. If you will be going on excursions that your cat can't join you on, then you should just leave your cat at home.
However, you will have to go to the bathroom and/or take a shower at some point. If you must leave your cat unattended in the tent for a short amount of time, you can attach a leash and carabiner to the top of your tent (there is usually a hook or place to hang things) and tether your harnessed cat to the leash. That way your cat won't be able to slip out of the tent as you enter or exit.
If you have to leave your tent in the middle of the night to go to the bathroom, be sure to both tether your cat and put their LED collar on so you can easily spot them as you come and go.
KittyCatGO LIVE: Episode 7 – Camping with Cats
Have you ever been tent camping with your cat before? What are your favorite gear items or tips? Tell us in the comments!
---
About the Author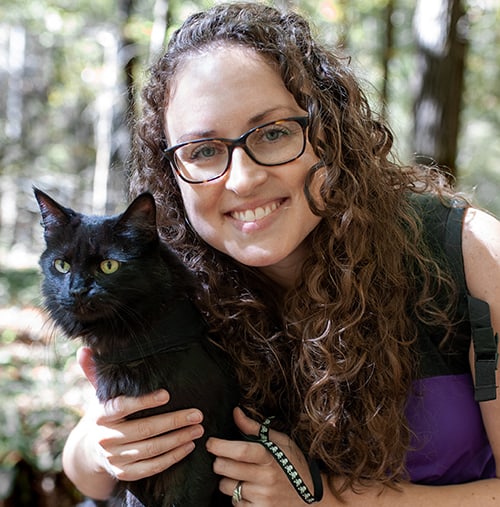 Emily Hall is "mom" to seven cats, one dog, and two sugar gliders. She has been writing in the pet industry for almost 10 years, with a focus on traveling and adventuring with cats. Emily and her husband enjoy hiking, road-tripping, camping, and canoeing with their three cat adventurers. Read more about her here.