Having a cat first aid kit is essential, whether your cat is an avid adventurer or stays indoors. "Always be prepared" may be the Boy Scouts' motto, but it applies to adventuring with cats as well. Of course we hope you never run into a situation in which you need a first aid kit. Just in case though, you should always have one with you.
The question is… what should you pack in a cat first aid kit? There are many pre-made pet first kits available on the market, but do they really have everything you'd need for a cat?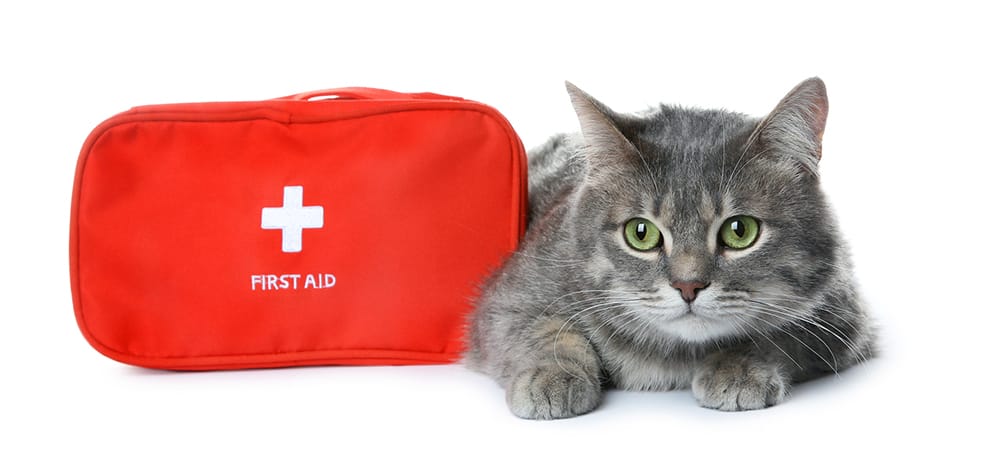 *Disclosure: This post contains affiliate links. If you make a purchase using one of these links, I will receive a small commission at no extra cost to you. This helps me to continue creating helpful content. Don't worry – I would never recommend something I don't like or use myself!
Putting Together a First Aid Kit for Cats
This list may seem extensive, but these items should get you through any emergency situation that might arise until you're able to get your cat to the vet*.
Antiseptic wipes – these are sting free and can be used to clean a cut prior to adding a bandage
Alcohol prep pads – these are ideal for cleaning the surrounding area of an injury to prevent spread of bacteria
Vinyl/latex gloves
Non-adhesive pads
Self-adhesive bandage – to help keep the would dressing in place. You don't want to use anything sticky on your cat's fur!
Tape
Scissors
Hydrogen peroxide – to induce vomiting. Never apply hydrogen peroxide to your cat's wound/skin!
Styptic pencil – to help stop any bleeding
Q-tips
Liquid Benadryl tablets – to treat any stings. Liquid tablets are recommended because you can get your cat to swallow it more easily. Check with your vet for proper dosing.
Tongue depressor
Towel – to help restrain your cat if needed
Don't forget to check your kit every few months for items that may have expired or need to be replaced/restocked.
*Please remember that first aid is only meant to be temporary care. You should always take your cat to the vet for a wound or injury.
Don't Forget Human First Aid Items!
If you really want to be prepared, you should carry some things in your first aid kit for humans too! Everything mentioned above for cats cat be used for humans too of course, but there are a few additional things you should add for yourself that shouldn't be used on your cat.
hand sanitizer

pain relief medicine
Purchasing a Cat First Aid Kit
I have yet to find a pet first aid kit that includes everything you might need. Most of them are intended to be smaller and more travel-sized. There's nothing wrong with that, of course. Sometimes you may need a smaller, travel-sized version. Having a full kit is a good idea too though.
My recommendation would be to purchase a pre-packaged pet first aid kit and then purchase any additional items separately that are missing. If you aren't able to carry the full kit with you on your adventures, you can carry your travel-sized version on the go and leave the full kit in your car.
Recommended Pre-packaged Pet First Aid Kit: Arca Pet First Aid Kit
Taking a Cat First Aid Class
I don't know about you, but if my cat and I were to find ourselves in an emergency situation, I can't say that I'd know what to do. I'm not a vet, nor do I have any medical training of any kind (human or pet).
Thankfully there are online pet first aid classes available if you'd like to become more knowledgable and prepared. America's Pet Health and Safety Coach, Arden Moore, actually teaches first aid classes that are geared specifically for cats! Topics covered include:
choking management
rescue breathing
heat and cold-related injuries
how to transport an injured pet
what items should be included in your pet first aid kit
three different pet CPR techniques
bleeding protocols
poisonings
insect or snake bites
performing a snout-to-tail assessment (for wellness or injury)
I'm looking forward to taking her class next month and will be sure to report back on how it went!
I'm not affiliated with Arden or her class at all. I'm just sharing about it because I think it's awesome!
KittyCatGO LIVE Episode 3: Cat First Aid
---
About the Author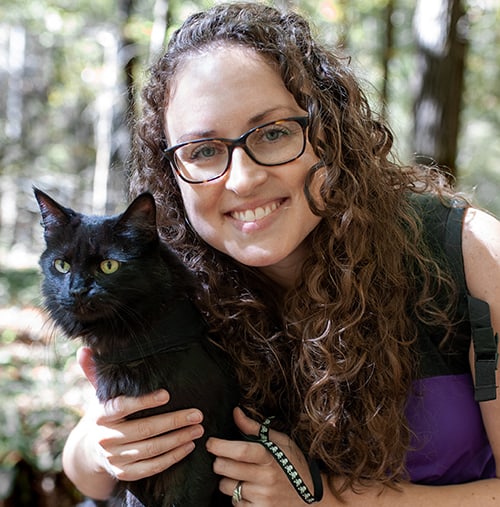 Emily Hall, ABCCT is a certified cat trainer and cat adventure enthusiast. As a "mom" to seven cats, one dog, and two sugar gliders, she has been writing in the pet industry for 10 years, with a focus on traveling and adventuring with cats. Emily and her husband enjoy hiking, road-tripping, camping, and canoeing with their three cat adventurers. Read more about her here.