Being armed with the knowledge of how to prevent your cat from getting lost is important, especially for those of us who travel and adventure with our cats. Losing your cat when on an adventure is probably one of your worst nightmares. I know it's one of ours. We all do our best to adventure safely, but accidents and flukes happen. Unfortunately, there is no 100% risk-free way to adventure with our cats.
While we can't completely eliminate the risks, we can do our best to mitigate and prevent them. Keep reading for our best tips for preventing your cat from getting lost!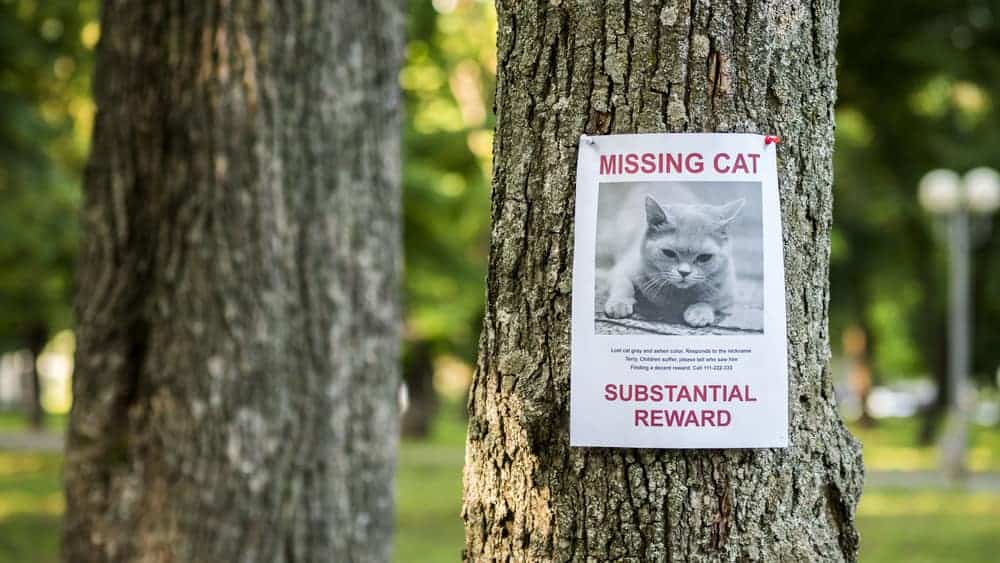 *Disclosure: This post contains affiliate links. If you make a purchase using one of these links, we will receive a small commission at no extra cost to you. This helps us to continue creating helpful content. Don't worry – we would never recommend something we don't like or use ourselves!
1. Find a well-fitting and secure harness.
Truth time? There is no 100% escape proof cat harness. Cats are masters at wriggling out of things. Plus, each cat is built differently, so while one harness may be the best choice for one cat, it might not be so for another. Finding the right harness for your cat is so important.
You may have to test out a few different ones before you find The One. And you may even come to realize that different harnesses suit different purposes. But once you find a harness that is secure and comfortable, be sure you properly train your cat to accept it, and make sure that it is adjusted securely – not too tight, and not too lose.
2. Train your cat properly.
As tempting as it is to throw a harness on your cat and immediately hit the hiking trail, that isn't the way it works. If you haven't properly harness and leash trained your cat and slowly acclimated them to new situations and environments, you are setting you and your cat up for failure. A nervous and improperly trained cat is much more likely to slip out of their harness and run off than a calm cat who has practiced and been trained.
Training recall – getting your cat to come to you when called – is recommended as well. Kimberley Freeman, The Lost Cat Finder, says, "Training is key, and recall is super important. Not only should recall be practiced when you're out on a hike, but it's also good to practice with a stranger coming towards you. Or even get a friend with a dog. Really put yourself in the situations that could be a problem, and practice it when you don't have to stress."
3. When riding in the car, always keep your cat secured in a carrier.
I know it's tempting to let your cat freely roam when traveling in the car. Maybe your cat hates being confined to a carrier and cries the whole time, or maybe you just want to cuddle with them in your lap while riding down the road. For both of those reasons, I used to travel with my cats loose in the car, so I get it.
But what happens if you have to brake suddenly? Or your cat slips down by your feet while you're driving? Or if you were to get in a car accident? It's not uncommon for unsecured pets to go missing when in an accident. Or what if you stop somewhere, open your car door to step out, and your cat darts out? For all of these reasons, it is best to secure your cat in a carrier.
Keeping your cat in a car carrier is one of the easiest and safest ways to prevent them from getting lost.
4. Make sure your cat is microchipped and wearing proper identification.
While these things won't help prevent your cat from getting lost, they can certainly help you find them if they ever were to get lost. Cat microchipping substantially increases the likelihood of being reunited with your cat, and cat microchipping cost isn't very high – maybe around $40-$50 depending on where you go.
A collar with ID tags or ID engraving can be helpful as well. We specifically recommend putting your cat's ID on a collar instead of their harness in case your cat were to slip out of their harness and run off.
Make sure the tags have your current phone number and maybe even something like, "I'm lost!" on them. Because some cats are allowed to free roam outside, someone who finds your cat might not realize they are actually lost unless your cat's tags let them know.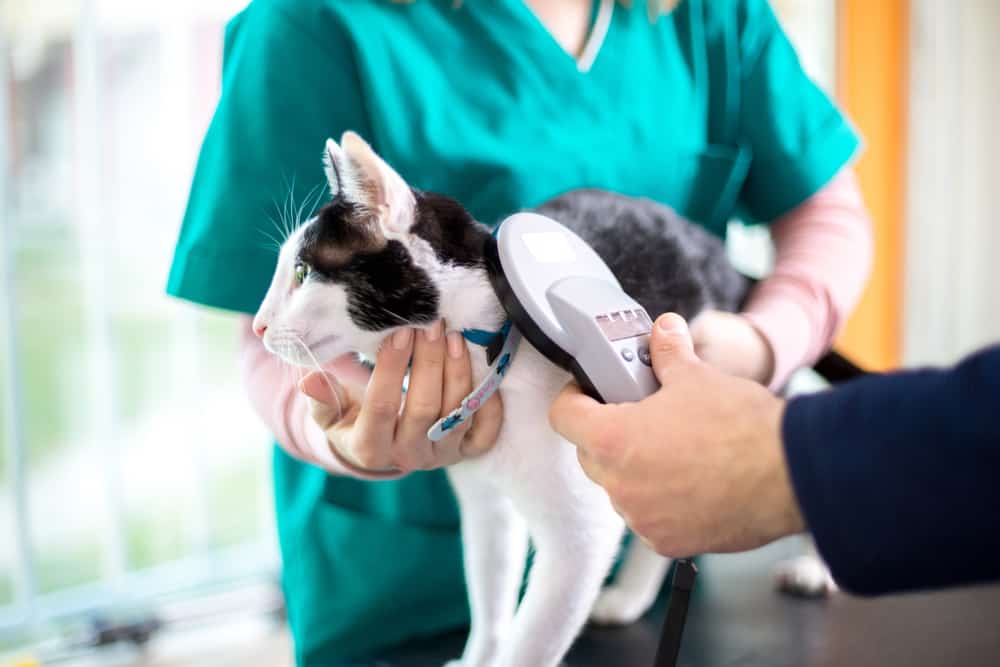 5. Use a tracking device.
There are a few different kinds of cat tracking devices out there – GPS, radio-frequency (RF), and Bluetooth. All of them work better in different situations, so it can be a challenge to find the right tracker for your purposes. However, in our experience, RF trackers are the most reliable since they don't rely on cell service or satellite. They are more universal.
While a cat tracker isn't guaranteed to find your cat, it certainly doesn't hurt. To give you some extra peace of mind and to help increase the chances of finding your lost cat, we recommend investing in one.
Check out our reviews of the:
6. Have a plan in place.
If your cat should ever go missing, time is of the essence. You don't want to be wasting any of that precious time scrambling to find a good photo of your cat and figuring out what to do. If you have a plan in place, it will help to keep you calmer and will save you time and extra stress.
One of the most important things you'll need is a good quality photo of your cat. I know we all have 23874619283 photos of our cats on our phones, but chances are most of them won't be well suited for a Lost Cat flyer. The best photo you can have is one with a sideview of your cat with their face turned towards the camera. Have that photo taken and saved somewhere easily accessible, should you ever need it.
Other things to include in your "Lost Cat Kit:"
KittyCatGO LIVE: Season 2, Episode 3 – Kimberley Freeman, The Lost Cat Finder
For tips and advice on what to do if your cat should ever go missing, be sure to check out the episode of KittyCatGO LIVE with Kimberley Freeman, The Lost Cat Finder! Kimberley has over 9 years of experience tracking and finding missing cats, and she shares SO much valuable information in this interview.
Kimberley also sells cameras that go on your cat's collar! These give you a cat's-eye view of your kitty's adventures – such a fun perspective!
Which of our suggestions do you already implement? Have you ever had your cat go missing before? Let us know in the comments!
---
About the Author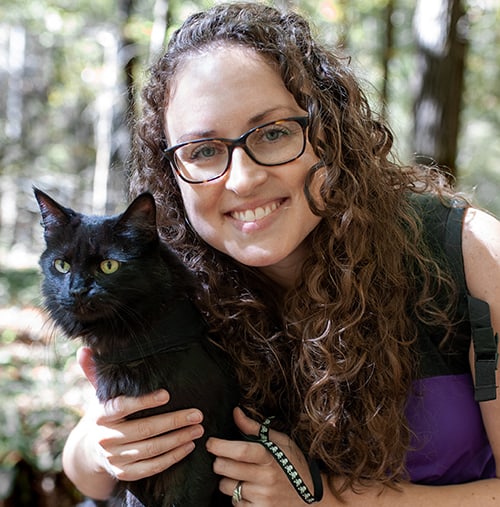 Emily Hall is a cat trainer and cat adventure enthusiast. As "mom" to seven cats, one dog, and two sugar gliders, she has been writing in the pet industry for 10 years, with a focus on traveling and adventuring with cats. Emily and her husband enjoy hiking, road-tripping, camping, and canoeing with their three cat adventurers. Read more about her here.