When people think of cat collars, they usually think of how they are used for identification. While collars are an excellent form of identification for cats, there are also other types of cat collars used for other reasons.
Choosing the best cat collar can be a daunting task. When making your decision, you must consider things such as the type, the material, and the function of the collar.
In this post, I will be covering all these things and more to help you make the safest and best collar choice for you and your cat.
*Disclosure: This post contains affiliate links. If you make a purchase using one of these links, I will receive a small commission at no extra cost to you. This helps me to continue creating helpful content. Don't worry – I would never recommend something I don't like or use myself!
4 Reasons Your Cat Should Wear a Collar
Most people think that outdoor free-roaming cats are the only ones who need to wear collars. While it is true that outdoor cats should absolutely wear one, there are other instances in which wearing a collar is important.
A cat should wear a collar if they are:
An outdoor cat
An indoor cat who likes to door dash or who is at risk of getting outside
A cat that goes for outdoor leash walks
A cat experiencing a change in their environment, such as traveling, moving, going to the vet, or being cared for by a pet sitter
Identification collars are important because they can easily identify your cat should they become lost. They allow someone to contact you and let you know your cat has been found. For free-roaming outdoor cats, they also indicate that the cat belongs to someone and is not a stray.
Aside from those used for identification, there are other types of collars for cats that are used for other reasons. For example, for:
Cats who have an injury and must wear an Elizabethan collar (aka cone)
Cats whose owners have chosen to use a flea collar parasite preventative rather than a topical or oral preventative
Cats who wear a tracking device, bell, or other type of accessory that has a collar attachment
What to Include on Your Cat's Collar
Your cat's collar is primarily a source of identification, so there should be either a hanging ID tag or engraved nameplate of some kind. If you'e wondering what to put on a cat ID tag, you're not alone.
For identification collars, at the very least you want to make sure the tag includes your contact information – most importantly your phone number. You can also include your cat's name, but that is secondary information compared to your phone number.
For inside cats, you might also want to include a line that says something along the lines of "I'm lost!" or "Indoor cat" – anything that will let someone else know that your cat is indeed lost.
Because free-roaming outdoor cats are fairly common, it would be easy for someone to just assume your cat is simply an outdoor cat. However, if they happen to check the collar and see your special note, they will immediately know your cat isn't supposed to be outside and will hopefully notify you.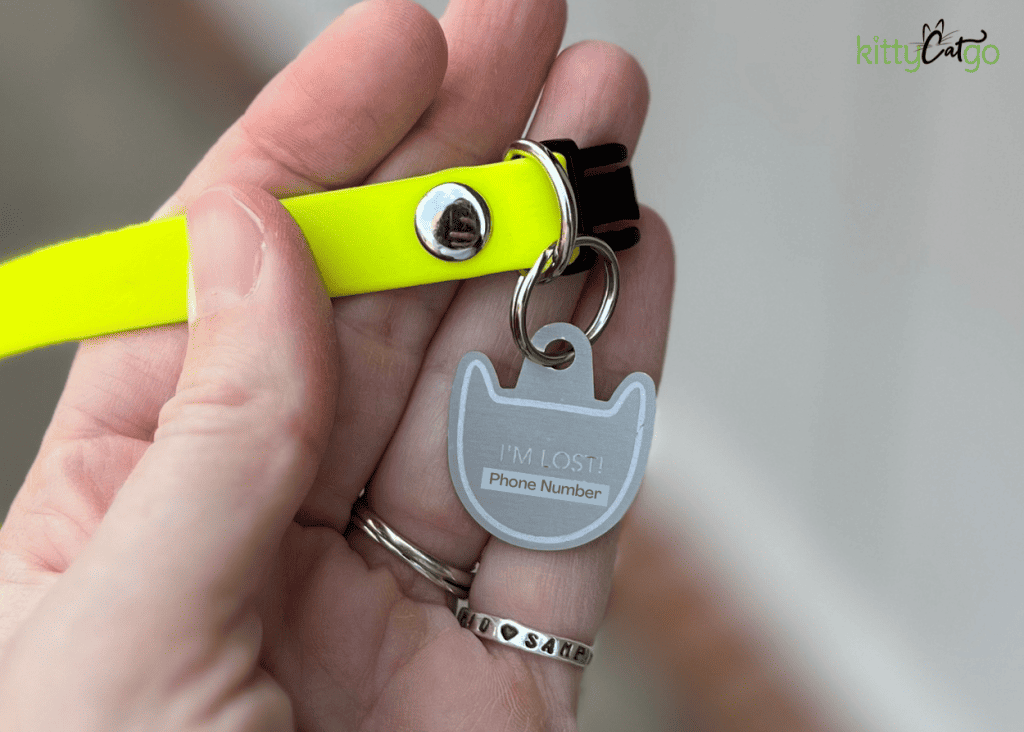 Other optional information to put on your cat's collar includes:
a rabies tag
a microchip tag
The 4 Main Types of Cat Collars
When I talk about the types of cat collars, I am referring to the type of buckle or clasp used. When taking into consideration the material and function, there are several variations of cat collars, but they can all fit into four main classifications: basic collars, breakaway collars, buckle collars, and elastic collars. Each type has its own set of pros and cons.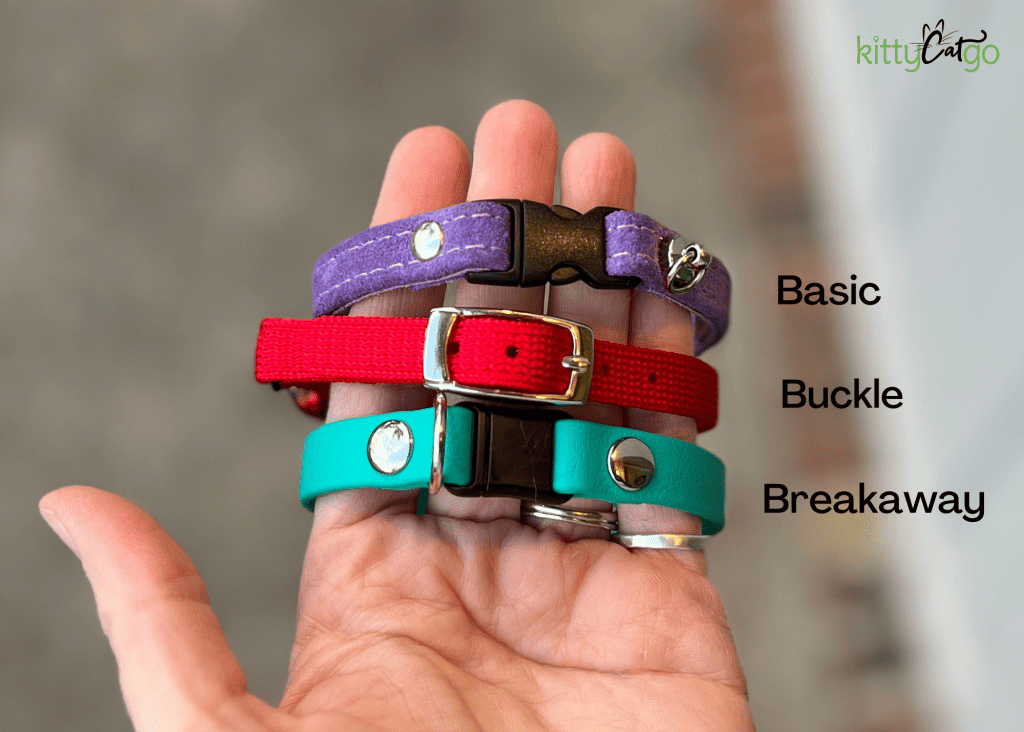 Basic Cat Collars
Basic cat collars come in a wide variety of colors and materials, but their clasp is typically just a regular side-release buckle with no breakaway feature.
Pros:
They won't get lost very easily
Cons:
They are a choking hazard and can cause injury if the collar gets snagged on something
Breakaway Cat Collars
Breakaway collars are those that have a plastic clasp that will pop open if enough pulling pressure is applied. They are a popular style of cat collar for safety reasons. Cats are prone to climbing, going under things, and other cat behaviors that can lead to their collar getting snagged or stuck on something. A snagged collar can cause an injury, and it's also a choking hazard.
With a breakaway buckle (also known as a quick-release buckle), your cat's collar will pop off if it gets caught on another object. This safety feature helps prevent those aforementioned injuries and choking.
Pros:
Helps prevent injury if your cat's collar gets snagged
Cons:
Your cat may lose their collar and ID tags if the collar pops off
Some breakaway clasps are extra sensitive and pop open too easily
Note: Some cat collars have plastic clasps that look identical to a breakaway clasp but aren't actually breakaway. If you are specifically looking for a breakaway collar, make sure that the collar specifies that it is indeed breakaway.
Buckle Cat Collars
Buckle collars are those that have the prong style buckle with a collar strap with holes punched for adjustability. They function exactly like a human belt buckle.
While these types of collars are popular for dogs, they aren't generally recommended for cats because they lack the breakaway feature. The only instance I can think of that it would be okay for a cat to wear a traditional buckle collar would be if the cat was always supervised while wearing it.
Pros:
They won't get lost very easily
Cons:
They are a choking hazard and can cause injury if the collar gets snagged on something
Elastic Cat Collars
Elastic collars are those that are made from a stretchy material or have a piece of elastic in them that allows them to stretch. In theory, they are designed to allow your cat to be able to slip out of their collar if it becomes snagged on something – similarly to the breakaway collars. However, in reality, they are unsafe.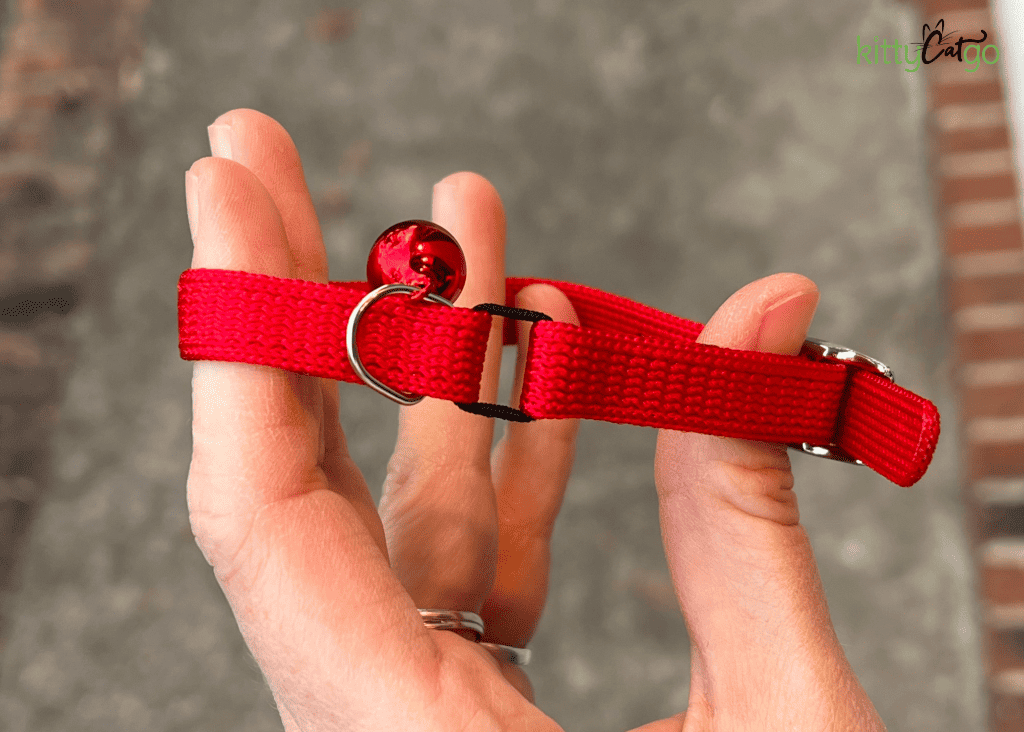 In a study done on collar safety, elastic collars were shown to be the second highest cause of collar-related injuries, following flea collars without a breakaway feature. Due to the nature of elastic, these types of cat collars are likely to stretch out with repeated use, in turn making them looser and more likely to get caught on other objects.
Cons:
Most likely to get caught on other objects, or even your cat's mouth or paws
Collar Variations
As mentioned, there are several different variations on the types of collars for cats outlined above. Within the four main collar types, you can have variations based on things like the material, the adjustability, and the function.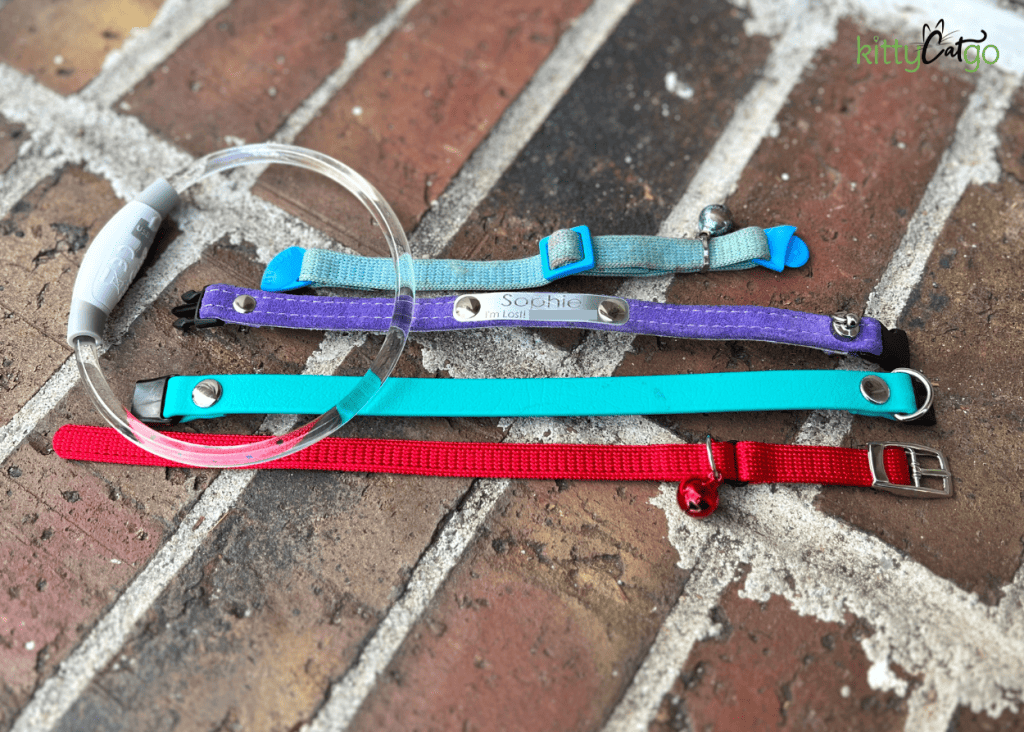 Material
There are several popular materials used for cat collars. Basic, breakaway, and buckle collars can be found in the widest variety of materials, while elastic collars are usually made of nylon or polyester.
Nylon – lightweight, durable, affordable, comes in a wide range of colors, easily found in pet stores
Leather – stylish, durable, available in my styles and colors; however, they require conditioning to maintain their good condition
Polyester – durable, easy to clean, comes in a wide range of colors
Cotton – soft and comfortable, available in many different colors and patterns, commonly used with handmade and/or more fashionable collars
Cork – lightweight, eco-friendly, waterproof, stylish
Hemp – soft, lightweight, comfortable, hypoallergenic
BioThane – lightweight, durable, waterproof, odor proof, easy to clean
I personally have used breakaway collars made from nylon, leather, cotton, and BioThane. While I love all the pattern and color options found in nylon and cotton collars, when it comes to practicality, I will always choose BioThane.
When I'm out adventuring with my cats, there is always the chance their gear will get wet and dirty, and BioThane cat collars are perfect for those scenarios. Nylon and cotton collars get wet and soggy and eventually mildew and fray. (You can find more info about my favorite BioThane cat collar down below.)
Adjustability
Basic, breakaway, buckle, and elastic collars are all usually adjustable – meaning they have the plastic tri-glide sliders that allow you to adjust the collar's size to best fit your cat. Adjustable collars are especially great for cats that aren't full grown yet. That way you can easily adjust the collar's size as your cat grows.
While an adjustable cat collar will work great for most cats, there are some instances in which having a collar that is NOT adjustable is a better choice. For example, if your cat doesn't like having things around their neck. A collar without the adjustable sliders and extra layer of material isn't as bulky as an adjustable one, so some cats might find them to be more comfortable.
If you opt for a collar that is not adjustable, be sure to measure your cat's neck before ordering to ensure you receive the correct size.
Function
I've talked mainly about collars used for identification purposes, but there are several other types of collars that serve different uses or additional purposes. These all
Bell Collars – A bell added to a cat's collar has a couple of purposes: alerting prey outdoors that a cat is near and also helping you to locate your cat. However, the constant sound of the bell ringing can sometimes be irritating to both the cat and nearby humans. When deciding whether or not to add a bell, it's important to weigh the pros and cons for your specific situation but also pay attention to how your cat feels about it.
Flea Collars – Flea and tick collars can be used as an alternative to topic or oral preventatives. If choosing to use a flea collar, make sure that it has a breakaway or quick release function in case it becomes snagged on something.
Elizabethan Collars – These are the type of collar known as the "cone" or "cone of shame." They are used to prevent your cat from biting, scratching, or licking at a would or surgery incision. They come in various styles – some are stand-alone and don't require a regular collar, while others slide over your cat's regular collar.
Reflective Collars – Reflective cat collars have a strip of material that reflect light, increasing your cat's visibility at night. This is an important safety feature if your cat ever goes out at night.
Decorative Collars – Decorative collars come in all types and materials, but their primary function is style. They may have festive patterns, rhinestones, bow ties, or other decorative accents.
Tracking Collars – It's recommended for outdoor cats or cats who adventure outdoors on a harness and leash to wear some sort of tracking device so there is a better chance of them being found if they were to get lost. Most tracking devices, whether GPS, bluetooth, or radio frequency, will attach to your cat's regular collar. However, there are some standalone GPS collars and other types of tracking collars that come with the device and collar together.
Calming Collars – These collars emit synthetic pheromones that are meant to easy your cat's stress or anxiety and to help them feel calm and relaxed. Like with the flea collars, you want to make sure that the calming collar you choose has a breakaway feature. I've used Comfort Zone calming collars before, and I can attest that the breakaway function works well.
LED Collars – Like reflective collars, these are intended for nighttime use so you can more easily see your cat in the dark. They usually light up in different colors. The benefit to LED collars over reflective ones is they don't require light to shine on them in order to be seen. NiteIze is the most popular brand and one that I use with my cats when we go on nighttime adventures.
Collar Safety Concerns
While cat collars have many beneficial features and purposes, it's important to understand that they also come with risks and safety concerns. It's not totally uncommon for cats to snag their collars on other objects, to get a paw or leg caught, or even their jaw stuck, which can lead to injury or strangulation. Even collars with breakaway features are not 100% without risk.
To mitigate the chances of injury or discomfort to your cat, it's important to first ensure a proper fit. A collar that is too tight or too loose is more likely to cause issues. You should be able to fit one finger between your cat's neck and the collar.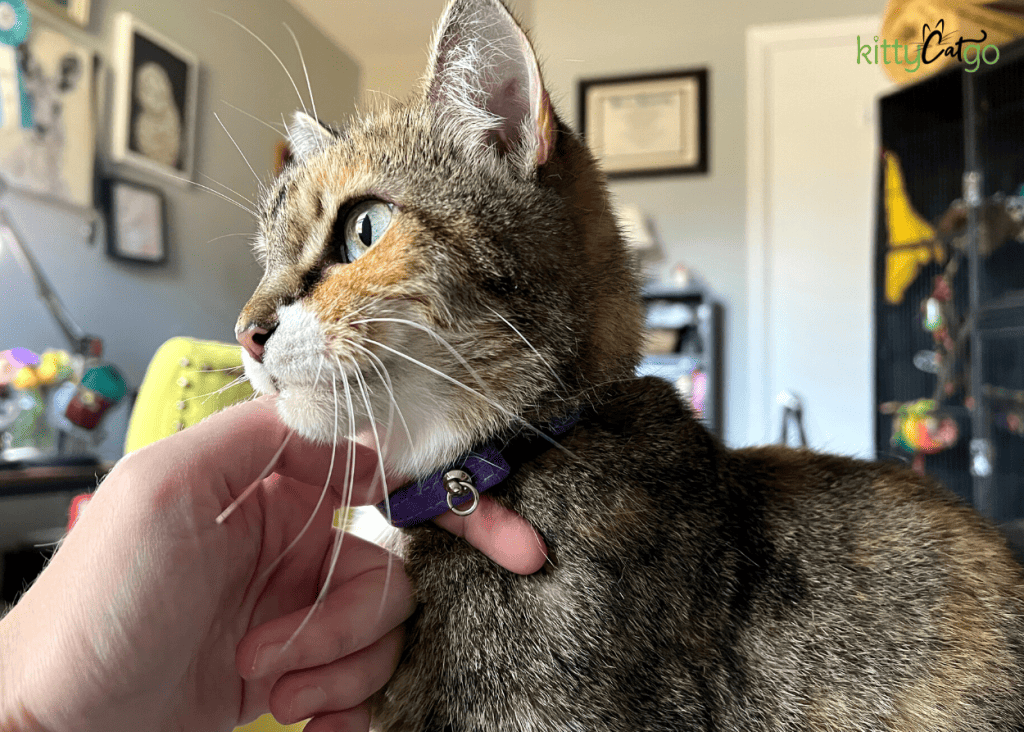 It's also important to keep a close eye on your cat, especially when they're first getting used to wearing a collar. They may scratch at it or try to get it off at first. This behavior can last a week or two before they get acclimated to having it on.
If your cat frequently scratches at their collar, you should check it on a regular basis (at least once a day) to make sure it remains properly fitted. Once your cat is comfortable wearing their collar, you should still check in on it at least a couple times a week to make sure it continues functioning properly, fits right, and isn't becoming frayed or damaged.
Some cats are especially sensitive to having things on their neck. Depending on the material of the collar and how much the cat scratches at it, the collar could possibly cause skin irritation or mat the cat's fur. This is another reason to keep an eye on your cat – to check on any sores, irritation, or fur damage from their collar.
The bottom line is: Collars are not a "set it and forget it" kind of thing.
The Kylo Collar – BioThane Cat Collar
I mentioned before that my favorite material for cat collars is BioThane, hands down. When I first discovered BioThane, I knew right away that it would be perfect for cat collars and leashes – especially for cats who enjoy going for outdoor adventures.
I got tired of my cats' leashes and collars getting wet and soggy and picking up all kinds of dirt and debris on our outings. Switching to BioThane gear fixed all those issues. However, there was still the issue of most BioThane gear being designed with dogs in mind – meaning thicker widths, heavier hardware, etc.
So I set out to design my own BioThane gear designed specifically for cats.
I now have a line of handcrafted BioThane cat collars, called the Kylo Collars (named after one of my kitty adventurers, Kylo Ren). The Kylo Collar is a fixed-length breakaway collar – meaning it is NOT adjustable, and it DOES come with the breakaway feature.
This is now what I use with all of my cats, and they have become quite popular in the cat adventure world.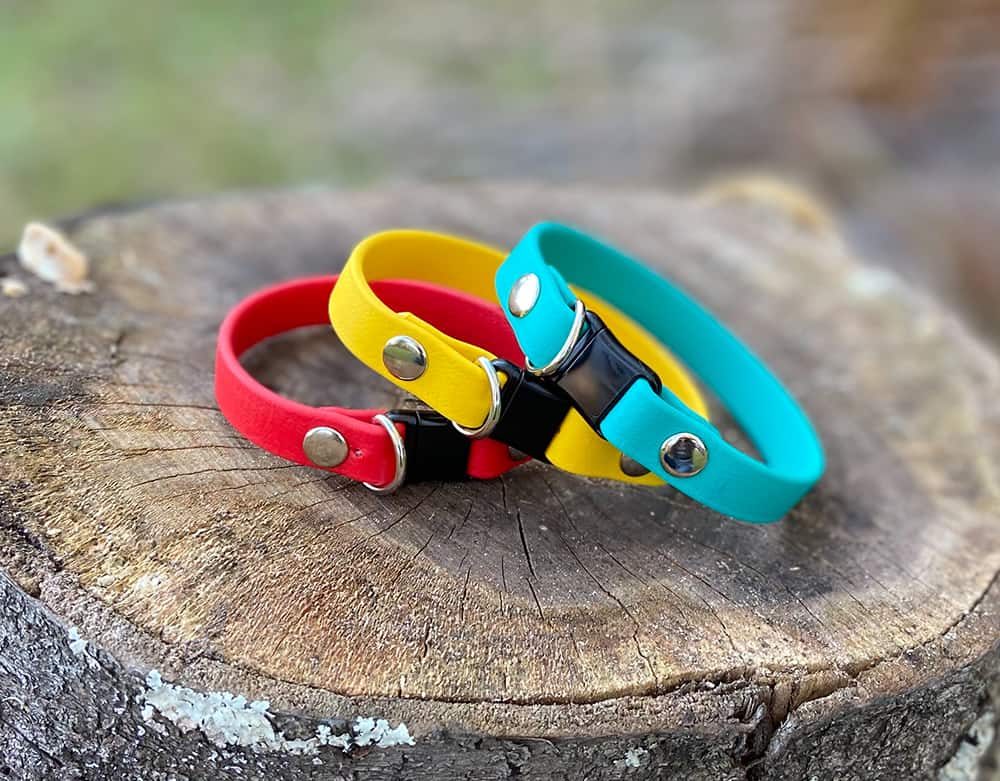 Here is what one customer has to say about them:
All About Cat Collars Video
Frequently Asked Questions
Do indoor cats need to wear collars?
Even if your cat doesn't go outside, it doesn't hurt for them to wear a collar. There's always a chance they could slip out of the house. That being said, an indoor cat who is a door dasher or who is traveling, staying under the care of a pet sitter, or going to the vet, they should absolutely wear a collar.
Does my cat need to wear a collar if they are microchipped?
Yes! Microchips are great and I definitely recommend having your cat microchipped, but they require someone to take your cat to a veterinarian or animal shelter that has a chip scanner. Most people might not be willing to take that step.
If your cat wears a collar with up-to-date ID tags, someone can quickly and easily identify your cat and give you a call.
At what age should my cat start wearing a collar?
Your cat can start wearing a collar at any age, though kittens are usually more open to new experiences and easier to train. It's never too late though!
If you do put a collar on your kitten, they should remain supervised while wearing it. A kitten might not be strong enough to detach a breakaway clasp on their own if it were to get caught on something.
Does it matter how wide the collar is?
I'd recommend either a 3/8″ or 1/2″ width collar. These two widths are lightweight and won't be as obtrusive on your cat's neck.
What if my cat won't wear a collar?
To make the collar experience a positive one for your cat, you will want to make sure your go through the collar training process. Read Cat School's cat collar training guide for step-by-step help.
What are the best kitten collars?
You can find kitten collars at most pet stores. The best option will be one that has an adjustable length so that it will fit your kitten for as long as possible as they grow, and possibly even once they are full grown.
---
About the Author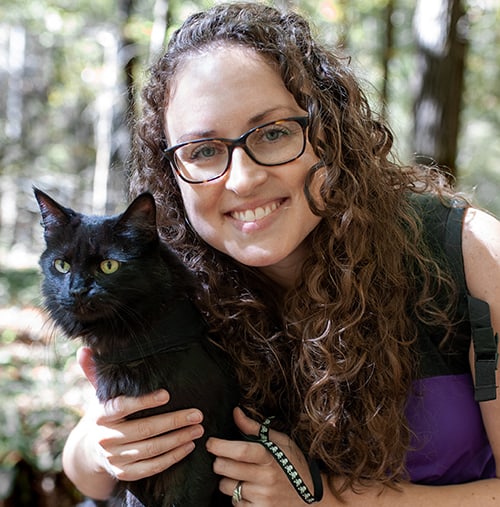 Emily Hall, ABCCT is a certified cat trainer and cat adventure enthusiast. As a "mom" to seven cats, one dog, and two sugar gliders, she has been writing in the pet industry for 10 years, with a focus on traveling and adventuring with cats. Emily and her husband enjoy hiking, road-tripping, camping, and canoeing with their three cat adventurers. Read more about her here.