*Updated May 8, 2023
If you will be road-tripping with your cat, chances are you'll be staying at a hotel, cabin, or other type of rental at some point along your journey. If not planned properly, staying in a hotel with a cat can have the potential to be stressful. On top of that, finding cat-friendly hotels is sometimes easier said than done. We've got some tips for you though on how to best make your stay away from home as stress-free, safe, and fun as possible!
*These tips apply to all types of lodging and accommodations; not just hotels.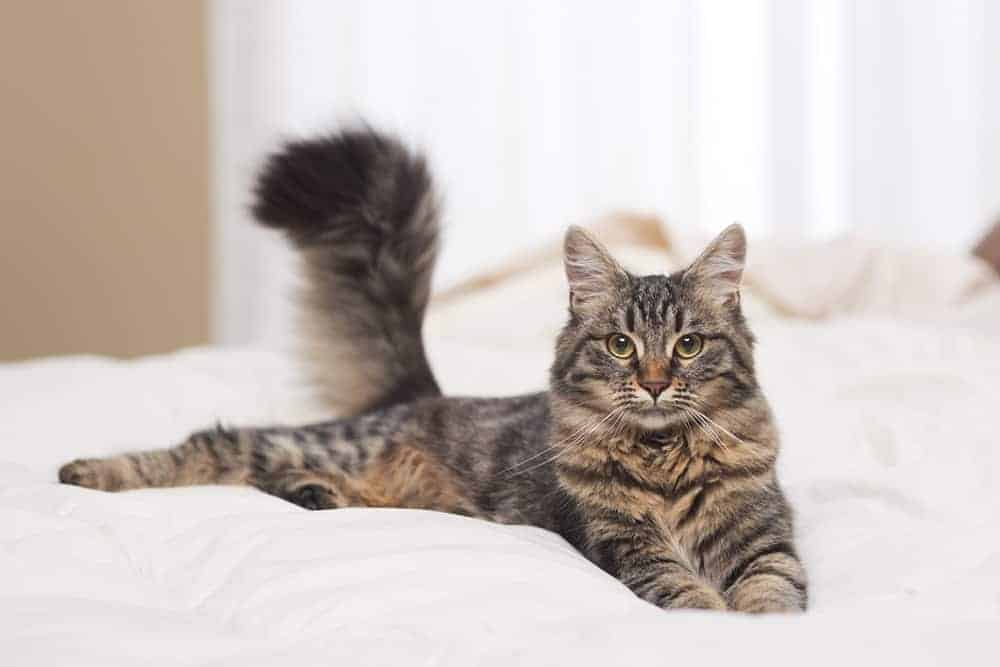 *Disclosure: This post contains affiliate links. If you make a purchase using one of these links, we will receive a small commission at no extra cost to you. This helps us to continue creating helpful content. Don't worry – we would never recommend something we don't like or use ourselves!
9 Tips for Staying in a Hotel with a Cat
1. Check pet policies before booking.
Just because a hotel's website claims they are "pet-friendly," that doesn't mean they allow cats. Unfortunately, "pet-friendly" often translates as "dog-friendly." Always contact the hotel, AirBnB, or wherever you're looking to stay to confirm that they allow cats specifically. The last thing you want to deal with is arriving at your place of lodging, only to be turned away because they don't allow cats.
If you travel with multiple pets, you'll want to check on the policies on the number of pets allowed per room. Many places put a limit on the number of pets, or even the weight of the pets.
You should also ask them about any pet fees. Many hotels, motels, and other lodgings charge additional fees for pets. Some are more expensive than others, and some don't charge any extra fees at all. Know what to expect before you book so you aren't surprised when you get the bill at the end of your stay.
2. Pack accordingly.
Obviously you'll need to bring things like food, litter, and a litter box. But what about the less-obvious things, like scratchers, a can opener, a pet first aid kit, and a handheld broom and dust pan? There are a surprising number of items you'll want to bring along on your overnight stay with your cat. When I travel with cats, their bag is sometimes bigger and fuller than my own!
Before you leave for your trip, make a list of everything your cat might possibly need. Having a checklist to work from always helps to make sure you don't forget something!
3. Inspect the room.
Before letting your cat out of their carrier, inspect the room for anything concerning or potentially hazardous. This could include wires and cords, breakables, plants, curtain strings, dropped pills from a previous guest, or even insect or mouse poison/traps. Check under the bed (even if it looks like there is no space), behind the headboard and other furniture, etc.
You should also familiarize yourself with all of the hiding places. Cats are notorious for finding the most out-of-the-way hiding spots, so know where those are and block them off if you don't want your cat possibly getting stuck or "lost" in your hotel room/rental.
One of the most common and difficult-to-notice hidey holes is under the beds. Hotel room beds are often sitting on top of solid block bed frames and give the illusion of not being able to get under them. However, there are often gaps between the bed frame and box spring that your cat can fit through. If your cat manages to find these gaps, they can slip through, and you won't be able to see where they went. Not only is that nerve-wracking for you, but the under-the-bed area is often pretty dusty and dirty. You can usually block these gaps with a pillow or two to prevent your cat from being able to go through. If you need more pillows, just call the front desk and ask for more.
4. Set up the room with your cat's essentials.
New situations and environments, like a hotel room or AirBnB rental, can sometimes be stressful for cats. If you make the place seem more like home though, it will help your cat to be more relaxed and comfortable.
Setting up your cat's favorite bed and/or blanket, scattering a few toys, and putting out a scratcher or two will help them to feel right at home. Be sure to leave your cat's carrier out as well so they have a safe space to hide if needed.
Find the best place for your cat's litter box too. The bathroom is usually the best option, since the floors are tile, making litter clean up easier than on carpet.
If your cat gets especially stressed when traveling, bring along a Feliway pheromone diffuser to plug in, or calming spray to help relax your kitty.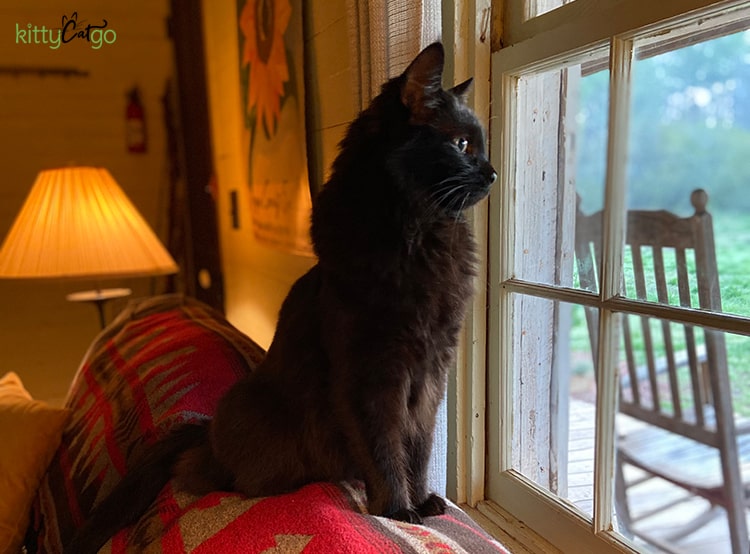 5. Introduce your cat to the room.
As with any new situation, you should always introduce your cat slowly to their surroundings. Don't just let them out of their carrier and leave them. Take the time to introduce your cat to the space. Show them where the litter box is and where their bed and toys are. Let them acclimate to their home away from home slowly and on their terms.
Give your kitty some treats, do a short clicker training session, or engage in some interactive play together. Anything you can do to get your cat's mind off being nervous and engaging in something positive is a good thing.
6. Put up the "Do Not Disturb" sign AND an additional sign that notifies staff there is a cat inside the room.
Once your cat has made themselves at home, put the "Do Not Disturb" sign on your outside doorknob. You don't want housekeeping or anyone else coming into your room when you're not there. Not only can strange people scare your cat, but they can also leave the door open and let your cat out.
No, you won't get a freshly made bed and clean towels every day, but your cat's safety is way more important. Plus, it's more environmentally friendly to forgo housekeeping services. If you really want clean towels, you can always call the front desk and ask for them to be delivered at a time when you're there to receive them.
Just to be on the safe side, you should add an additional sign to your door that notifies staff there is a cat inside. Do Not Disturb signs can be easily overlooked, and having an extra sign makes it more difficult to miss. Some pet-friendly hotels have a pet door sign, but if they don't, you can make one or print off a copy of our already-made sign.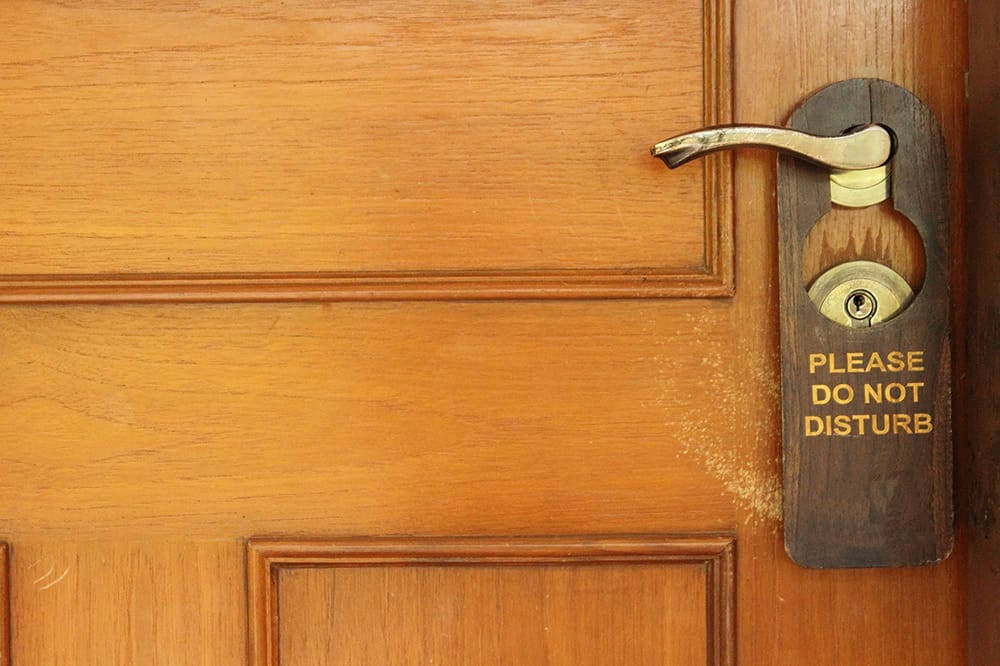 7. To leave your cat or not to leave your cat?
Whether or not you leave your cat alone in your hotel room or rental is a matter of personal comfort and preference. If your cat is nervous, I wouldn't recommend leaving them alone in your room until they're settled. Otherwise, I think it's okay as long as you have the "Do Not Disturb" sign on your door.
If you aren't comfortable leaving your cat alone in your room but can't take them with you wherever you're going, another option is to keep them secluded in a pen or carrier or in a bathroom. If you opt for the pen,carrier route, we recommend a larger one that has plenty of room for a litter box and for your cat to move around and be comfortable.
Be sure to check the hotel's rules though too because some of them don't allow for pets to be left in the room unattended.
If you're staying in a hotel, and your cat tends to vocalize loudly when left alone and/or stressed, you shouldn't leave them alone in the room. Everybody has a hotel stay experience that involves a neighbor or nearby guest being loud, obnoxious. Crying pets can be just as disruptive as loud humans. You don't want to disturb any other guests, nor do you want another guest to call and complain about your kitty.
8. Clean up after your cat.
Yes, housekeeping is there to clean your room after you checkout, but you really shouldn't leave a dirty litter box and litter mess behind for them. We don't want to give hotels and other accommodations any reason to change their mind about their cat-friendly rules. In fact, we want to do the opposite so that more hotels and rentals will begin to allow cats. This will only happen if we are responsible and considerate guests.
Whenever we road trip with our cats, I always pack a disposable litter box, a big trash bag, a hand broom, plastic grocery bags, and a litter scoop. Whenever I scoop the box, I do it into a grocery bag, then tie it off before putting in the trash. When we check out, I put the litter box into a big trash bag and take it out to the dumpster. I also sweep up any stray litter that got tossed around in the bathroom. This should be common courtesy.
9. Tip your housekeepers.
Tipping the housekeeping staff is the right thing to do under normal circumstances, so if you're traveling with a pet, it is extra important to tip. Even if you clean up after your cat as mentioned above, there is still going to be some extra mess as a result of their presence. Whether it's a bit of stray litter here and there or shed cat hair around the room, your cat will likely leave some mess behind. Be a good traveling cat steward by showing your housekeeping appreciation with a tip.
Cat-Friendly Hotels & Lodging
Because finding a place to stay that allows cats can be challenging, I've compiled a list of cat-friendly hotel chains. That being said, pet policies can vary from location to location, so always call first and confirm that cats are welcome.
All Locations Cat-Friendly / No Fees
Aloft Hotels – All locations are cat-friendly. They do not charge any additional pet fees. The number of pets allowed per room varies by property. In addition, four-legged guests are given an Aloft-branded bed and bowl to use.
Kimpton Hotels – All pets are welcome at all locations for no additional fees. There is also no limit on the number of pets per room. They go all out by offering additional services and amenities for pets, such as pet-bed loaners, food, water bowls and mats, and a concierge list of nearby pet-friendly restaurants and parks.
Motel 6 – All locations are pet-friendly and allow cats. No additional fees required, though there is a limit of 2 pets per room.
Red Roof Inn – Always pet-friendly and allows cats. They also don't charge any additional fees. Some locations limit the number of pets per room.
All Locations Cat-Friendly / Additional Fees Charged
AC Hotel – All locations pet-friendly. Pet fees vary by location from $25-$150.
Delta Hotel – All locations are pet-friendly. Pet fees vary by location.
Drury Hotels – Cats are welcomed at all locations, unless prohibited by state and local laws. They charge a daily pet fee of $40 per room, plus tax.
Extended Stay America – All locations are cat-friendly. A maximum of two pets are allowed in each suite. A $25 (+ tax) per day, per pet non-refundable cleaning fee for the first 6 nights. Each day thereafter is a $10 non-refundable fee (+tax) per day, per pet.
Four Seasons – All locations are pet-friendly and allow cats. They offer extra goodies, such as food and water bowls and beds. Additional fees and specific policies vary by location.
La Quinta Inn – Most locations are pet-friendly and allow cats. A pet fee may be charged at check-in ($20 per night for maximum of $40 per stay per room) depending on the location.
Loews Hotels – Cats are welcomed at all locations. They even offer gourmet room service menus for cats and dogs, specialized bedding, leashes, collars, litter boxes and litter, litter scoopers, pet placemats and water bowls. Pet fees vary from location to location. No more than 2 pets allowed per room.
Residence Inn by Marriott – Cats are welcome, though fees and specific policies vary by location.
Sheraton Hotels

– Most locations are pet-friendly and allow cats. A waiver must be signed, and they charge a pet fee that varies by location.

W Hotel – Cats are welcome at all locations, though fees and specific policies vary by location.
Some Locations Cat-Friendly / Additional Fees Charged
Best Western – Many locations are pet-friendly, including cats. It is up to the discretion of each location though and approval is required, so call ahead. There may be pet fee of $30/day, with a maximum charge of $150/week. A refundable damage deposit of up to $150 per stay may also be required of all guests with a pet.
Comfort Inn – Pet policies and associated fees vary by location.
Courtyard Marriott – Pet policies and associated fees vary by location.
Fairfield Inn – Pet policies and associated fees vary by location.
Hilton Hotels – Some but not all locations are cat-friendly. Fees and specific policies vary from location to location. Hilton Hotels include Canopy, Double Tree, Tru, Hampton, Homewood Suites, Home2 Suites, Embassy Suites, Hilton Garden Inn.
Holiday Inn Express – Pet policies and associated fees vary by location.
Ritz Carlton – Some locations allow pets, though some of them only allow dogs. Specific policies and fees vary by location.
Travelodge – Pet policies and associated fees vary by location.
Westin – Many but not all locations are pet-friendly and allow cats. Fees vary from location to location.
AirBnB/VRBO Rentals – There are many pet-friendly rentals on their sites. To find them, you can filter your search by selecting "pet-friendly." Be careful though, because some only allow dogs. Contact the host to make sure before booking! Also, some rentals charge additional pet fees, while others do not.
KittyCatGO LIVE – Episode 6: Traveling with Cats
---
Have you ever traveled and stayed away from home with your cat before? What was your experience like?
---
About the Author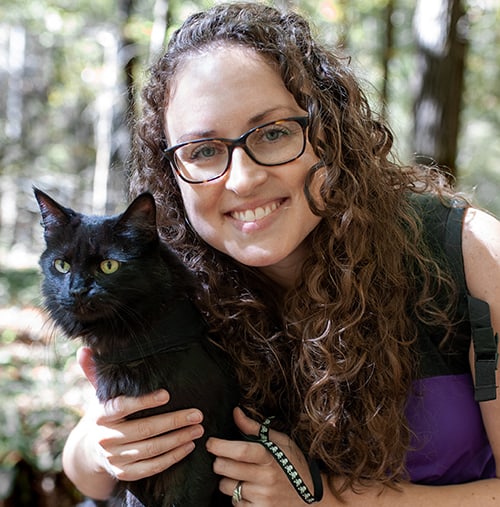 Emily Hall is a cat trainer and cat adventure enthusiast. As "mom" to seven cats, one dog, and two sugar gliders, she has been writing in the pet industry for 10 years, with a focus on traveling and adventuring with cats. Emily and her husband enjoy hiking, road-tripping, camping, and canoeing with their three cat adventurers. Read more about her here.