So you're thinking about venturing off dry land and going kayaking with your cat? That's awesome! Whether it's kayaking, canoeing, or even stand-up paddle boarding, water sports with your cat are a lot of fun!
Some think that because many cats don't like water that they won't enjoy kayaking. It's true, kayaking isn't for every cat, but just because your cat doesn't enjoy being IN water doesn't mean they won't enjoy being ON the water. Many cats find being out on the water to be quite relaxing!
Before you grab your cat and jump into the kayak though, you'll need to do some prep work – for both you and your cat!
*Disclosure: This post contains affiliate links. If you make a purchase using one of these links, I will receive a small commission at no extra cost to you. This helps me to continue creating helpful content. Don't worry – I would never recommend something I don't like or use myself!
Before You Go
1. First thing's first: before ever taking your cat out on the kayak, make sure you are comfortable in the kayak first.
Your first time kayaking with your cat should NOT be your first time kayaking ever. You don't want to be trying to figure out how to maneuver the kayak while also trying to make sure your cat is okay.
Go out a time or two on your own to get the hang of things first. That way things will go much smoother when you take your kitty out with you.
2. Acclimate your cat to being near water.
The sound of running water, along with any accompanying wind, can be nerve-wracking for some kitties. Before going on a kayak, you will want to make sure your cat is comfortable near water.
Find a stream, river, pond, or lake nearby and bring your cat along to investigate near the shore. Start with a small body of water if possible. As with any adventure training, it's important to take things slow and reward your cat for being brave in these new circumstances.
Don't be discouraged if your cat is scared at first. It's normal for cats to be nervous in new situations. Keep trying. It may take multiple visits to the water before your cat is comfortable around it.
3. Get the gear!
The biggest new piece of gear you'll need for water adventures with your cat is a life jacket. Many small and extra-small sized dog life jackets will work. Though they may not be a perfect fit, they will get the job done.
If you want to go ahead and invest in something top-quality, the Lyra Cat and the Baltic are two life jackets designed specifically for cats.
Kayaking/canoeing gear list:
Harness + waterproof leash
Life jacket (XS Kurgo Surf N Turf Life Jacket is what we use)
Backpack or carrier
Plenty of water
Source of shade if possible (a towel draped over your cat's carrier works well)
Favorite toy
*The Dermoscent SunFREE cat-safe sunscreen linked to above has been confirmed to be cat-safe. Dog-safe and baby-safe sunscreens are not always safe for cats! If you aren't sure about a sunscreen, ask your veterinarian.
4. Let your cat get used to any new gear items.
Don't wait until you're out on the kayak to put your cat's life jacket on them for the first time. Slowly introduce the life jacket to your kitty. Follow the same training steps you did for harness training.
Same goes for the backpack or carrier if you're using a new one. Check out our backpack training guide for more tips on getting your cat comfortable with it.
Be sure to test out the cat-safe sunscreen before your outing too, just in case your cat has a negative reaction to it. You wouldn't want to be out on the water when they suddenly have an allergic reaction to sunscreen.
5. Introduce your cat to the kayak.
If you're able, introduce your cat to the kayak from the safety of dry land first. If you own your own kayak, you can easily do this in your backyard. As with anything new, let your cat sniff it out and explore it at his own speed.
Reward with treats. You want them to associate the kayak with positive things, after all! Clicker training can be used for this step too.
If you're renting a kayak you might not be able to follow this step very easily. The rental company may let you and your cat come over to check out the boats before renting though. It's worth asking about. If they won't, you can at least let your cat inspect it and even sit on it before putting it in the water.
*If you're renting a kayak, be sure to confirm with the company that cats are allowed! Some rental companies don't allow pets.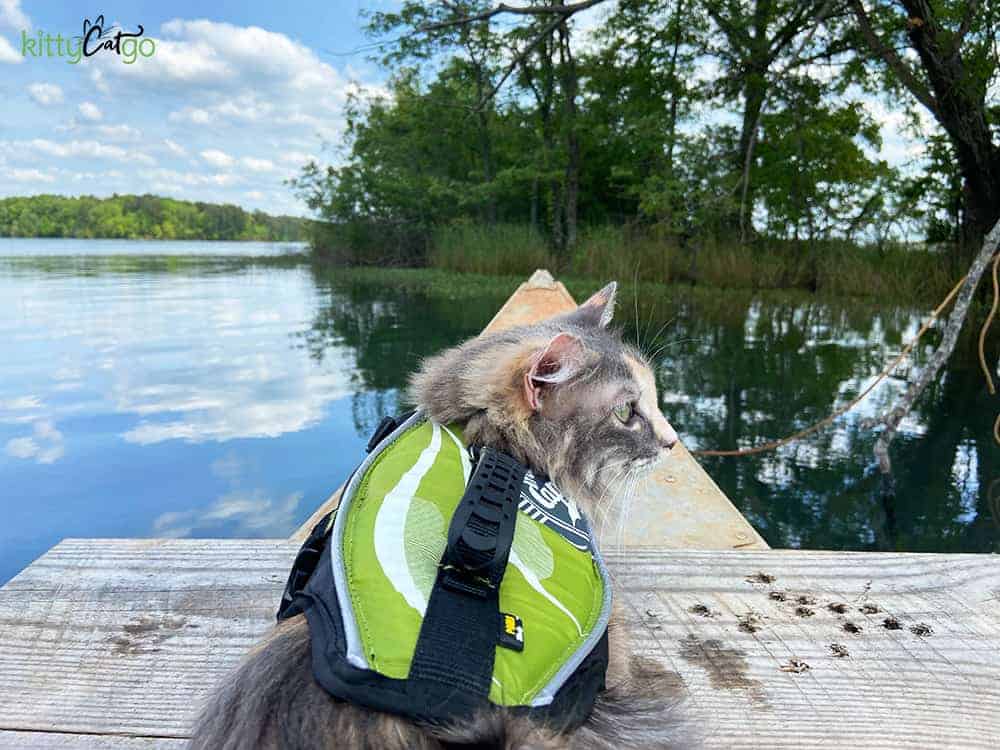 It's Kayaking Time!
1. For your cat's first time kayaking with your cat, you'll want to choose a location that is fairly quiet.
A pond, lake, or slow-moving river are best for beginners. Finding somewhere that doesn't allow motorboats is a big plus too!
2. Check the weather.
Finding a sunny or cloudy day with mild temperatures and no wind is ideal. You don't want to have to deal with rain, wind, or extreme temperatures.
3. Let your cat inspect the kayak before putting it into the water.
Reward with treats, as always!
4. Leave your cat in their carrier while you move the kayak to the water.
This part can be noisy, so best to let your kitty chill in their safe space while it's happening. Otherwise they might get scared of all the commotion.
5. Board the kayak first if you're able.
If you have a helper, get yourself settled in the kayak first. Then have your friend hand your cat down to you. (Your cat should still be securely in their backpack/carrier at this point.
6. Once you're out on the water, you can unzip the backpack/carrier.
Let your cat pop their head out and decide to come out on their own. They made decide to ride in their carrier the whole time, and that's okay! You don't want to force them into doing anything. Treats might help coax your kitty out though.
7. Stay close to shore.
Since it's your cat's first time out on the water, stay close to shore in case you must abort the mission. You don't want to be out in the middle of the lake with a freaked-out cat.
Depending on the time of day, the trees along the shoreline will provide you with good shade too.
8. Don't stay out too long.
The goal is to make this first trip out on the water as positive of an experience as possible. Don't push your cat's limits. Plan to stay out for a short period of time and gradually increase the length of your trips each time you go out.
KittyCatGO LIVE: Episode 8 – Kayaking with Cats
If you're looking for some more in-depth info and personal experiences, including tips about:
clicker training while kayaking
cat-safe sunscreen
staying cool
what to do if your cat's carrier won't fit in the canoe/kayak
& more
…check out our episode of KittyCatGO LIVE with guest Gabrielle Vachon!
About the Author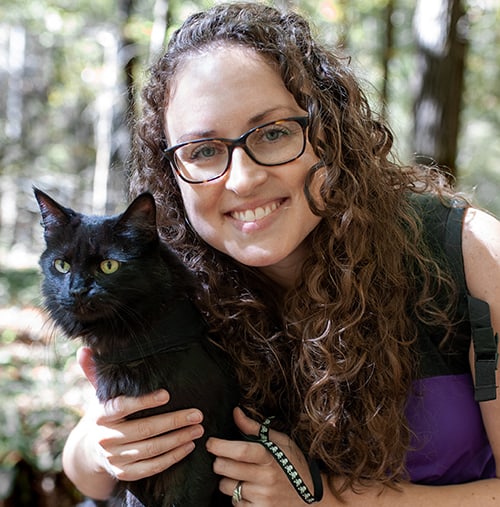 Emily Hall, ABCCT is a certified cat trainer and cat adventure enthusiast. As a "mom" to seven cats, one dog, and two sugar gliders, she has been writing in the pet industry for 10 years, with a focus on traveling and adventuring with cats. Emily and her husband enjoy hiking, road-tripping, camping, and canoeing with their three cat adventurers. Read more about her here.