Fall is officially here! Fall (October specifically) is one of my favorite times of year. The weather is always wonderful – not too hot and not too cold – which makes it a perfect time to get outside and enjoy some fun activities with my cats. There's usually an abundance of activities to choose from too!
Here are some of my favorite activities* to enjoy with my cats in the fall. Give them a try!
*Always confirm that these places and activities allow cats before visiting/participating!
**Harness and leash training your cat is a prerequisite for most of these activities.
1. Visit a Pumpkin Patch
Hitting up your closest pumpkin patch is the quintessential fall activity. Not only can you and your kitty pick out the perfect pumpkin, your cat will also probably enjoy climbing around on the pumpkins. Pumpkin patches also make for an excellent fall photoshoot backdrop.
If you're lucky, your local patch will also have some other fun activities to enjoy, such as hay rides, a corn maze, and tasty treats.
You can even pick out a pumpkin to make some pumpkin cat treats! (recipe linked below)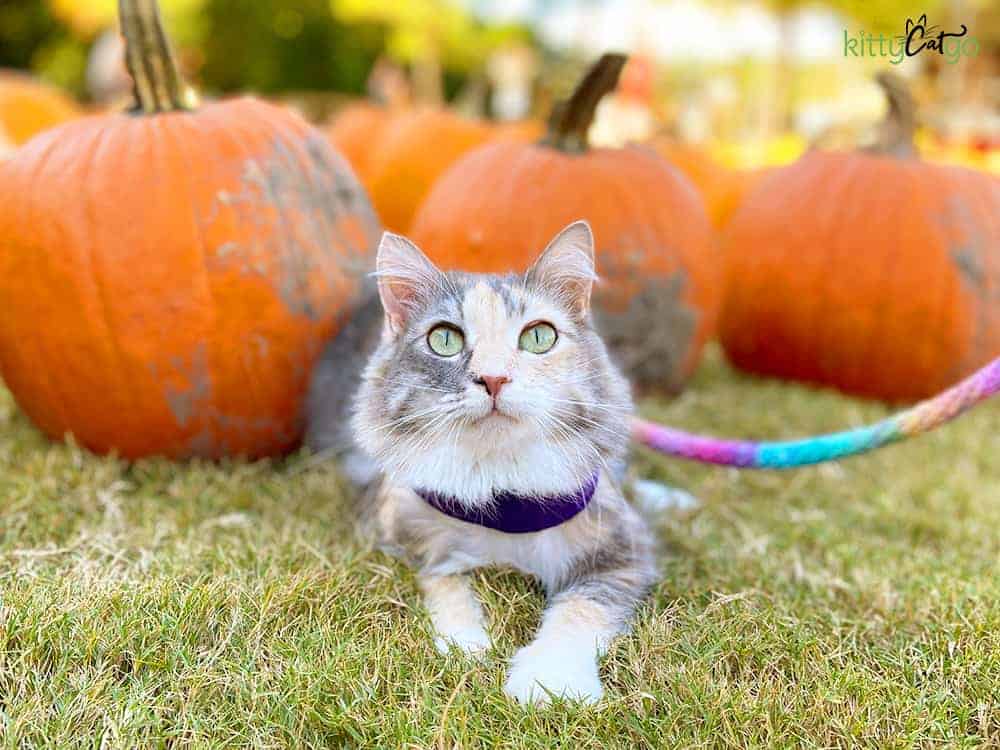 2. Get Lost in a Corn Maze
Okay, well hopefully you won't actually get lost… Hey, who knows – maybe your cat's amazing sense of smell will help you navigate through the corn maze more easily!
3. Go Apple Picking
Apples are in season and ripe for the picking! If you've got an apple orchard nearby, you and your cat can enjoy a day of fun together. Your kitty may even enjoy a bit or two of apple.
4. Play in the Leaves
A pile of leaves is a pile of possibilities! So many smells, so many sounds. So much fun to jump and play in!
5. Go on a Ghost Tour
What better time to go on a walking ghost tour than during the spooky Halloween season? A kitty companion may even be able to "see" things you can't…
I'd suggest bringing your cat's backpack carrier for this adventure though. Kitty may end up riding more than walking.
6. Enter a Costume Contest
If your cat doesn't mind dressing up, a entering a pet Halloween costume contest could be fun! Especially because most entrants will likely be dogs, so your kitty would stand out for sure.
7. Take a Drive
Taking in a leisurely drive to appreciate all the fall beauty is always nice. If your cat likes car rides, or if you are working on getting your cat more comfortable with car travel, this is the perfect opportunity to practice!
8. Go on a Hike
If you're more of a "get out in nature" kind of person, fall hikes are the best! With the perfect temperatures, changing leaves, and crisp fall air, there's nothing like it. Bring your kitty along for your next hike. I'm sure they would love playing in the leaves and taking in all the sights and smells!
9. Visit a Fall Festival
All the people and activity at a fall festival may be a little much for a lot of cats. If you have one that thrives amidst the hustle and bustle though, attending a fall festival together could be exciting! There's usually a lot to do and lots of new friends to make!
10. Celebrate Oktoberfest at a Local Brewery
Maybe enjoying a cold brew while relaxing on an outdoor patio is more your speed. Breweries tend to be more lenient with their pet policies than restaurants because many of them don't serve food. That makes them a perfect place to chill with your cat! Even if your local breweries serve food and don't allow pets inside, many have pet-friendly patios. That's better anyway so you can enjoy the beautiful fall weather!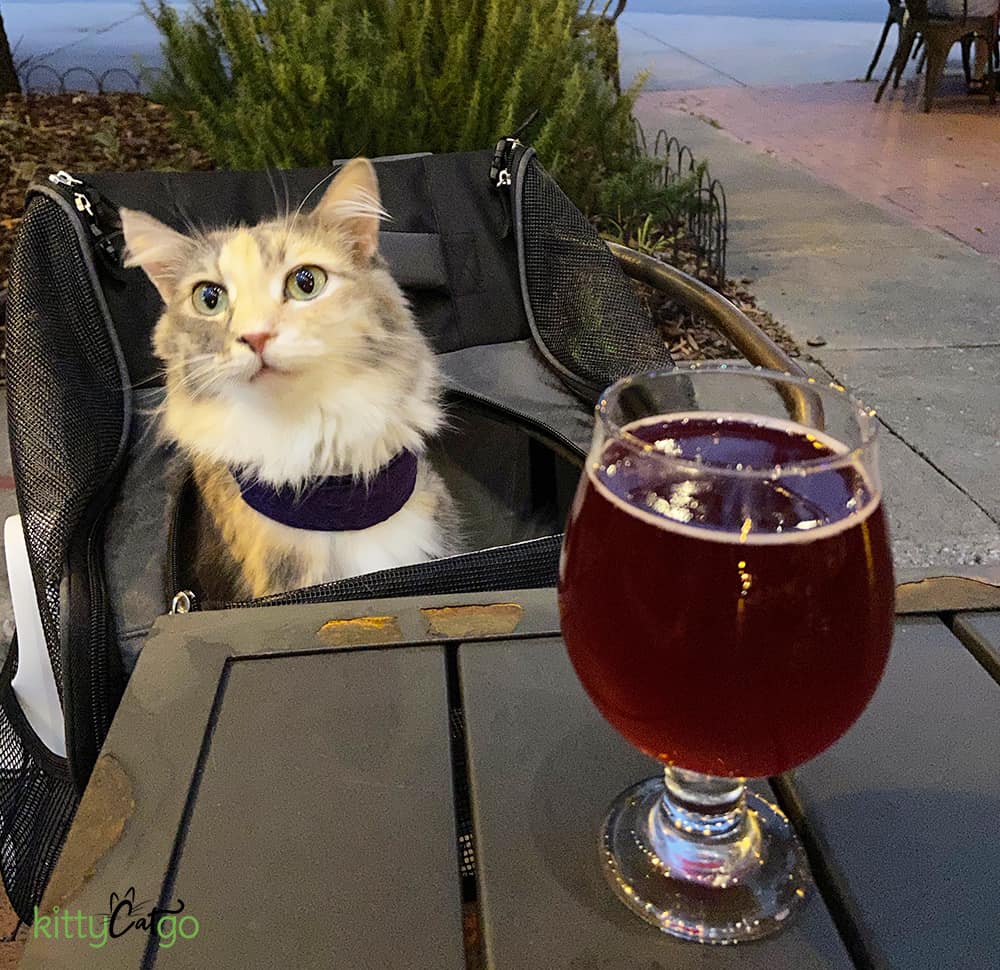 11. Make Homemade Pumpkin Cat Treats
Open those windows and spend some time in the kitchen whipping up your cat some tasty homemade pumpkin cat treats! Bonus points if you use the pumpkin you picked up at the pumpkin patch…
Here are a couple recipes you can try:
No-Bake Pumpkin Cat Treat Recipe
12. Have a Bonfire
There's nothing that screams "FALL" quite like building a bonfire, roasting marshmallows, and enjoying a tasty beverage. Add in a kitty companion, and you've got a recipe for some fun! You might even be able to come up with a tasty fire-roasted treat for your cat to enjoy too!
13. Curl Up Together and Watch a Scary Movie
The cat version of "Netflix and Chill." It's always better to watch scary movies with a friend to snuggle up, after all!
14. Go Camping
For the more extreme adventurers, fall is the perfect time to go camping. As long as you think your cat would be up for the challenge and you've adequately prepared your them for camping, bring them along! There's no better way to immerse yourself in the outdoors.
15. Participate in the KittyCatGO Adventure Challenge
Speaking of challenges… we host the KittyCatGO Adventure Challenge a few times a year. We usually have a Fall version with all kinds of fun activities and tasks to complete with your cat (some of which are in this post!). The Adventure Challenge will give you new ideas of things to try, it will give you a little push to work on your cat adventure training, and it's a great way to make some new friends and be a part of the amazing cat adventure community!
What are your favorite fall activities to enjoy with your cat?
---
About the Author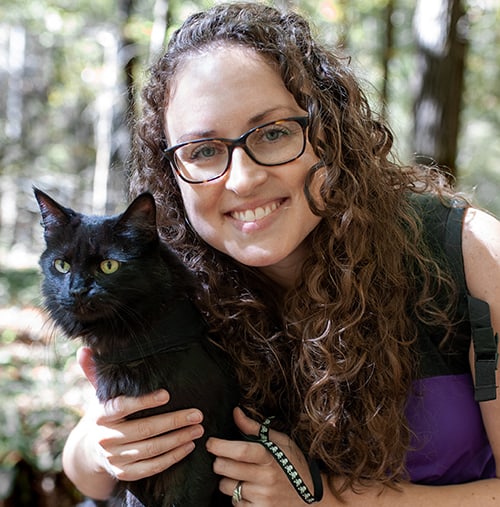 Emily Hall, ABCCT is a certified cat trainer and cat adventure enthusiast. As a "mom" to seven cats, one dog, and two sugar gliders, she has been writing in the pet industry for 10 years, with a focus on traveling and adventuring with cats. Emily and her husband enjoy hiking, road-tripping, camping, and canoeing with their three cat adventurers. Read more about her here.