If you and your cat enjoy exploring the great outdoors together, geocaching with your cat may be right up your alley! Geocaching is a fun way to explore and discover new areas, and it's suitable for beginning and advanced cat adventurers!
You may be wondering though… "What is geocaching?"
What is Geocaching?
To put it simply, geocaching is like a real-life treasure hunt. Scattered around the world are "caches," or hidden stashes of objects. The caches come in different shapes and sizes – they can be small or large lock boxes, bird houses, mailboxes, etc. Inside the cache, you'll find various kinds of trinkets (think keychains, stickers, coins, ornaments, small toys, etc. – nothing valuable) and a logbook.
Although caches are generally hidden, they are never buried. They may be hidden in a ditch, behind a tree or rock, hanging from a tree, under a bridge, etc. They may be hidden in the woods somewhere, along a hiking trail, or even in a parking lot or at a shopping mall. They are generally not very obviously placed – it is a "treasure hunt," after all – so be prepared to do some searching.
Each geocache is given a set of coordinates, and participants use a GPS locator along with clues to find it. Thankfully these days, you don't need a separate GPS device – there are geocaching apps that can help you locate caches right from your phone!
How Does it Work?
To go geocaching, you first create a free account on geocaching.com or through the Geocaching app. (There is a premium membership option that will show you even more caches, but there is plenty to do and find within the free version.)
Once you've created your account, you can search for caches near you. If you're using the phone app, it will use your location to bring up a list of caches in your area. You can click on them to view their difficulty rating, see how large or small they are, read a description, and even check the "hint" for a clue on how to find them.
Once you select one to find, you hit "Navigate," and your phone will lead you to the cache. Sometimes it's not 100% accurate, so be sure to keep your eyes peeled as you get close!
I'd also recommend checking the activity on the cache to see when it was last found. If the cache hasn't been found in several months, there's a good chance it isn't there anymore. To set yourself up for success, especially at first, make sure you're searching for a cache that has been found recently.
Once you find the cache, you can open it up to see what's inside! The idea is that you leave something behind for the next person to find. I always bring a few KittyCatGO stickers with me to leave behind, for example.
Then you pull out the logbook and sign your name. Some users have geocaching handles or even special ink stamps they use for this, but you can just sign your name and your cat's name, along with the date. Be sure to include your cat in the log so the next person who sees it knows a CAT found the geocache!
You should also log your find in the app so the next person searching for it can see that the geocache was found recently. If you didn't find it (that happens sometimes), you can note that within the app log as well.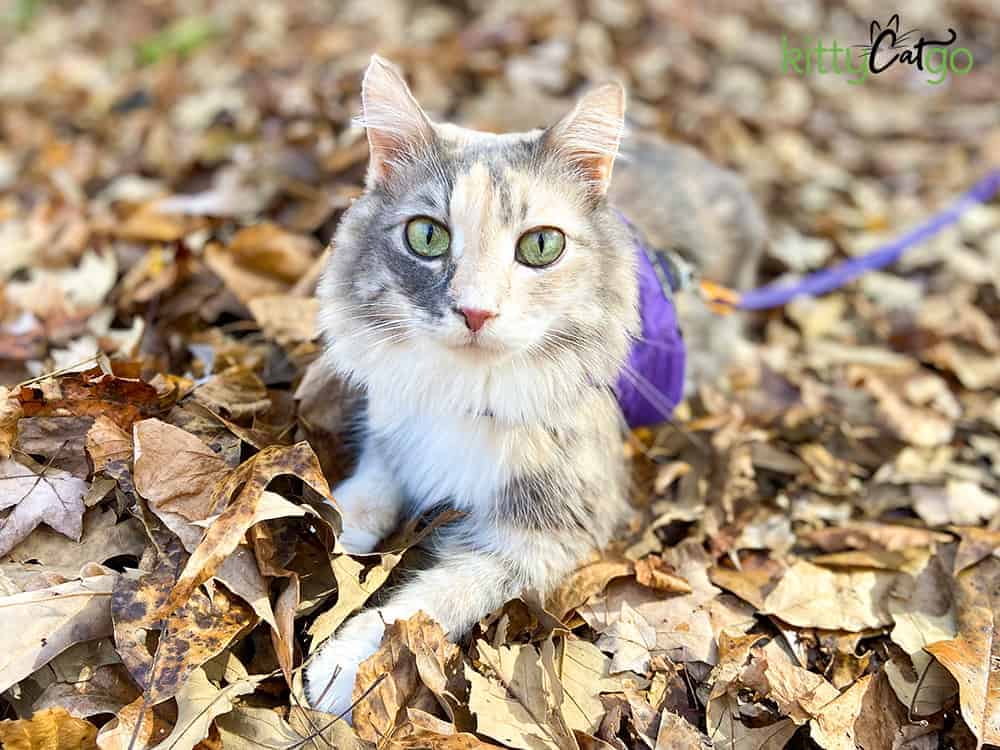 Types of Geocaches
The type of cache described above is known as a Traditional Cache. There are other types though as well:
Mystery or Puzzle Cache – these may involve complicated puzzles you first have to solve in order to get the coordinates for the cache
Multi-Cache – these involve two or more locations, with the final location being the physical container with the logbook inside. The first caches give you clues to find the location of the next
Earth Cache – these aren't physical containers. Instead, they are special geological locations you can visit to learn more about a unique feature or location of the earth. To log it, you typically have to provide answers to questions by observing the location. Visit earthcache.org for more information
Virtual Cache – these are about discovering a location rather than a container. You may have to answer a question about the location, take a picture, etc. in order to post your log
Letterbox – letterboxing is technically a different activity than geocaching, though it is quite similar. Instead of using coordinates to find a letterbox, you use clues. Once you find the letterbox location, there is a stamp inside so you can stamp your own logbook. Visit letterboxing.org for more information
Tips for Geocaching with Your Cat
Make sure the location you're going is cat-friendly
Make sure your phone has a full charge
Bring water and snacks for both you and your cat
Keep your cat's comfort in mind – for example, is the location you're exploring noisy, busy and possibly stressful for your cat?
Make sure your cat is already harness and leash trained and/or backpack trained.
Have fun exploring!
KittyCatGO LIVE, Episode 11
Terri Lukens-Gable of @adami_the_aby and I chatted about geocaching with your cat in Episode 11 of KittyCatGO LIVE. Skip ahead to time marker 35:30 for the portion about geocaching.
Have you ever gone geocaching before?
---
About the Author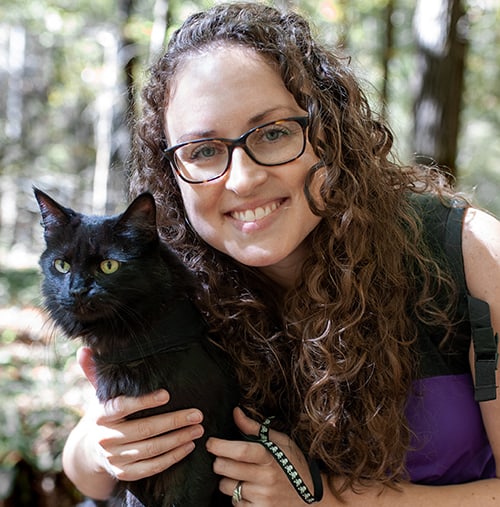 Emily Hall is a cat trainer and cat adventure enthusiast. As "mom" to seven cats, one dog, and two sugar gliders, she has been writing in the pet industry for 10 years, with a focus on traveling and adventuring with cats. Emily and her husband enjoy hiking, road-tripping, camping, and canoeing with their three cat adventurers. Read more about her here.