One of the most challenging and potentially dangerous aspects of adventuring with your cat is dealing with off-leash dogs. Encountering leashed dogs can already be frightening for some cats, and when approaching dogs are OFF-leash, things can become especially unpredictable. What makes things worse is when the human accompanying the off-leash dog isn't understanding or is sometimes even rude.
Figuring out how to handle these situations safely and effectively is tricky, but we've put together some of our best tips for how to deal with off-leash dogs. Our hope is that with more awareness and education, those of us with cats and those with dogs will be able to peacefully coexist in the parks and on the hiking trails with as little conflict as possible.
*Disclosure: This post contains affiliate links. If you make a purchase using one of these links, I will receive a small commission at no extra cost to you. This helps me to continue creating helpful content. Don't worry – I would never recommend something I don't like or use myself!
What is a leash law, and why is it important?
A leash law is one that requires an animal to be restrained or on leash when on public property. Some leash laws even go so far as to stipulate a maximum leash length allowed. The exact laws will vary from state to state or even city to city, but most public spaces have a leash law of some sort in place.
It is quite frustrating when you choose a new place to take your cat, purposefully selecting somewhere you know has a leash law, and then you get there and there are off-leash dogs running around.
We recognize that adventuring with cats isn't a mainstream activity yet, so we wouldn't expect dog owners to expect to run into a cat when out on the trail. But it's not just out of consideration for cats that leash laws should be followed. Consider the humans, adults and children, who might be scared of dogs. Consider the reactive dogs who might be out trying to enjoy a nice walk. Consider the environment.
Leash laws aren't merely suggestions – they are put in place for a reason. Several reasons, in fact.
Reasons for leash laws:
Keeping your pet on a leash, whether a cat or dog, protects them from each other as well as from other wildlife that might be in the area.
Not everyone likes dogs, and some people are downright scared of them. Running into an off-leash dog is terrifying for someone (or some cat) who fears dogs.
Keeping your pet from running free helps to preserve the flora and fauna in the area. Free-roaming pets can be disturbing and even harmful to wildlife.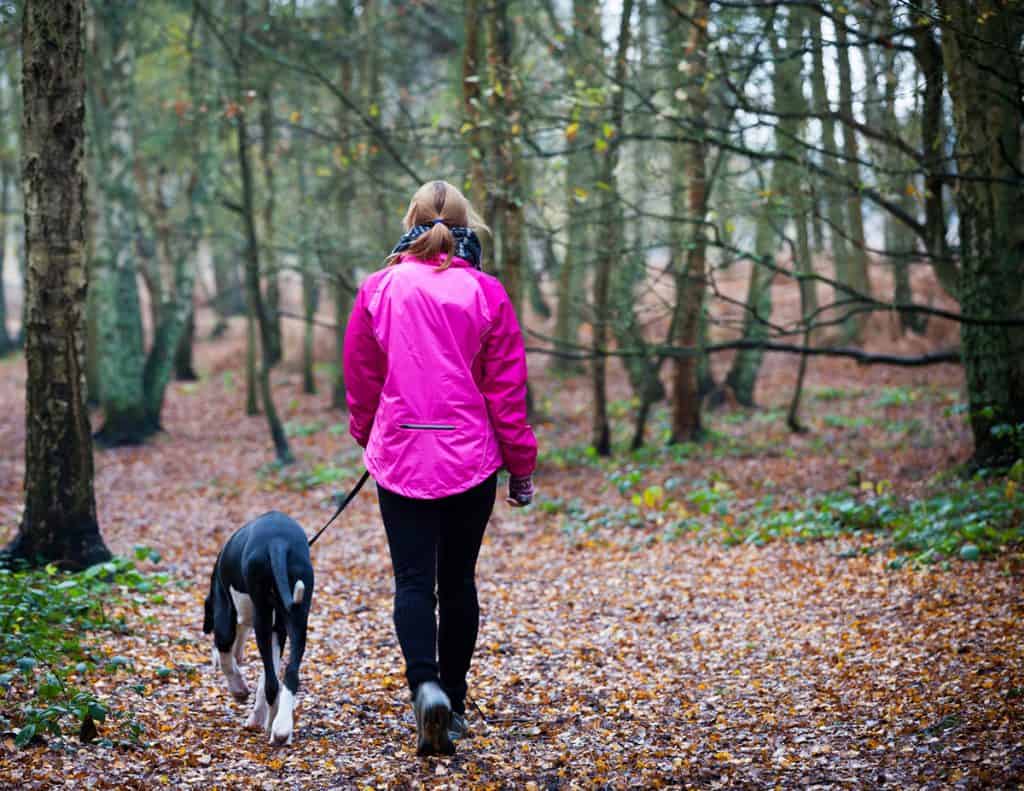 Tools for Dealing with Off-Leash Dogs
Ideally, everyone would follow the leash laws. However, the reality is that many dog owners don't. You should expect to run into off-leash dogs on your adventures. Thankfully there are some precautions you can take and tools you can carry with you to ensure that you and your cat are safe.
1. A Cat Backpack
There are many reasons why having a cat backpack carrier (or stroller) is recommended. One reason is that they are a safe space your cat can retreat to in times of need. When you see an off-leash dog approaching, you can quickly get your cat into their backpack.
You can even go so far as to train your cat to get into their backpack or stroller on command. If your cat is trained to get into their carrier on command, it can help to eliminate the potential that your cat might fight you about getting inside. Running into an off-leash dog can be stressful and scary, and if your cat willingly gets in their carrier, things will go much more smoothly.
2. Treats
It may seem contradictory to give an approaching dog treats, but throwing a handful of food or treats at them can be an effective distraction.
Dog trainer Chris Ramsay recommends doing this if it's a slow dog approaching. He calls it a food grenade. He says that throwing a handful of food is "enough to hit the dog – there's a little physical startle that happens with the dog – and most of them go, 'Wait, oh there's food!' That gives you enough time to back away slowly, start to move, or just to stand still and regroup yourself."
3. White Vinegar Squirt Bottle
While not harmful, white vinegar can be irritating when sprayed at an approaching dog. As you see the dog approaching you can spray the white vinegar at them to deter them from getting closer. Also, if it happens to spray back on you, you don't have to worry about it hurting you or your cat.
4. PetSafe SprayShield Animal Deterrent Spray
PetSafe SprayShield is an animal-safe deterrent spray you can use against an approaching dog. While it won't hurt the dog, the powerful citronella scent will surprise and distract them, allowing you to get your cat in their carrier and get away.
The spray can is small and has a belt clip so you can easily carry it with you on your walks. It has a spray radius of 10 feet.
Cat trainer Jackie Johnson says the SprayShield "is more of an owner deterrent than anything else!" Most of the time when people see you holding a spray can, they assume it's pepper spray and will be very quick to grab and leash their dog. The threat of their dog getting sprayed in the face is enough to kick the dog owners into action, Jackie explains.
5. Pepper Gel
Pepper gel is a much more serious self-protection tool*. Hopefully either the white vinegar squirt bottle or PetSafe SprayShield would be enough to deter an approaching dog from getting closer. However, if the dog you encounter appears to be aggressive and you fear for you and your cat's safety, you may need to utilize something like pepper gel.
Pepper gel is preferable to pepper spray because there isn't as big of a risk of it blowing back in your face if there's any wind. Pepper gel also has a more direct spray.
Though it won't cause lasting damage, pepper spray or pepper gel is quite painful. It's not something you want to use unless you absolutely have to.
*Be sure to check the laws regarding pepper spray/gel in your state. Some states have restrictions in place that only allow people to carry pepper spray if it's a certain size or concentration or if the person is of a certain age. Some specific locations may also ban pepper spray.
6. Phone
As a precaution, you can use your phone to record any interactions between yourself, an off-leash dog, and the human accompanying the dog. When you see a dog approaching, you can quickly turn on your phone's video camera to capture the conversation and at least a glimpse of the person and dog. This recording will be valuable if you were to have to pursue any kind of legal action in the case of an attack or serious altercation.
If the altercation occurs in a parking lot, be sure to get the person's license plate number as well.
What to Say to People with Off-Leash Dogs
If you've run into an off-leash dog when out with your cat, chances are you've heard any of the following statements:
"Don't worry, my dog is friendly!"
"My dog LOVES cats, we have one at home!"
"My dog just wants to be friends!"
While all those statements may be true, the fact is, it doesn't matter. Just as humans don't go around hugging and jumping on random people, dogs shouldn't either. As mentioned before, not everyone likes dogs. And even those who like dogs might not want to be accosted by one on the hiking trail, especially if they have a cat with them.
Consent is important, and it should be required for two parties to meet and interact. Consent should be given by both the humans and animals involved.
For example, my cats are comfortable with our dog at home, but they are not comfortable with meeting random dogs out in public. On the flip side, just because a dog is friendly with their cat at home doesn't mean they will be accepting of a strange cat.
So what do you say to the other person in these instances?
Stay Calm
While it may make you angry when an off-leash dog approaches, the best thing you can do is try to stay calm. Not just because animals can pick up on our emotions, but because getting angry and yelling will only escalate the situation. The person on the other end of things won't be as responsive or as willing to listen if you are yelling at them.
The interaction you have with the dog owner will make a lasting impression and live on long after the actual interaction is over. We want to be positive ambassadors of adventuring cats, which means we want the dog owners we encounter to talk about meeting us in a positive manner.
If we are yelling and angry, they will only go tell their friends about the crazy cat lady Karen they met while out on a walk with their dog. It will hurt our cause more than help it.
Flip the Script
In the case of the dog owners who insist their dogs are friendly, they are often slow to collect their dog and leash them. They see the situation as safe, so they don't think there's a reason to act quickly. However, if they perceive their dog may be in danger, they will likely be quicker to leash their dog.
When someone says, "It's okay, my dog's friendly," you can try responding with something like:
"Can you please leash your dog? My cat isn't good with dogs yet."
"My cat is not friendly with dogs – he/she will attack."
"My cat is contagious!" (recommended by Terri @TailWagWisdom in this article)
These responses take the focus off the dog and its human and put it on you and your cat, hopefully making the person think about how their off-leash dog might be making others uncomfortable. Also, as mentioned, the person might be quicker to grab their dog if they think your cat might scratch or bite them.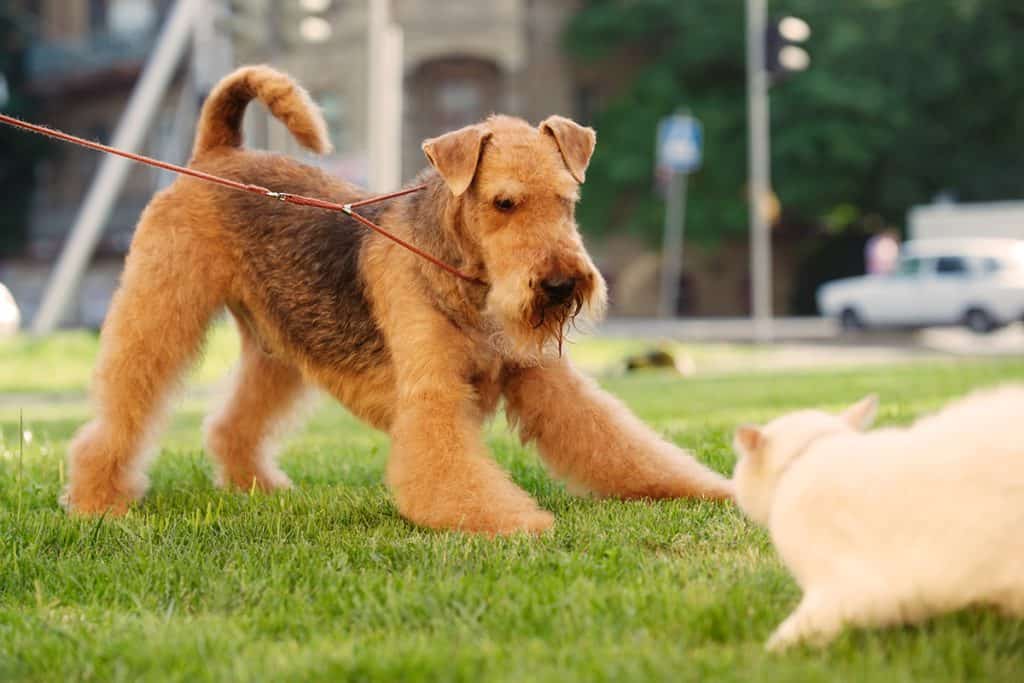 Things You Can Do to Prepare for Dog Encounters
Knowing that the chances of running into dogs, leashed or unleashed, is quite high, there are a couple steps you can take to help make those encounters as stress-free as possible.
Train Your Cat to Jump in Their Carrier on Command
As mentioned, training your cat to jump in their backpack or stroller on command is an extremely useful skill. When you see a dog approaching, you can ask your cat to quickly hop in. This will hopefully help eliminate a lot of the potential stress that comes with dog encounters.
For example, if every time you encounter a dog, you get nervous, quickly grab your cat, and stuff them in their carrier, your cat is only going to continue associating dogs with negative experiences. Especially if your cat isn't always willing to get in their carrier. However, if all it takes is for you to quickly but calmly ask your cat to get in their carrier, the situation will be less stressful and will be less likely to escalate.
Practice Dog Encounters in Controlled Situations
Just as you train your cat to accept wearing a harness, to ride in a backpack/stroller, and to be comfortable in new environments, you can train them to be more comfortable with dogs. Your cat may never be fully accepting of strange dogs, and that's okay, but the more used to them they are the better.
To work on this, you obviously are going to need to practice with dogs. If you have a dog, you can try taking your cat and dog out on walks together. While the issue is usually with strange dogs, it can still be helpful for your cat to get used to the presence of a dog during their walks.
If you have friends or family members with dogs, you can ask them to bring their dog over so you can practice introducing your cat to them. You should also practice the other way around – taking your cat to the home with the dog. Meeting dogs in unfamiliar territory is a lot different than meeting them on home turf.
Once you feel ready, you can take things a step further and practice introducing your cat to new dogs you meet out on your adventures. This requires the consent of both the person and dog you encounter and should be done slowly. If at any point your cat is too stressed, end the encounter and try again another time.
Put a Note at the Trailhead
As we all know, adventuring with cats is not commonplace yet, so other hikers are not going to expect to run into a cat on the trail. In an effort to prepare and educate them, you can tape a note at the trailhead announcing to other hikers that there's a cat on the trail and asking them to please follow the posted leash laws.
Of course, there may be people who still choose to ignore the rules, but hopefully the sign will help and encourage everyone to be respectful of ALL hikers (cats, humans, dogs, etc.) and to follow the leash laws.
Click the button below to download two different printer-friendly versions of our "Cat on Trail" sign – free for you to use on your hikes! I'd recommend laminating it or putting it in a page protector so you can easily reuse again and again!
KittyCatGO LIVE Season 2, Episode 4: Dealing with Off-Leash Dogs Panel Discussion
Be sure to catch this episode of KittyCatGO LIVE, where I chatted with three experts about how to deal with off-leash dogs. The panelists are:
In an ideal world, everyone would follow the rules and be more understanding and accepting of each other. The only way we will get there is if we continue to educate and be positive cat adventure ambassadors. Hopefully we will get there one day!
In the meantime, try to remember that not all dog owners are irresponsible. They are not the enemy. I'd like to think that many of these negative encounters happen as a result of ignorance, and the more we educate and share, the easier things will become. So keep going out there and showing the world what cats are capable of!
Have you ever had an off-leash dog encounter? How did you handle it?
---
About the Author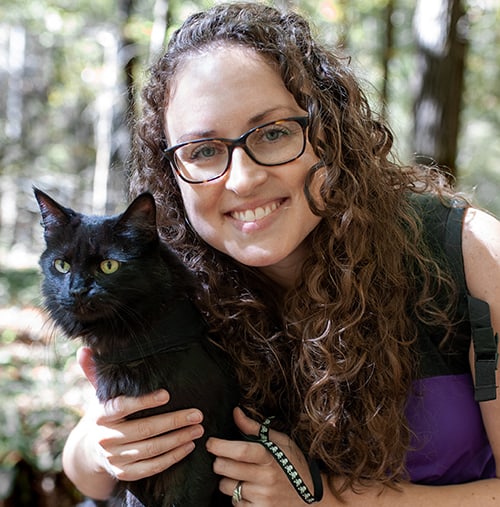 Emily Hall, ABCCT is a certified cat trainer and cat adventure enthusiast. As a "mom" to seven cats, one dog, and two sugar gliders, she has been writing in the pet industry for 10 years, with a focus on traveling and adventuring with cats. Emily and her husband enjoy hiking, road-tripping, camping, and canoeing with their three cat adventurers. Read more about her here.